A$AP Rocky was supposed to headline Stockholm's SMASH Festival and then swiftly move on the next day to another gig in Norway. But he never left Sweden. The European summer tour turned into a catastrophe for the New York rapper, 30, who was arrested, and is now charged, with assault.
As soon as videos surfaced of the Grammy Award-nominated hip-hop artist beating a man in the streets of Stockholm, news has been moving swiftly, and has involved prosecutors, lawyers, Trump, Kanye, and rhubarb pie. In case, like us, you got lost somewhere between Kanye and pie, here's a timeline that breaks down Rocky's turbulent month.
June 30: the brawl
Days before the festival, Rocky and his crew are harassed by two men who keep following them. Over the course of several minutes, Rocky and his security team repeatedly tell the men to back off, to no avail. The men make physical contact, by striking a crew member's face with his headphones, an act that is met with more requests for the hecklers to beat it.
Shortly after, Rocky throws one of the men to the ground and punches him repeatedly. Across the street, entourage members attack the other man.
July 2: the videos
None of this is known publicly until July 2, when various videos showing the altercation are posted. TMZ publishes a video of the brawl, but without sufficient details of the moments leading up to the assault.
Rocky posts two videos on Instagram to show his side of the story; they reveal the lead-up to the fight. "THEY FOLLOWED US FOR FOUR BLOCKS," Rocky captions one of the posts. "HITS SECURITY IN FACE WITH HEADPHONES THEN FOLLOW US," reads the other.
July 3: the arrest
Rocky voluntary walks into a police station for questioning. He claims self-defense, but is arrested and ordered by a judge to be detained for two weeks in a Kronoberg remand prison, beginning July 5.
July 5 onward: the prison stay
Reports start pouring out about the "horrific" conditions at Kronoberg, following a TMZ report that cites "a source close to A$AP Rocky" calling the facility "disease-ridden" and the food "inedible." They claim that Rocky is sleeping on a yoga mat and that his cellmate "hurls feces every which way." Rocky's manager, John Ehmann, posts on Instagram July 9 that "the conditions of the facility are horrific and include 24/7 solitary confinement and restriction of amenities for the most basic of human functions."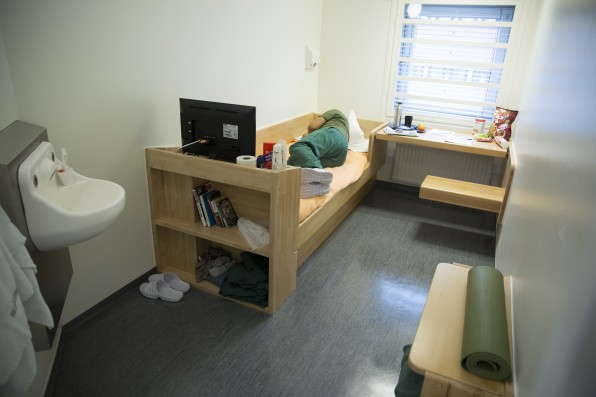 The jail manager and governor both balk at these claims, countering that it's a sanitary center where private cells contain beds, desks, and TVs, as well as access to books and radio. A Swedish tabloid, Aftonbladet, reports that, despite claims of inedible food, the menu for that week included turkey and veal burgers, vegetarian chili with bulgur, and rhubarb pie with custard. On July 18, the Swedish Embassy in Washington publishes a fact sheet on the modernity of the facilities, "due to the considerable interest in the Swedish judicial system."
July 9 onward: the outcry
Ehmann, Rocky's manager, announces the #JusticeForRocky movement, to call out "punishment before due process." Fellow pop stars demand his release, from Nicki Minaj to Rod Stewart, the latter who decries the "mistreatment of my mate @asvpxrocky." Rapper Tyler, the Creator tweets "no more Sweden for me, ever."
no more sweden for me, ever

— Tyler, The Creator (@tylerthecreator) July 8, 2019
Various petitions emerge on Change.org calling for his release. The official one, using the #JusticeForRocky hashtag, currently has more than 630,000 signatures.
July 19: the diplomatic intervention
In a surreal turn of events, President Trump tweets: "Just spoke to @KanyeWest about his friend A$AP Rocky's incarceration. I will be calling the very talented Prime Minister of Sweden to see what we can do about helping A$AP Rocky." The following day, he announces that he had a "good call" with Stefan Löfven, claiming the Swedish premier said the rapper would be "treated fairly." (Justin Bieber tweets that he appreciates the president's help but asks, "Can you also let those kids out of cages?")
Just spoke to @KanyeWest about his friend A$AP Rocky's incarceration. I will be calling the very talented Prime Minister of Sweden to see what we can do about helping A$AP Rocky. So many people would like to see this quickly resolved!

— Donald J. Trump (@realDonaldTrump) July 19, 2019
Just had a very good call with @SwedishPM Stefan Löfven who assured me that American citizen A$AP Rocky will be treated fairly. Likewise, I assured him that A$AP was not a flight risk and offered to personally vouch for his bail, or an alternative….

— Donald J. Trump (@realDonaldTrump) July 20, 2019
The prime minister's office states that, while the call was cordial, the government would not intervene. "In Sweden everyone is equal before the law, and this includes visitors from other countries."
July 25: the charge
Rocky and two entourage members are formally charged Thursday with assault. The public prosecutor announces that he's setting aside three days for the trial, which will begin Tuesday, July 30. "I have today commenced criminal proceedings against the three individuals suspected of assault causing actual bodily harm," the prosecutor says, despite the trio's claims of self-defense and provocation.
If found guilty, the rapper could face a fine based on his earnings, or up to two years of prison time. If found not guilty, he could be compensated for money lost due to the cancellation of his tour.
July 30-August 2: the trial
Rocky and his two security personnel plea not guilty. The rapper answers questions, translated from Swedish, in the Stockholm court, doubling down on the notion that he and his crew were acting in self-defense. "Their behavior was very weird and we didn't know what to expect," Rocky tells the court, according to BBC News. "It got a little scary for us."
According to court reports, bottles become a major focus of the trial, with prosecutors arguing that one of the victims' injuries were consistent with a bottle attack. Rocky is seen to be wielding a bottle in video footage, but he claims he picked it up then dropped it, rather than using it as a weapon.
The trial comes to a close Friday and, while the verdict is being reached, the three men are allowed to return home, according to Swedish law. They are released from jail and will remain free until a verdict is pronounced, probably in two weeks' time.
Whether or not Trump realizes that the rapper hasn't been cleared of charges, he's triumphant on Twitter, taking credit for the release and feeling jubilant enough to throw in a couple of puns, in the spirit of hip-hop wordplay. It's worth noting that Trump's advocacy for A$AP Rocky is far from selfless: many say it's an attempt at currying favor with African-American voters, and that he's particularly vocal about the case because the defendant is an Afghan refugee.
A$AP Rocky released from prison and on his way home to the United States from Sweden. It was a Rocky Week, get home ASAP A$AP!

— Donald J. Trump (@realDonaldTrump) August 2, 2019
Whatever the case, Rocky is likely relieved for a respite from Scandinavia. "Anything is better than that 1 Train," goes a popular Rocky hook. Not sure that still holds up. Sweden may have taken that prize.