There's an incisive quote about creating television that has stuck with me for years. I forget which showrunner said it, although it was probably The Good Place's Mike Schur, and the exact quote has proven un-Googleable, but it went something like this: Ideally, you would get to produce six full episodes of a TV show first, and then the seventh one would end up being the pilot.
The point is, it takes time for a TV show's rhythms to sync up with its ambitions, for the cast to jell with the material, for the writers to adapt to the performers' strengths, and for the whole enterprise to hit its creative stride.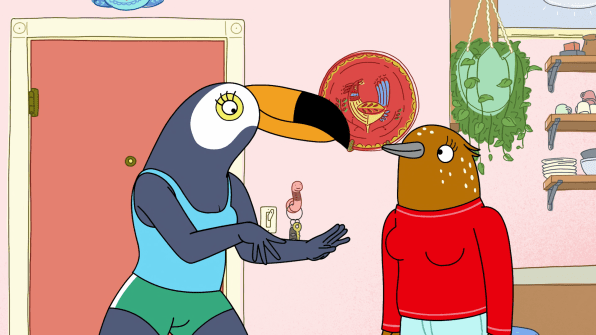 I thought of this when I heard that Netflix's Tuca & Bertie, which arrived with a fully formed aesthetic and to my mind was already firing on all cylinders, was unceremoniously canceled yesterday. The fact that it may not have even hit its stride yet feels like a gross miscalculation and an artistic injustice.
It's the kind of thing that makes one wonder if Netflix's cost-benefit analysis may in fact be broken.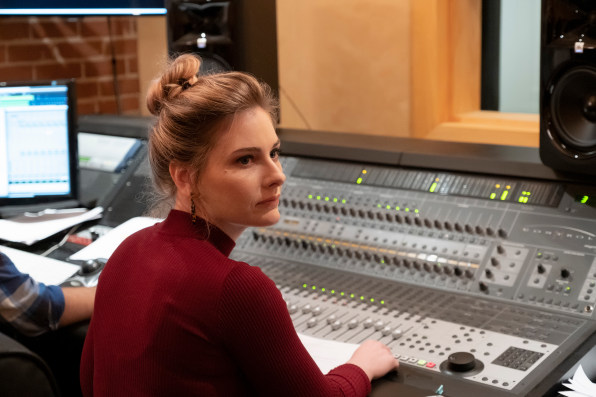 Tuca & Bertie was the funny, unapologetically kooky brainchild of Lisa Hanawalt, an artist and writer best known as the woman behind the anthropomorphic animals in BoJack Horseman. After years of producing (and designing the look of) Netflix's breakout animated hit, Hanawalt sold her own show: a story about two ladybirds that, as she told the New York Times, represent the two halves of her personality. There's party animal Tuca (voiced by Tiffany Haddish) and repressed, cautious Bertie (Ali Wong). The unlikely pair anchored a visually inventive show that celebrated female friendship without pandering, instead letting its women leads be gross, horny, and weird as hell. It had a stellar, cameo-packed voice cast, tackled #MeToo in its own unique way, and in its kaleidoscopic setting, Birdtown, gave viewers a world they could get lost in.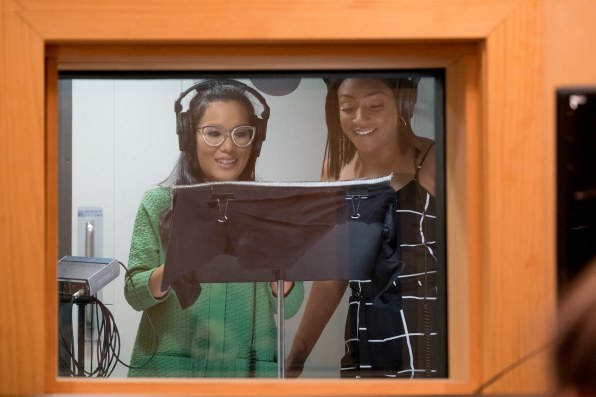 At least until Netflix decreed this world unworthy of being explored any further.
What was the deciding factor here exactly? Was there a certain threshold of viewership? An insufficient number of Bertie memes in the bloodstream? Clearly, not as many people must have seen Tuca & Bertie as did the purported pop-culture event of the summer, Adam Sandler's Murder Mystery, whose viewership numbers Netflix selectively boasted about, despite very little online chatter. Millions of people may have watched Murder Mystery to pass 90 oppressively hot summer minutes in mild amusement, but the leaner number that watched Tuca & Bertie were actually excited about it. The T&B discourse was thriving, inspiring fan art and even San Diego Comic-Con cosplay. Imagine how hard the Halloween costumes would have hit. (They still will.)
According to The Information, here is how a show's value is determined:
Every day, members of the content team get an email showing the previous day's most viewed shows by region. But Netflix tracks the value of each show, in terms of bringing in new subscribers and keeping existing subscribers from canceling, through another metric.

That is one based in part on a number Netflix internally refers to as a show's Adjusted Viewer Share. It isn't a straight number of viewers. Instead, it is adjusted to give more weight to viewers who watch a show within 24 hours of subscribing, or those viewers who hadn't otherwise watched a Netflix show in several weeks—and thus were deemed to be in danger of canceling. Someone who watches hours of Netflix regularly is given less weight. The adjusted viewing figure is calculated over a 28-day cycle. (One person familiar with the situation said Netflix tinkers with the formula occasionally.)

That number is then combined with the budget of the show to come up with a second, closely watched statistic, the show's "efficiency score." Current and former Netflix employees say it's among the most important internal statistics to assess the success of a project.
The cold, hard calculus of Adjusted Viewer Share and Efficiency Score overlooks a lot. This show seems primarily attractive to early career women but its intersectional appeal spans several demographics that any savvy studio should be concerned with keeping happy. Furthermore, it's just bad business for Netflix to jettison a labor of love from one of the architects of its biggest animated hit without giving it at least the bog standard two seasons it extends all but its least buzzy shows. (A Netflix source tells me "overall to date, our S1-S2 renewal rate remains around approx. 80%.) Hanawalt is the kind of stratospheric talent whose next show Netflix should have been concerned with locking down as well.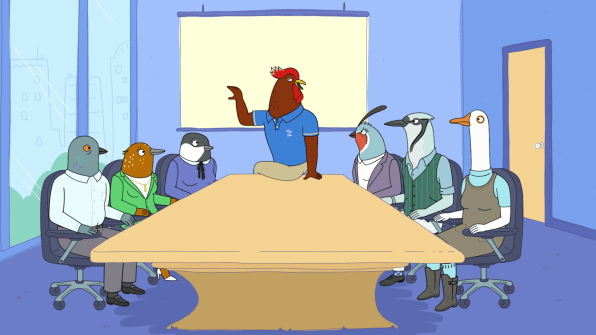 Tuca & Bertie's cancellation comes soon after a dire second-quarter earnings statement reported a loss of $26 billion in Netflix's market value. Whatever belt-tightening may be going on over there, though, the studio is obviously not yet over its addiction to overspending on old reliables and status grabs. The company bid $90 million a year to keep The Office after 2019, before getting topped by WarnerMedia, and two weeks ago it announced that it's making an action caper with Dwayne Johnson, Gal Gadot, and Ryan Reynolds called Red Notice and that Gadot and Reynolds will make at least $20 million and Johnson likely much more. Netflix is also reportedly in talks with Eddie Murphy for a standup comeback special, in a deal said to be worth up to $70 million.
The Office may be an extremely streamable show—to the tune of 52 million minutes in 2018, to be exact, according to Nielsen estimates—but how exactly is The Office bringing in those new viewers that Tuca & Bertie failed to deliver, rather than placating existing viewers? What on earth could Eddie Murphy possibly do into a microphone that would justify that sum not being spread around to at least ten other promising projects? (Such as Tuca & Bertie season two?)
In the company's defense, at least Tuca and Bertie, like all of its shows, got a full season. Any series that Netflix greenlights gets at least one season—something network shows certainly can't say—although, unfortunately, it seems to view airing that season as testing one long pilot, with the reaction determining whether to renew.
The only good thing about this weird world we're heading toward, duplicating cable TV via all these disparate streaming services that viewers inevitably will end up bundling into a familiarly unaffordable package, is that the stratification allows for niche programming. Canceling something as worthy of flourishing as Tuca & Bertie is a dark sign that in this new world, the gloriously weird shows may be endangered species.
Fast Company has reached out to Netflix for comment on the cancellation and will update with a response if we receive one.