Can technology be furniture? Will we always need to hang giant black rectangles from our walls, or can we embed those gadgets in the furnishings around us?
It's a question Ikea has been exploring with Sonos for the last three years, since the Swedish furniture company first knocked on the door of the Santa Barbara, California-based Wi-Fi speaker company. To stay competitive, Ikea has been taking part in all sorts of creative partnerships and diversifying its product line beyond furniture, including smart home products. Sonos is its most significant partnership yet, and on August 1, Ikea will finally release the first two products from the collaboration. Dubbed Symfonsik, the collection includes a floating speaker that doubles as a shelf ($100), and another speaker that is part of a lamp ($180).
My colleague Katharine Schwab and I had the chance to test both before release. Conceptually speaking, they're interesting products that reveal a lot about Ikea's design strategy right now. And thanks to the scale and ubiquity of Ikea, I suspect it will sell a whole lot of those $100 bookshelf speakers—especially since they're $50 cheaper than any other Sonos product you can currently buy. But Ikea still hasn't found the sweet spot yet of accessibility, ingenuity, and just plain old great design with Sonos yet. I have, however, grown a bit fond of this strange lamp.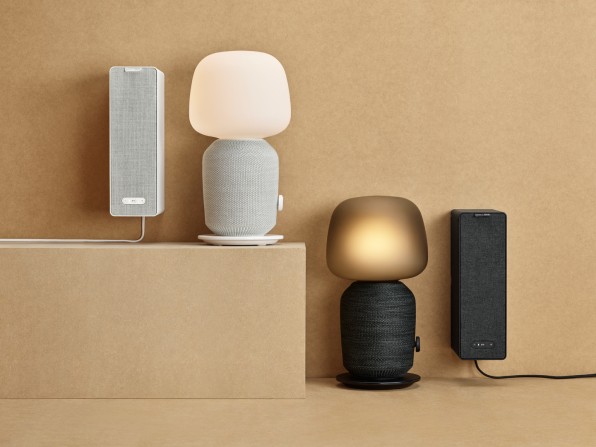 Frustrating setup
Sonos speakers are unique in that, rather than streaming music directly over Bluetooth or audio wires, they sit on your Wi-Fi network, and can stream music like Spotify throughout your home, pairing to play music in the living room and kitchen in concert. The two new Symfonsik products offer exactly the same Sonos connected speaker capabilities, but they do so in the form of a bookshelf and lamp.
But bookshelves and lamps are easy. Networked speakers are more complex, and setting up the Symfonsik is more difficult than it should be. To get started, you need to download the Sonos app and create an account. What I didn't expect, after placing the lamp upon its perch in my bedroom, was that I'd need to literally plug it into my router with an ethernet cable for its initial setup. What year is this? That meant I was forced to excavate the cord spaghetti of my media cabinet just to set up a lamp. (Since publishing, Sonos has clarified that it's not necessary to plug in the speaker for setup, despite what I'd concluded from the guide.) Then, while connecting the speakers to my home network—illustrated with a simple enough on-screen, step-by-step guide—one speaker had an inexplicable error. That's fine! It happens! But the app kicked me out to some other screen. The setup guide wasn't designed with any sort of failsafe or continuation option if the user encounters an error. Only after a few minutes of fiddling and guessing did I figure out what I needed to do next and finish the setup.
It reminded me of when I'd attempted to do a review of Ikea's smart lighting products a few years ago, and I installed them throughout my apartment to see if you could really live life inside the Ikea commercial. The setup seemed easy, but individual lights kept going out, disconnecting from the network. I spent months trying to ensure with Ikea's help that I wasn't doing something wrong with managing the accompanying wireless router. I never got to the bottom of it (and I cherish the dumb LED bulbs I've used since). The experience hinted that Ikea is lacking a certain digital competence that we take for granted with modern connected products. And I don't think the Sonos partnership has fixed it overnight (or over three years).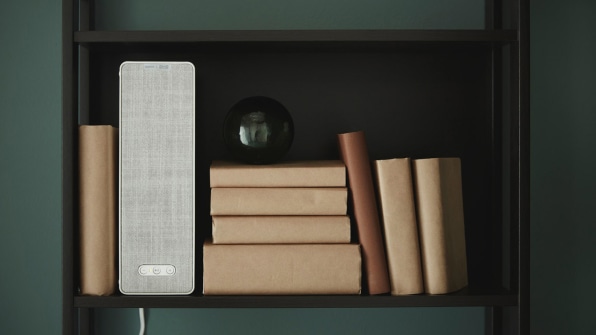 The good, the bad, and the quirky
While Ikea uses a staggering amount of the world's lumber, these devices have plastic bodies. The build and design evoke Silicon Valley and tacitly imply these devices are smart. The lamp, with its sock-like mesh wrap, looks something like a Google Home's older cousin. "We're trying to take our attitude and blend it with their attitude, to find ways [speakers] can show up from a Trojan horse perspective and have double functionality," explained Tad Toulis, Sonos VP of design, a few months back.
They may function as furniture, but aesthetically, they're fooling no one that they're anything but gadgets. I can actually appreciate that approach through a certain lens; Symfonisk speakers don't have eavesdropping microphones like voice assistants do, no, but the industrial design implies connectivity—they're not trying to camouflage their capability or intent. Then again, aren't floating shelves just nicer to look at when they're made out of wood?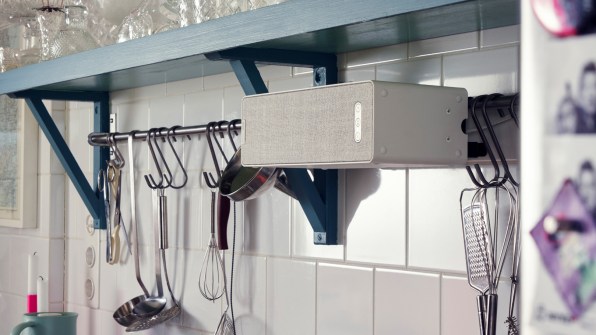 Indeed, the bookshelf simply doesn't look like a bookshelf. It's not always clear in photos, but in person, you'll see it: The speaker is toaster-like, with proportions that trend too close to a square rather than a rectangle. We weren't provided mounting brackets, so we can't speak to how well it would support an object. But an invisible floating shelf this is not. It's a chubby speaker that attaches to your wall, that under duress might support a vase or something similar. This would be forgivable if the sound was great. After all, it looks perfectly fine sitting there on a table! But our ears agree, it's tinny, with little midrange and zero bass to balance. Katharine notes the sound is not even on par with the $150 Sonos Play 1 speakers she uses regularly. My immediate impression was "this is a cheap Bluetooth speaker," despite the fact the dang thing is wall-mountable. It is not worth losing your apartment deposit, friends. I'd prefer to use a UE Boom that I could carry around and place anywhere.
The lamp sounds leagues better. It lives up to the Sonos brand, to my ears, with a respectable midrange and a bit of a bass line bump. More importantly, it sounds good enough that it's worth taking up space in your home. What about the lamp itself? To be honest, I didn't like the Symfonisk aesthetic when I saw this lamp in an early rendering. But in person, the white model is more charmingly quirky than I expected—almost anthropomorphic. Is it beautiful? No. Is it less hideous than anticipated? Sure. And it's confident. If nothing else, the design is attempting to make a statement.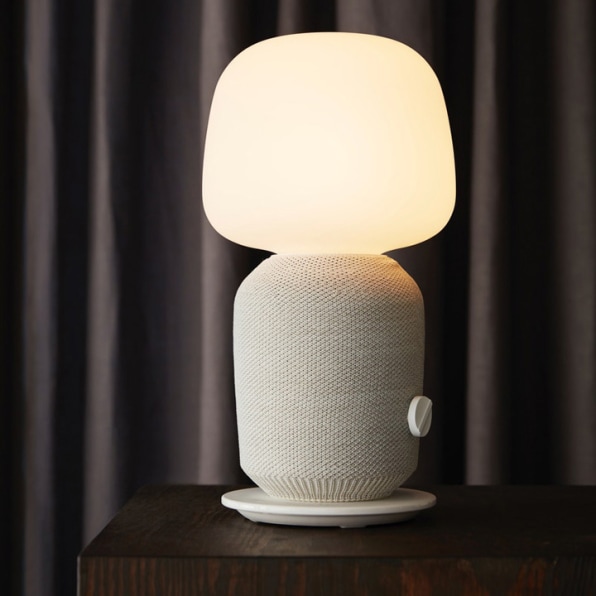 Really, it won me over when I saw its warm, evenly diffused glow. The character of the light does a lot to justify the lamp itself. Lying in bed, reading, listening to some slow jamz, I found myself thinking, Why don't all lamps have speakers inside them, you know, like how all radios got clocks?
But three quibbles. One, the small LED light bulb that goes in the lamp is almost impossible to find in non-Ikea stores. A bulb comes included and should last years, but if it doesn't, good luck. Two, the lamp's pedestal has one of those tiny glowing lights like you see on so much home theater equipment for some reason. And it never shuts off. It even glows at night in a pitch black room. Why? Isn't part of a lamp's core value proposition that it can be turned off? (I unplugged it each night when I went to bed.) Finally, the on and off switch is actually a radial dial that you turn, and it's actually a bit difficult to turn it. Ikea says the switch is designed so it won't buzz against the vibrating speaker to which it's attached. That makes sense, but it feels like the lamp is protesting being touched. I wondered, Is it telling me I'm not supposed to turn it on? Apparently you can use an app to turn it off and on instead—not the Sonos app, mind you, but Ikea's smart home app. Using two apps to control one lamp sounds like an extremely specific and effective style of torture. The good news is that you'll also need a separate smart lighting adapter to turn the light on and off through the app, so you probably never will!
These two Symfonsik products are just the first releases in a secretive, ongoing partnership between Ikea and Sonos, and they're nowhere near groundbreaking yet. Companies like Vizio now make very thin soundbars, for just $130, that connect instantly, and reliably, to a phone via Bluetooth. There are no apps. No Wi-Fi networks. The price is cheap. The sound runs circles around any base Sonos product. And aesthetically, I don't know that it's any more offensive placed on a buffet than Ikea's new speakers. Ikea and Sonos are clearly trying to build the must-have speaker of tomorrow, but there are far better options on the market today.