In a remote corner of Iceland, a sprawling field of dark rocks and a small patch of thin ice is all that is left of a former glacier called "Ok" that once covered around 15 square miles. In a month, the site will also host the first glacier memorial.
A new plaque, set to be installed on August 18, has a simple message to anyone in the future who happens to hike there:
Ok is the first Icelandic glacier to lose its status as a glacier. In the next 200 years all of our glaciers are expected to follow the same path. This monument is to acknowledge that we know what is happening and what needs to be done. Only you know if we did it.
It's marked with the date and a recent reading of the level of CO2 in the atmosphere: 415 parts per million. For most of human history, that number has never topped 280 parts per million; it was last this high at least 3 million years ago.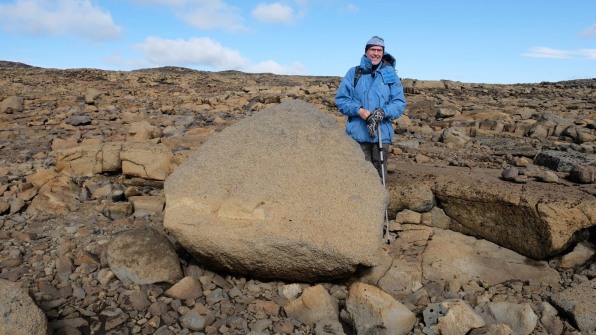 Researchers from Rice University in Houston, who first traveled to Iceland to study how the loss of ice was affecting the national sense of identity, had heard multiple people mention the idea of death and headstones. Oddur Sigurðsson, the glaciologist who first declared that Ok was no longer a glacier in 2014, had jokingly talked about a death certificate. It was a small glacier, and the news of its demise didn't really reach beyond Iceland. (Some even smaller glaciers in the country, too insignificant to be named, had already melted before Ok.) The researchers decided to make a film about it, called Not Ok, and then decided to create the memorial. Icelandic author Andri Snær Magnason wrote the text for the plaque.
The site, though it's located on a mountain with no sign of civilization on the horizon, is only about an hour and a half from Reykjavík. "We wanted to encourage people who are already in the country to . . . go up and have a moment and sit with the impact and the consequences of the kind of lives we live in modern civilization," says Dominic Boyer, an anthropology professor at Rice University and director of the school's Center for Energy and Environmental Research in the Human Sciences.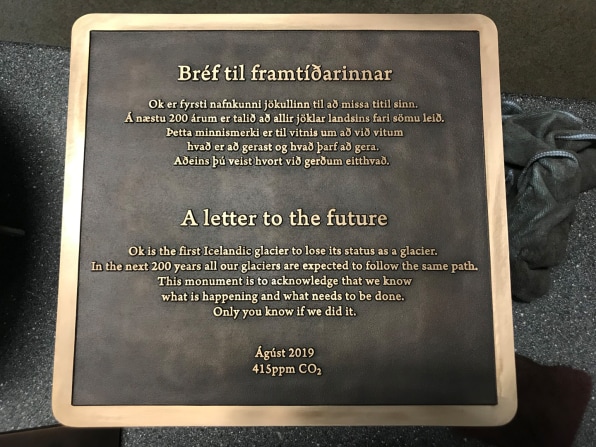 Iceland, with its small population and an electric grid that runs on almost 100% renewable energy, is not a major contributor to greenhouse gas emissions. As the country's glaciers shrink and begin to disappear, "there's a sense of loss," says professor Cymene Howe. "There's also a sense of tragedy, of course, because Icelanders are not the particular human populations that are at fault for the massive amount of CO2 that's now in the atmosphere. They're seeing the environment change very dramatically because of energy used historically and in the present in the rest of the world."
The same thing is happening in other regions with glaciers, and the researchers think that similar historic markers might make sense around the world, marking other former glaciers that were among the first to be lost.
In Iceland, glaciers are a major draw for tourism. But the researchers hope that the new memorial doesn't prompt more international visitors to make the trip. "There's something paradoxical about this historic marker, because on the one hand, we want everyone to see it, to recognize what is happening, and to see the fate of the future unless we change our ways," says Howe. "And at the same time, we don't want thousands of people to fly on jet planes to Reykjavík Airport and drive in gas-powered cars to go see this monument to an 'unglacier,' because that is completely contrary to the kinds of solutions that we're seeking."