Yo Elon, you okay? Asking for a friend. I think you know her: the planet.
Over the past year, Tesla cofounder and CEO Elon Musk's leadership has been as erratic as his company's performance. He announced that Tesla would close its stores, only to reverse that decision less than two weeks later. He promised for almost a year that the "Enhanced Summon" feature, which would allow drivers to have their Tesla pick them up curbside, was imminent, only to acknowledge at the company's annual shareholder meeting in June that "there's a lot of complexity in parking lots." Perhaps most important, after months of stressing that Tesla must become profitable as a matter of "life or death," Musk changed his stance yet again, saying that growth is paramount and profitability can wait.
This backtracking, along with a disastrous first quarter in which Tesla lost $702 million, helps explain both the record number of short sellers betting against the company as well as its stock shedding almost $30 billion in market cap over six months.
Musk's behavior is more than just fodder for CNBC hot takes. It's a calamity in the making for anyone who cares about weaning the $5.1 trillion global transportation industry from its potentially catastrophic dependence on fossil fuels. When Tesla first started selling cars, 11 years ago, no one knew if people would ever feel anything more than a dutiful attraction to electric vehicles. Since then, Musk has sold more than 500,000 cars and established the next direction of the entire industry. GM, Volkswagen, Hyundai, and hundreds of startups in China have followed Musk's lead and developed electric-car options that customers covet. When VW opened up presales in the spring for its ID.3 and Porsche Taycan EVs, they quickly generated a Tesla-like response, garnering 20,000 reservations apiece. If every vehicle purchased in the U.S. this year were electric, the environmental impact would be the equivalent of Washington, D.C., becoming carbon-neutral overnight.
Musk is Wall Street's most polarizing CEO. You're either one of his acolytes or rooting for his comeuppance. But in a world of climate villains, for the time being he's all that we've got.
---
Since the first Teslas debuted in 2008, Musk has cycled through his "secret" Master Plan to produce more affordable, mass-market electric cars at a rapid clip. "The point of all this was, and remains, accelerating the advent of sustainable energy, so that we can imagine far into the future and life is still good," Musk wrote in 2016 in his "Master Plan, Part Deux."
Along the way, Tesla has mainstreamed such innovations as dealer-less sales channels, screen-based dashboards, and over-the-air software updates so that cars on the road can be improved at any time rather than annually. Tesla vehicles are more powerful and have a longer range than their peers, thanks in large part to the software that manages their batteries. "I give them, chalk it up, full leadership in that space," says Cowen analyst Jeffrey Osborne, who nevertheless rates the stock "underperform."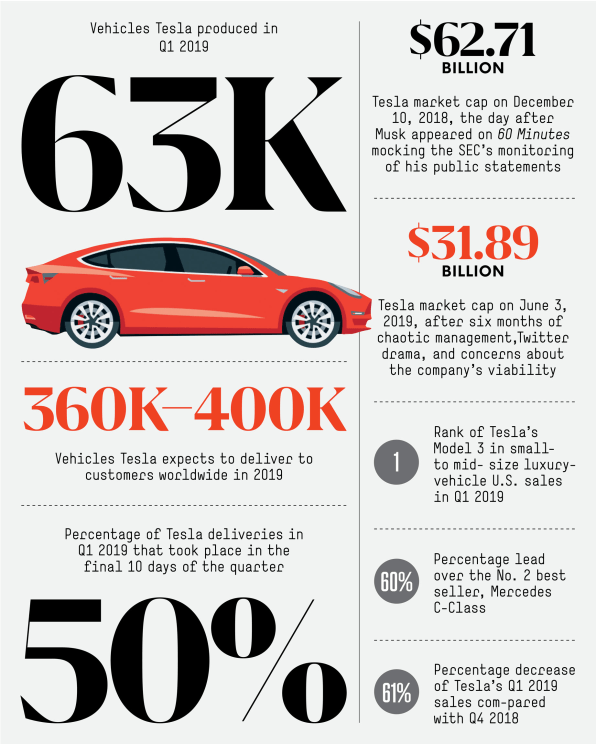 No surprise, then, that Tesla's Model 3 is the best-selling premium sedan of any car in the United States. "Tesla has proven there is significant demand for cars that combine sustainability with performance and design," Klaus Zellmer, CEO of Porsche North America, acknowledged in a June op-ed. Like other traditional carmakers, Zellmer has been prodded by Musk into producing electric vehicles. Some rival offerings are even chipping away at Tesla's dominance. GM's Chevy Bolt, for example, costs $36,000 and is capable of traveling 238 miles on a single charge—just 2 miles less than Tesla's standard-version Model 3. Even compared with certain of Tesla's statistics that its fans love to brag about, such as "efficiency ratio" (a measure of kilowatt-hours per miles of range per weight), Hyundai's and Volvo's specs hold up.
Tesla, though, continues to set the pace, as reflected in its beating expectations for deliveries in the second quarter of 2019. It is trying to upgrade its battery chemistry later this year (thanks to its acquisition in May of battery maker Maxwell for more than $200 million), and it is rumored to be refreshing the interior design of its Models S and X vehicles.
---
But for a company whose stated mission is to "accelerate the world's transition to sustainable energy," Tesla is increasingly going it alone at a time when the rest of the industry is finding ways to collaborate in order to stimulate EV advancements and sales. BMW and Jaguar Land Rover, for example, are working together to develop and manufacture a next-generation electric motor. Tesla, meanwhile, continues to build its own charging infrastructure rather than collaborate with EV competitors on a plan to raise the estimated $50 billion needed to create a charging infrastructure for all electric vehicles by 2030.
In China, where government officials have invested more than $30 billion to seed the development of 500 homegrown EV manufacturers, consumers bought 1.1 million electric vehicles last year. Rather than partner with a local company, Musk is building his own factory on 200-plus acres outside Shanghai. Even after avoiding import tariffs, Teslas will still be a luxury item in China, and the company has yet to prove that it can refine its production to an extent that would improve its economics. "[E]xcessive automation at Tesla was a mistake," Musk tweeted in April about his effort to use robots to help Tesla build cars faster and cheaper. "To be precise, my mistake. Humans are underrated."
Worse, Musk continues to embark on solo missions to new frontiers. His current obsession is self-driving technology. In April, he projected that Tesla would have 1 million autonomous robo-taxis on the road next year. What he left unsaid: Reaching that goal without bankrupting the company will require that Tesla eschew the types of pricey sensors many competitors consider crucial to safety. (Also not mentioned: Autonomous systems can increase emissions.) Making electric vehicles sexy has been "a wonderful service to humanity," says Dean Pomerleau, who teaches at Car­negie Mellon University, one of the world's preeminent hubs for autonomous driving. "On the other hand, [Musk has] definitely oversold his self-driving technology and threatens to basically sour the waters for approaches that are more viable and responsible."
What's more, Tesla's innovative use of over-the-air software updates to its vehicles wreaks havoc with insurance rates, a problem the two industries should work together to rectify. "When you start to change how the car itself works in real time, it fundamentally changes the risk of a car," says Dan Preston, CEO of pay-per-mile insurer Metromile. Musk decided in April that Tesla should offer its own insurance, maintaining that its product "will be more compelling than anything else" available.
Musk's latest moves signal that he's bought into the Silicon Valley narrative that creating a vertically integrated monopoly is the only way to win. That's a problem, because vertically integrated companies are rarely nimble enough to innovate, and monopolies don't need to. Also, there is simply no way that one company could ever own the global transportation industry. At the precise moment when the industry needs Musk to lead it to expand consumer demand and push the technical boundaries of what an electric vehicle can do and the experience it can provide, he's boring inward. (Tesla declined to comment.)
Navigate any clogged intersection—what Silicon Valley software engineers call an "edge case" and everyone else calls "traffic"—and you will quickly be reminded that drivers, whether human or machine, need to work in concert with one another, not to mention with existing systems and institutions. The Twitter-happy Musk can't even summon a modicum of respect for the SEC and its guidelines around financial disclosure. He's going to kowtow to the demands of 50 state insurance commissioners?
It's not hard to imagine how all of this could go wrong. So, Elon, please get some sleep, and, more important, make some friends off Twitter. Saving the planet isn't a one-person job.
A version of this article appeared in the September 2019 issue of Fast Company magazine.