There's a building on Google's Mountain View, California, campus that's off-limits to most of the company's own employees. The 70,000-square-foot Design Lab houses around 150 designers and dozens of top-secret projects under the leadership of vice president and head of hardware design Ivy Ross, a former jewelry artist who has led the company's push into gadgets ranging from the groundbreaking Google Home Mini speaker to the playful line of Pixel phones.
Inside the lab—and away from the cubicle culture of the engineering-driven Googleplex—industrial designers, artists, and sculptors are free to collaborate. "Google's blueprint for how they optimize is great for most people [at the company]," says Ross. "Designers need different things."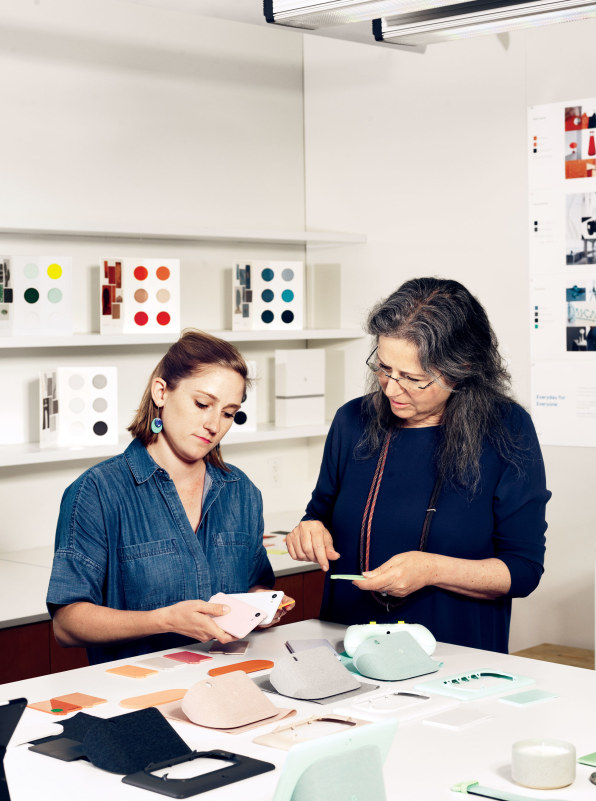 In any other setting, Ross's upbeat, bohemian demeanor would evoke that of a high school art teacher or perhaps the owner of a crystal shop more than a design director at one of the most powerful companies in the world. Today she walks me, the first journalist ever allowed in the building, through the space—which she calls "a huge gift" from Google's executive team. Google was always an engineer's company, rarely recognized (and sometimes ridiculed) for its hardware and software design. But recently, Google CEO Sundar Pichai has been forthright in articulating just how crucial design has become to Google's business. In the past few years, Google has developed gadgets—from phones to smart speakers—that are some of the most desirable in the world. Yet before doors opened to the lab last June, the growing Google hardware design team ran many of their operations out of a literal garage—not the best setting for such an important of part Google's operations.
So Ross collaborated with Mithun, the architects behind many Google buildings, to create something new: a space that is meant to be a backdrop to Google's soft, minimal industrial design aesthetic. "This framework, it has fairly neutral colors. There's nothing so ingrained that we can't evolve," says Ross. "But being a blank canvas, what changes it is the products we're evolving, the materials, their color, and their function."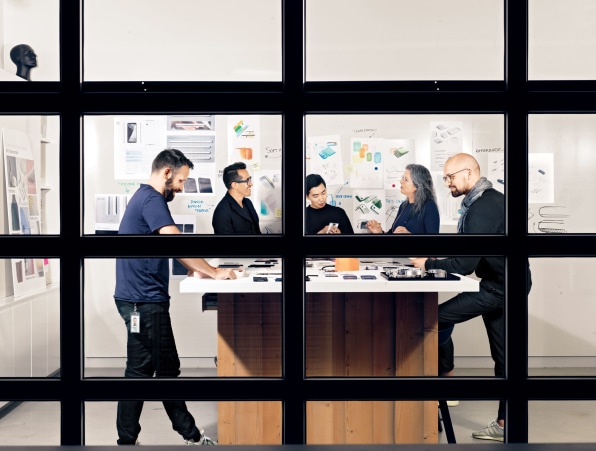 Each space in the lab was constructed to help Ross's team marry tactile experiences (understated, fabric-covered gadgets that feel at home in the home) with digital ones (Google's unobtrusive UX). "Essentially the first thing I said was, 'We need light,'" recalls Ross. "Where in some buildings, [programmers] need darkness for screens, we need light." The lab's entrance is a two-story, skylit atrium, filled with soft seating and cafe tables for casual meet-ups.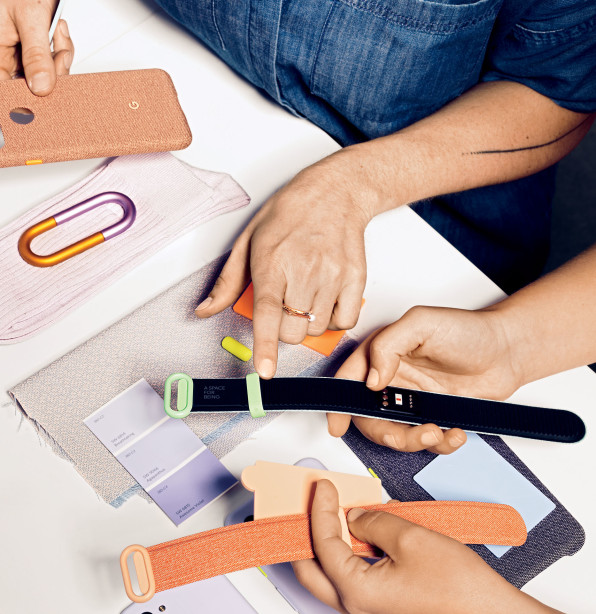 A birchwood staircase leads upstairs to a library filled with the design team's favorite books—each member of the team was asked to bring in six texts that were important to them, and inscribe a message as to why. "We're the company that digitized the world's information," says Ross, "[but] sometimes, designers need to hold things."
In other instances, the lab is set up so designers can window-shop. The second story walkway around the atrium feels something like a high-end mall. On one side, I see a glass wall to the color lab. On the other side, a glass wall to the material lab. The color lab features an ever-changing array of objects, collected by Google hardware designers on their travels. It's a hodgepodge of items that seems less about color than what I might call a vibe. I see a paper radish, a green stack of stones, and an ivory jewelry box—all evoking a certain handmade minimalism. The display is the best reminder of a simple fact of Google's hardware design team. Just 25% to 40% of the group has ever designed electronics before. The rest designed everything from clothing to bicycles in a previous life.
At a large white table inside the color lab, under carefully calibrated lights, Ross's team debates the next colorways for upcoming Google products. Once a week, designers from across categories—from wearables to phones to home electronics—gather around the table with scraps and samples in hand, to make product line decisions together. I'm treated to a show of last season's products and colors to demonstrate a point: that Google designers, making more than a dozen products that could be in your home at once, want them to look good next to one another, even if they were produced a few years apart. "That's how insane [we are], in a good way," says Ross. "We think about your life at home and that you want some connection, perhaps."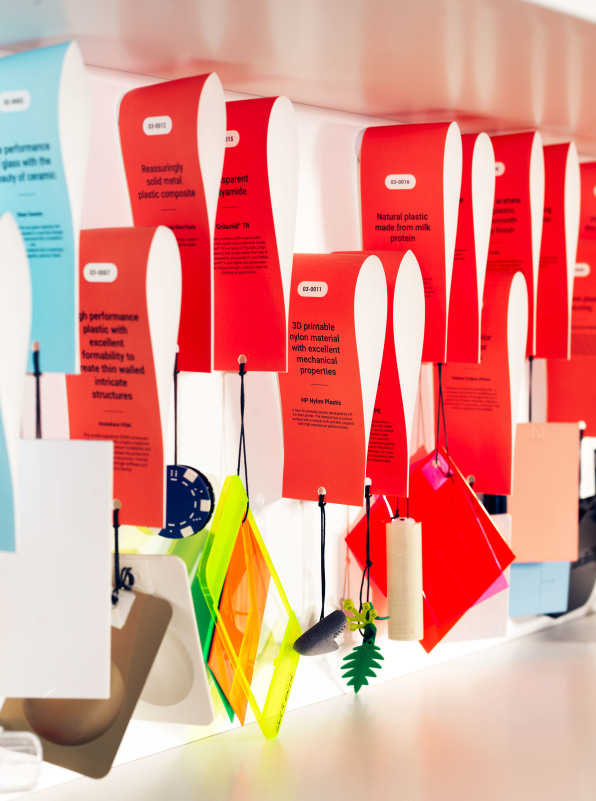 At the opposite end of the atrium is the twin glass wall of the materials lab. Also open to window-shopping, this room features more than 1,000 physical material swatches, dutifully curated—and color-coded, and hand-labeled!—by the library's full-time librarian, Hannah Somerville (who instantly spots the just-announced Adidas Loop sneakers on my feet, asking how the recyclable woven plastic feels as fabric). She urges me to touch the library's swatch of mushroom leather.
That "leather" is one of many sustainable materials on view. Others include 3D-printed filaments made from old fishing nets and particleboard crafted from dead sea grass, hinting at a future of greener products from Google. Later, a pair of designers enter the library, asking Somerville for a material that feels like the foam you'd find in the bottom of a fake flower bouquet. One holds a soft swatch up to her forehead, possibly imagining an iteration of Google Glass, the Daydream VR headset, or any number of unreleased, unannounced products to come.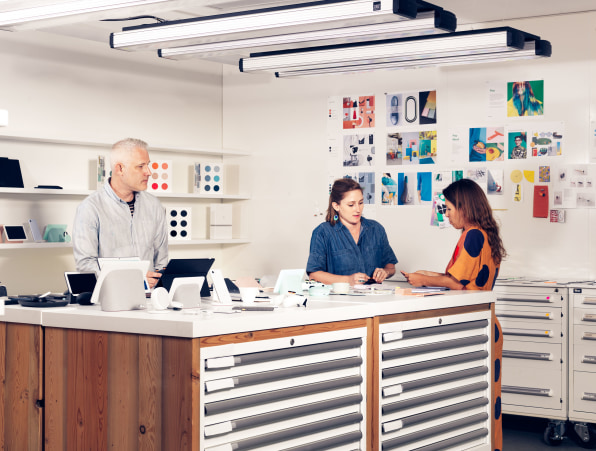 And for all the lab's welcoming aesthetic, it's still a top-secret space. Google's future hardware designs are valuable IP in the highly competitive world of smartphones and voice assistants. Most days, the building's tight security means that the prototypes can live out as an open secret, for designers to peruse and consider at will. But for my visit, they're covered in charcoal drop cloths.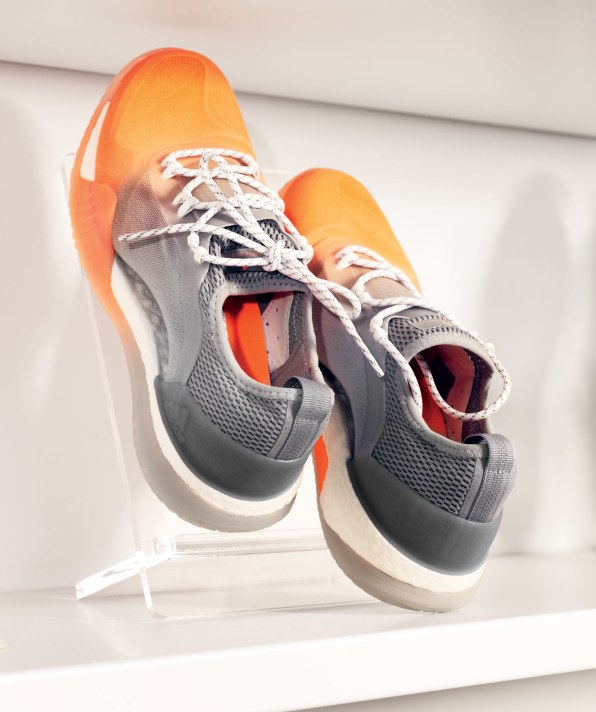 The "Human Refueling Stations" by Tune Studio are one space where I am allowed to wander freely. The lab is designed to drive creative inspiration—to ensure Google's designers stay open-minded to new ideas and aesthetics. The refueling station is the clearest embodiment of that approach. After selecting the way I'd like to feel in an app (I believe I chose "energize"), I lie down on a leather pad, don headphones, and close my eyes, listening to a soothing world beat with a strong Om undercurrent. Ross is a big believer in the healing power of color and sound. (Her team went so far as to develop an installation at Milan that demonstrated how just sitting in different rooms can affect your core physiology.) For 15 minutes I wonder what I'm doing, wasting time on this silly bed. Then I stand up, eyes suddenly alert with a skip in my step. It's easy to imagine how this meditation space in the Design Lab is meant to spark creativity in the design team. But it's also easy to imagine this as a sort of prototype of how Google's product design team is thinking about affecting human physiology with design.
One thing you won't find many of in the lab are conference rooms. Most business meetings take place in other buildings. The lab, Ross stresses, "is a sanctuary to get the design work done."
A version of this article appeared in the September 2019 issue of Fast Company magazine.