Maybe it was the exclusive Taylor Swift concert. Or maybe it was the exclusive Taylor Swift concert also featuring Dua Lipa, Becky G., and SZA, hosted by Jane Lynch and a bajillion Alexa jokes. It could also be the full-court hype train around special discounts on celebrity-driven products from the likes of Kristen Bell, Mark Wahlberg, Will and Jaden Smith, Kobe Bryant, Hillary Duff, YouTuber JoJo Siwa, and more. Either way, it's pretty clear that Amazon would like Prime Day to become the Next Great American Holiday.
It already rivals other fake shopping holidays like Black Friday and Cyber Monday, so why not? But to see Amazon's goals for Prime Day you have to look beyond those mere December hallmarks and go east to see Alibaba's Singles Day, a 24-hour commercial juggernaut unlike anything the world has ever seen. Last year, Singles Day notched more than $30 billion in sales in 24 hours, compared to 2018 Prime Day sales of about $4 billion.
Chinese tech companies have long been painted with the copycat brush. Something hits in America and, bingo!, there's a Chinese version up and running.
But increasingly, the U.S. tech giants, from Facebook to Amazon, are copying Chinese innovations in an effort to grow their dominance and play as central a role in people's lives as Tencent and Alibaba do in China.
There is perhaps no better example of how American companies now knock off the Chinese and do it without understanding what makes those Chinese innovations tick than Amazon's co-opting of Singles Day—aka Double 11—into Prime Day. (Amazon did not respond to a request for comment on this story.)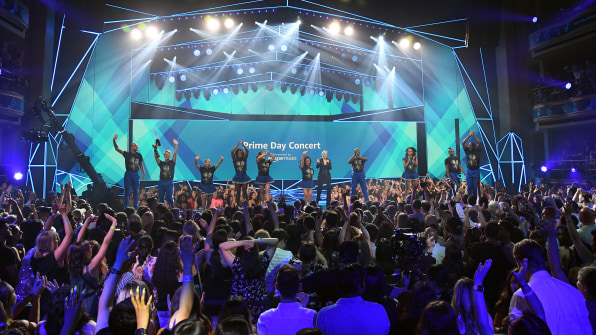 While Amazon can copy Alibaba's winning combination of flash sales, entertainment, music, celebrities, and all the hype that money can buy, the reason Prime Day will never quite translate the heights of Singles Day to America comes down to the fundamental differences between the two companies and their platforms.
Amazon, and by extension Prime Day, is all about Amazon. Alibaba, by contrast, makes Singles Day about all the brands people actually love and the people who sell on its platform.
Alibaba chairman Jack Ma has always gone to great lengths to explain all the reasons why Alibaba isn't just the Chinese version of Amazon. "Amazon and eBay are e-commerce companies, and Alibaba is not an e-commerce company," Ma said in 2013. "Alibaba helps others to do e-commerce. We do not sell things."
Singles Day was originally just a cultural day that began back in the 1990s that turned November 11 into a counter to Valentine's Day for single people (the date in numbers is four single ones—11.11). In 2009, Alibaba decided to use it as a promotion for single folks to treat themselves to stuff their nonexistent significant other might've bought for them. In other words, Alibaba took an existing behavior and added a bonus layer to it. With Prime Day, Amazon is trying to build a learned behavior from scratch, as it began its annual sales extravaganza in 2015 to mark the company's own 20th anniversary.
Again, one sale is about others. The other is about Amazon.
As Alibaba has scaled up its Double 11 ambitions to match its growing business, it's kept this mindset. In 2016, it introduced a "see now, buy now" fashion show and blended it with an Asian pop concert to showcase more than 80 fashion brands in advance of November 11. Alibaba's online marketplace Tmall was the platform through which users could preorder, but the day was about such brands as Adidas, Paul Smith, and Guerlain.
During the Prime Day Concert, Amazon ran ads for Amazon Wardrobe.
As Double 11 nears, Alibaba broadcasts a show featuring its "must-buy recommendation list." The heart of the show is 50 ace salespeople competing to convince the audience their product is best—and they have just a minute and a half to do so. During Alibaba's Countdown Gala, it engages viewers in games which let them compete for small prizes as well as the chance to get the best shopping deals. Amazon's attempts at interactivity could be seen during its Prime Day concert when host Jane Lynch was forced to reprise her role as the host of NBC's Game Night to ask rabid Taylor Swift fans very basic questions for the chance to win . . . you guessed it . . . an Amazon Echo Dot.
Again, one sale showcases others. The other is about Amazon.
Brands like Nike, Apple, Coke, Uniqlo, Zara, and L'Oréal set up and operate their own e-commerce flagship stores on the Alibaba platform. "We serve as a marketplace, a bridge between the seller and the buyer, through data," Alibaba CMO Chris Tung told me in 2017. Amazon, of course, has been accused of using the data of its Marketplace sellers to launch rival private-label products. (Amazon announced back in April that it'll be shutting down its Chinese e-commerce business in mid-July.)
Don't be surprised when Amazon launches its own Prime Day fashion show or even a TV program with its Prime Day must-buys. It'll just be going deeper into the playbook Alibaba has established. Amazon can mimic the particulars, but it can't capture the spirit of Alibaba's shopping event, which is what truly makes it a spectacle.