What does the passage of time look like?
The image of a clock might spring to mind, maybe even a time-lapse video of a clock's hands traveling in a circle. But 25 years ago, stay-at-home mom turned entrepreneur Jan Rogers found a better way.
To help her 4-year-old daughter, who was struggling to read clocks and understand the passage of time, Rogers invented the Time Timer, a visual countdown clock that essentially turns the 60-minute face of a clock into a pie chart. If she were to set the timer for 60 minutes, for instance, the clock would start with a full red pie, slowly getting smaller as 60 minutes turned to 45, 30, 15, and so on. The design helped her daughter understand the concept of time with a single glance.
But as it turns out, the Time Timer isn't just great for kids learning how to tell time—it has also become a favorite time management tool for everyone from children with special needs to the tech industry's productivity hackers. This is the unlikely story of the analog clock that has taken tech-addled Silicon Valley by storm.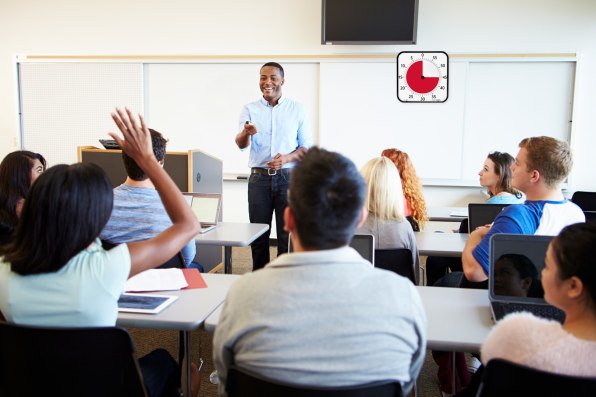 The early days
Rogers first developed a basic prototype made of two paper plates, joined up with a design engineer who helped her build a working version, and then started talking to manufacturers about building it. Because she had no idea how many she'd be able to sell, she had a hard time finding someone to fabricate her timers. Eventually, she had individual parts made and started snapping together Time Timers in her living room. For the first few years, she was selling fewer than 100 units a year.
Her company finally took off when Rogers started going to education conferences, where teachers—particularly special education teachers—began to buy Time Timers to help students with cognitive disabilities like autism, ADHD, and dyslexia tell time. The product was adopted by the special needs community, with one important change: Rogers initially had designed the timer to be blue and yellow, but she heard from special needs teachers that these colors were more difficult to tell apart. As a result, she switched Time Timer's color palette to red, white, and black.
"Then over the years as the timers were showing up in the classroom, specifically for learning-disabled child, the mainstream teachers started to realize that the entire classroom was benefiting," Rogers says. "The reality is that time is difficult for everybody, whether it's cognitive, distraction, frustration, or vision problems."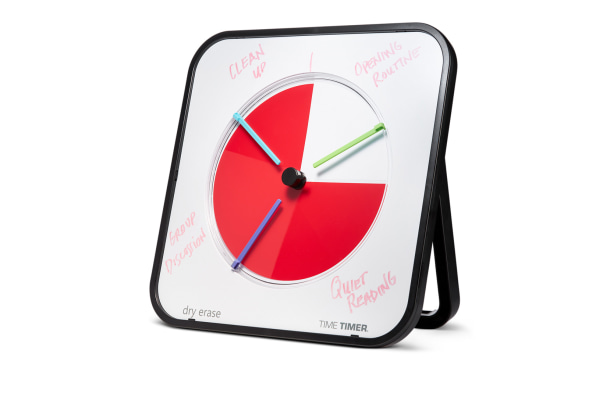 The appeal to productivity hackers
That includes many white-collar workers, who are under tremendous pressure to be productive but also face countless distractions in the internet era. For them, Time Timer offers a concrete way to visualize how much time to spend on a task. "Maybe you're in a staff meeting, and there's always that person who hijacks the meeting for their own agenda," Rogers says. "[Time Timer] is a way to be less arbitrary. You use time more efficiently if you can see it."
Perhaps unsurprising, Time Timer has become a favorite productivity tool of tech and creative workers, used by people at companies like AngelList, Medium, and more. CEOs and founders of business like conversation card company Table Topics, software development company Atomic Objects, and jewelry company CustomMade all use Time Timer as well. People use it in business settings to keep meetings on track, at conferences to time talks, and even to help with daily time management. It was evangelized by former Google Ventures partner Jake Knapp, who discussed using it in his best-selling books Sprint and Make Time. One designer even called it "the most important design tool you're not using."
Looking ahead
Today, Time Timer is a company with nine full-time employees. Its strategy moving forward is to the larger education community. This year, the company is launching a supersize version of its core product, designed specifically for teachers to use in their classrooms—but it would also work in a large meeting room or at a conference if you're trying to make sure meetings don't last longer than they're supposed to. "We couldn't get it big enough," says Tricia Wright, the product director at Time Timer. "We'd bring a prototype, and teachers would say, 'Can you do it bigger?'"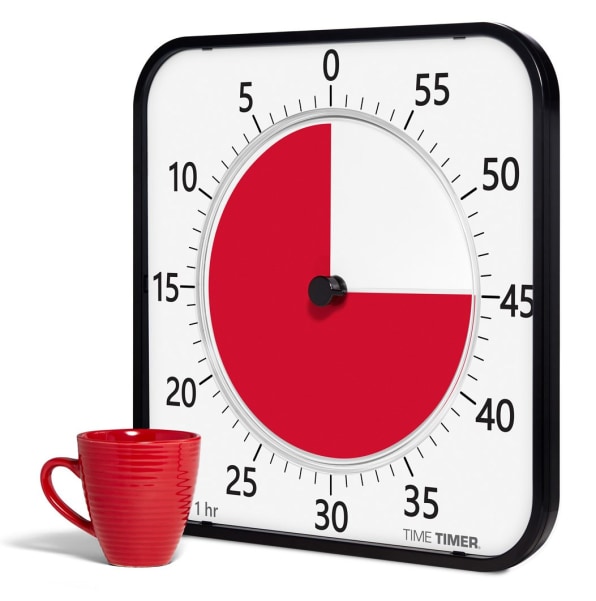 The final product, called the Time Timer Max, is 17 inches by 17 inches. But it's not just big: it also features a host of different clockfaces that you can swap out. For some ages, the 60-minute clock works well enough. But for others, especially younger kids who need to track time in smaller increments, the Time Timer Max's face can be swapped out for a face and time setting that's just five minutes long. ("Kids love to see it disappear," Wright says. "It's a physical understanding of time.") There's also a version for 24 hours, which would be ideal for an elderly person who has a hard time remembering what time their daughter is coming to visit the next day.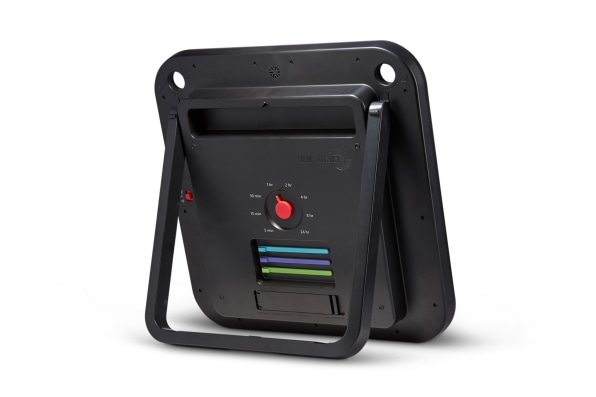 Currently, there are 25 types of Time Timers available on the company's website, ranging from the new Time Timer Max, which costs $149.95, to a desktop app. "We've become more and more a basic time management tool for anybody," Rogers says. "But it took the special needs market to kind of blaze that path for everybody."