Jamie Kern Lima cofounded It Cosmetics in 2008 with her husband, Paulo Lima, hoping to create products that would address skin concerns such as rosacea. Eight years later she sold her makeup line to L'Oréal for $1.2 billion and stayed on as CEO, becoming the first female to hold that role in the beauty giant's history.
Here, Lima shares her tips and tools for getting the most out of every day.
What's your On Switch?
I get up by 5 a.m. every day. I have a morning routine with meditation and prayer, a gratitude journal, a morning coffee, one hour of exercise, and then a smoothie. I get it all in before 7 a.m. when I then switch gears to being mom and CEO.
What's your Off Switch?
I stop looking at screens one hour before bed. It's so tough to make this a habit, but once I did, it was a game-changer. I feel so much more present and get better sleep.
What are five books on your nightstand?
Where do you go to relax and recharge?
I love Miraval in Tucson, Arizona. I've gone both alone and with groups over the years. After a few days there, you just feel lighter in spirit and so grounded.
What are some products that you are currently in love with?
I often buy 20 of the same shirt and pants and then wear them almost every day—especially when I'm in a mode where I'm growing a business, writing, or creating. It helps me save my energy and use it on what I want to focus on. Right now I have 20 pairs of the same Lululemon Align Pants all in black, and the same Peace Love World T-shirt all in black.
I'm obsessed with Barefoot Dreams Blankets. Specifically the $250 "Covered In Prayer" one. It's the coziest and the best, and I swear it's magic. It literally just makes you feel better!
My husband got me the Ember 12-ounce travel coffee cup. Honestly, I wondered at first if I would ever use it and now I'm obsessed. I have six of them. Two in all of the areas I spend the most time at home and in office. I take one with me on my morning walk/workout outside each morning and my coffee stays hot for over an hour.
What service can you not live without?
Audible App—I'm getting through so many books I've wanted to read for years this way. I listen while working out, driving, etc.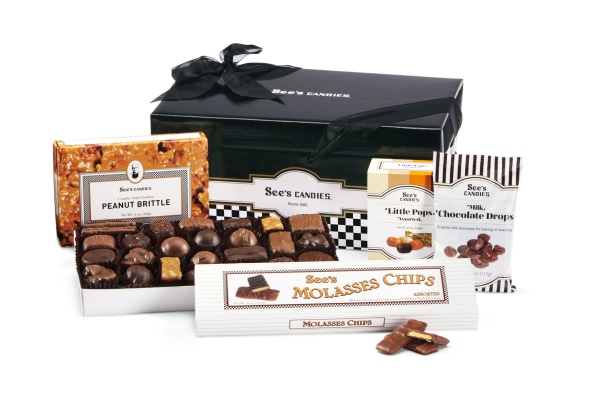 What products do you still use because you believe nobody's ever improved on them?
See's Candy, Spanx (how ironic those are my first two), anything Oprah does (still no one does what she does better, or even close), the It's A Small World ride at Disney. No ride is better.
What's a product you recently splurged on?
I splurged decking my house out in full Christmas decor by Jeff Leatham. I admired his work on Instagram for years. No regrets, he's genius. It was magical and so worth it! He even created a gingerbread village with a gingerbread person and had names of the 40-plus family and friends I had stay with me for Christmas this year.
What song do you listen to . . . 
When you're just waking up?
Favor by Joel Osteen Ministries
When you're driving?
"L-O-V-E" by Nat King Cole
When you're working out?
"Turn Down for What" by DJ Snake & Lil John or Beyoncé's Homecoming—Live from Coachella
When you're hard at work on a big project?
Hamilton, the musical soundtrack
To get psyched for a big presentation?
"Whatever It Takes" by Imagine Dragons
To mellow out at the end of the day?
White noise from a sound machine. I have this on when I put my daughter to bed, but it works wonders for adults, too. It should be on every playlist.
What do you do with the time when you have . . .
A free five minutes?
Make another coffee (Note to self: I need to cut back on this) and check phone. (Also working to cut back on this).
A free hour?
Hug my daughter, Wonder, or FaceTime her if I'm traveling or at work. And I would breathe, feel alive, and grateful. And move! The first several years as an entrepreneur, I would work a 20-hour day and feel accomplished but then realize I didn't physically move my body all day. Now, I'm intentional about walking, breathing, feeling grateful, and feeling alive.
A whole free day?
I spent 10 years working 100-plus-hour weeks starting It Cosmetics in my living room and building it to a billion-dollar brand, all while doing 200-plus live shows on QVC each year, and for so long was feeling so burned out. These past few months have been the first time where I'm feeling fully present and restored. And I'm creating and writing and dreaming nonstop again. So in a full free day, I would do that. I would start the day with the prayer and intention to be of service that is significant to others. And then would see what happens.
What's your favorite thing to eat when . . .
You're in the middle of work and need a quick burst of energy?
Macadamia nuts and Lily's No-Sugar Chocolate Chips.
When you need a quick takeout lunch?
Some type of salad that meets the Fab Four by Kelly LeVeque.
When you have plenty of time to go out and eat?
Cellar De Con Roca in Spain, Azteca Mexican Restaurant in Washington state, Le Panier Bakery in Pikes Place Market in Seattle, Plataforma Brazilian Churrascaria in Manhattan, French Laundry in Napa, The Palace Hotel San Francisco (where I met my birth mom for the first time at age 32), the Four Seasons Sunday brunch on Doheny in Beverly Hills.
What do you love to do when you should be working?
Instagram, Realtor.com app, looking at art online, reading inspirational quotes.
What's your necessary vice?
Almost all reality TV shows including Shark Tank, The Bachelorette, Real Housewives, the Kardashians—love them all!
Which app do you look at . . . 
Once a day?
Realtor.com App.
Once an hour?
Instagram.
Far too often?
Email. It's other people's to-do lists, disguised as your own. It can easily hijack your energy, time, and day!
What is your favorite charity to donate to, and why?
I donate to and am involved in several charities and causes. Too many to list. I'm so proud of the work so many are doing to be of service in such significant ways. When I started my company It Cosmetics, even before I was able to pay myself, we partnered with Look Good, Feel Better, which helps women face the effects of cancer with more confidence. Now 10 years later we've donated over $40 million in products and money to the cause. I love the work that organizations are doing such as World Vision, Animal Medical Center, Lakewood Ministries in Houston, Mosaic Church in Hollywood, and so many others.