The unmistakable Arby's tagline is voiced by Golden Globe–winning actor and unmistakable baritone Ving Rhames, who has saved the world time and again by crafting spy gadgets as Luther Stickell in the Mission: Impossible franchise. For Arby's, he presents "the meats"—an equally essential weapon in the fast food arms race.
"We put a bold flag down," says Jim Taylor, Arby's chief marketing officer, of the tagline that launched in 2014. "If you are someone with us, who shares a passion for high-quality meat cooked the right way as deliciously as possible, we're going to be a place you can get an abundance of different types of meat as a centerpiece for every sandwich."
Indeed, in the age of plant-based Impossible burgers and Beyond Meat, Arby's has not only decided to resist the rising tide of veganism and flexitarianism, it's positioned carnivory as a "with us or against us" values system, going so far as to recently launch its first "megetable," which it called a "marrot"—a shameless troll of a carrot that's made entirely out of meat.
"Here's our philosophy: If you try to stand for everything, you end up standing for nothing," says Taylor, who also leads menu development (including megetables). "At some point you have to draw a line. This is what we're going to say our brand is all about. We made a decision [that] our brand is going to be about real meat, and there will be other people who get into plant-based, but our true north is we have the meats, and real meats."
To "have the meats" isn't just an existential anchor. A decade ago, it was a revenue lifeboat. Arby's sales dropped 5.8% in 2008 and 8.2% further in 2009. "Arby's performance is amongst the worst in modern restaurant history," wrote a J.P. Morgan analyst in 2010. That year, as sales and margins continued dropping with no turnaround in sight, the market began speculating that the chain would go up for sale—for as much as $600 million. In 2011, Arby's did indeed sell to a private equity group, but for a mere $130 million, less than half what the lowest estimates had wagered a year earlier.
Arby's is currently run by Inspire Brands, which is majority owned by affiliates of Roark Capital Group, investors in meatatarian brands including Buffalo Wild Wings, Hardee's/Carl Jr.'s, Sonic, and Culver's. The chain recruited Paul Brown from Hilton to become CEO in 2013, ushering in a new, flesh-based renaissance with same-store growth every year since, for a total of $3.9 billion in revenue in 2018 (or nearly 4x what it made in 2011). Under Brown's leadership, Arby's now offers eight different types of meat on the menu all the time, and other varieties are featured in limited-time specials. A brisket sandwich, launched in 2013, contains meat that's hand-smoked by a multi-generation, family-run business in east Texas. Another sandwich layers bacon atop roast beef. Yet another features thick-cut pork belly. Arby's even introduced hand-carved gyros nationwide, with a blend of beef and lamb sliced right off the spit.
It's a strategy involving not just meat, but as Arby's dubs it, meats. Each menu item requires Arby's to develop new expertise in sourcing products and preparing cuts in-house. Witness the company's push into selling game, which began when Arby's launched a limited-edition venison sandwich in 2016. The move was shocking to the press, largely because blander options like beef and pork dominate fast food menus, along with those of American restaurants in general.
"We said, in this world, who is passionate about meat? Who loves meat? Hunters," recounts Taylor. It was "a group that overindexed pretty hard with Arby's. And we thought, we should do something for them." "Them" being the 20 million people in the U.S. who kill their own food but can only taste deer seasonally. Arby's marketed the new product with the tagline "Meat Season" and promoted it with a sign reading, "You say hunting, we say sandwich gathering."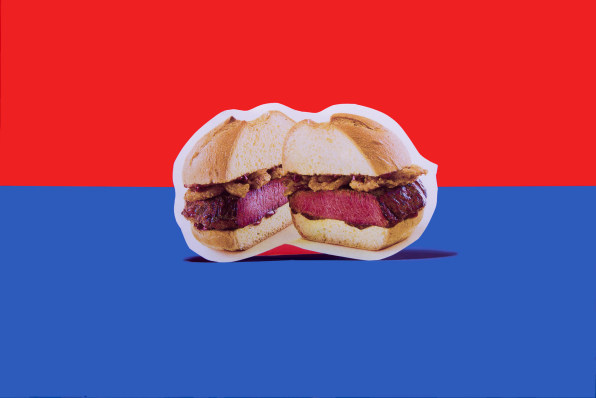 Arby's sold 1,900 venison sandwiches in just five states during an extremely limited launch in 2016. Some locations sold out in a matter of minutes. For the 2017 release, Arby's prepped a bigger inventory and sold venison nationwide for one day only—during which time it moved an incredible 96,000 sandwiches. "We've tested elk, duck—there will be more of that along the way," says Taylor.
---
More from Fast Company's series on "The New Business of Food":
---
There's no doubt that Arby's has found success by appealing to meat eaters, but the formula does seem to discount that many people are eating animals more sparingly these days, whether it's for reasons of health, the environment, or ethics. Does Taylor worry about the fact that, between 2014 and 2017, Americans identifying as vegan grew 600%—to account for as much as 6% of the population? Or that plant-based alternatives to cheese, milk, and eggs grew 17% between 2017 and 2018 in an otherwise stagnant grocery market?
Apparently not. "We're never going to win over people looking to . . . eat vegetarian meat," he says. "We're never going to be that choice." Plus, there's the opportunity cost of being another fast food joint pushing faux meat instead of the unique menu items at Arby's. "Let's speak to the 95% of the people who are out there versus the 5% we don't have any right to win with anyway."
But what if trends continue, I ask. What about the world that's 5 or 10 or 20 years out? Perhaps we produce less meat in order to meet strict carbon emissions goals. Perhaps we cease subsidizing cattle and dairy production. Wouldn't the Arby's strategy need to shift then?
"At least half the people 3,000 years from now are still going to be eating meat," Taylor says with a chuckle. Then he clarifies, quite seriously, that even if 10% of people go vegan it doesn't concern him.
"What I've found, for long-term adoption in mainstream America, is 'How does it taste and what does it cost?' People are not going to pay more for something that tastes worse. I've seen statistics where 80% to 85% of vegetarians come back to eating meat as part of their lifestyle at some point. We want to be that place for people . . . coming back," Taylor says, laughing again. "That takes a stand at this day and age. Not appealing to vegetarians, in fact, makes us stronger as a brand. We're 100% carrying a flag for meat-loving America."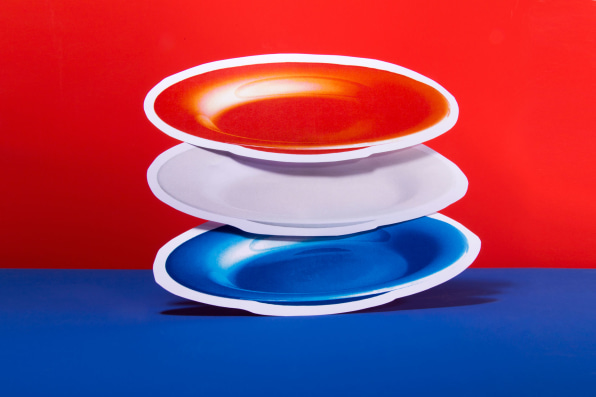 Taylor knows his customers. Describing an Arby's fan as a flag-carrying member of "meat-loving America" or "someone with us" doesn't seem accidental. Research shows that hunting skews conservative, while veganism and vegetarianism skew liberal. Also, selling a venison sandwich to hungry hunters is one thing; taunting vegans with veggies made of meat is quite another. "When I have a conversation with some of our core guests about what their favorite veggie is, it's potatoes," Taylor laughs. "You probably never thought about eating a carrot here, but how about a marrot?"
A whopping 77% of all Arby's locations in the U.S. can be found in states that voted for Trump in 2016. Put differently, there are three times as many Arby's stores in red states as in blue. McDonald's, by comparison, runs closer to a 50-50 split, with 58% of its restaurants in conservative-voting states, and 42% in liberal ones.
Like all companies these days, Arby's is focused on building community. And it wants to make sure the meat on its plates stays red.
[Photos: courtesy of Arby's, Mykola Sosiukin/iStock (plate)]
This story is part of Fast Company's special coverage of "The New Business of Food," in which we explore how changes in culture, technology, and the environment are altering the food industry's entire metabolism. Click here to read the whole series.