"I would not advise people to do drugs and then watch this," Ari Aster says of his new horror film Midsommar. "Although you're probably okay if you take something that's not too . . . athletic."
By "athletic" he means psychotropic, and the reason people might want to stay away from such athleticism here is because when the characters in Midsommar go all Serena Williams, they take the audience with them. More so than any other film in recent memory, this one puts viewers uncomfortably and intractably in an electric psilocybin headspace—multiple times—and is not entirely gentle about it. Sober audiences may feel like they're tripping, but tripping audiences will probably feel like they've died or perhaps were never born at all. It's a masterful marriage of visual effects and storytelling that's not suitable for the easily wigged out.
Midsommar introduces us to Dani (Florence Pugh) at a vulnerable moment in her life. Recovering from unimaginable tragedy, Dani tags along with her inattentive boyfriend, Christian (Jack Reynor), and his pals as they visit a remote community in Sweden on the eve of a once-every-90-years festival. If you've ever seen a horror movie, especially a folk horror movie (e.g., The Wicker Man or Picnic at Hanging Rock), you can probably guess that things don't end so well for all parties involved.
Along the way, however, two rather effective tripping sequences help usher these characters on toward their respective destinies.
Following the surprise success of Aster's 2018 film, Hereditary, which grossed a healthy $79 million worldwide, Midsommar was rushed into production for summer 2019. The turnaround was extremely accelerated, with filming beginning just last August and editing wrapping, well, what time is it?
According to Aster, though, the hardest part of meeting his deadline, at least in post-production, was getting the tripping sequences just right. "We kind of went back on it at least 10 times, where it's like, 'Okay, this sequence is too much,' and then, 'Okay, now it's too subtle,'" the filmmaker says.
Aster needed to get the feel of the drug scenes exactly right because they serve a pivotal function in his film. Without giving away too much, let's just say there's a scene early on where the main characters take mushrooms upon arriving at the Swedish town, Horga, and then there's a sustained 20-minute gonzo drug scene near the end, involving unspecified psychotropics. Between these two scenes, we see the full spectrum of how tripping can affect one's psychological state. It's important that we do so, too, if we're going to follow these people wherever they may be headed.
The first scene, the mushroom one, is set in the lush, rolling hills at the edge of Horga, beneath the open sky and never-setting sun. According to Aster, the scene is meant as a bridge between the real world of college apartments and dissertations, and the tight-knit rural community Dani, Christian, and company are about to enter. The mushroom scene plunges us down the rabbit hole, into a fantastical new world, and primes us for how various characters will react to it.
In order to research those reactions, Aster merely had to look back on old memories.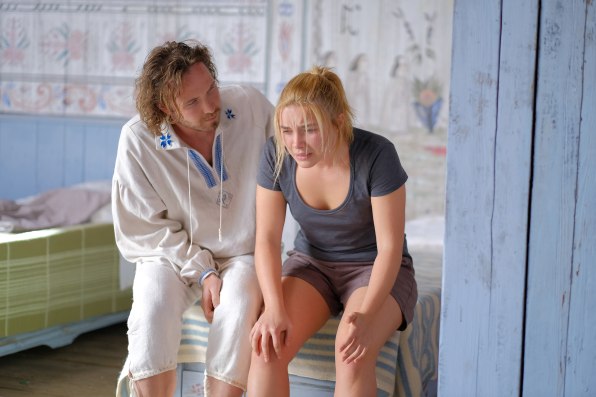 "I've done mushrooms before, back in college, and I've had very good trips, and I've had very bad trips," the filmmaker says. "The good trips tend to bring you very close to people and you feel like a family. Then when you come down, there's this hangover where that all kind of dissipates and you're back to being alone again. Sometimes it's the inverse, where the revelation is that you're alone and you're gonna die alone and then when you come out of that, it's a huge relief."
Both types of reactions happen simultaneously to different characters during both of the film's drug scenes, and viewers ride sidecar into both frames of mind. Aster wrings a lot of hazy authenticity out of performance and dialogue ("It's a new person" one member of the group gasps when a stranger walks by), but it's the auditory and visual effects that bring it all home. In Midsommar's drug scenes, color cascades, light bends, and all of nature feels vibrantly alive.
Just as important as how Aster wanted these scenes to feel, however, was how he didn't want them to feel.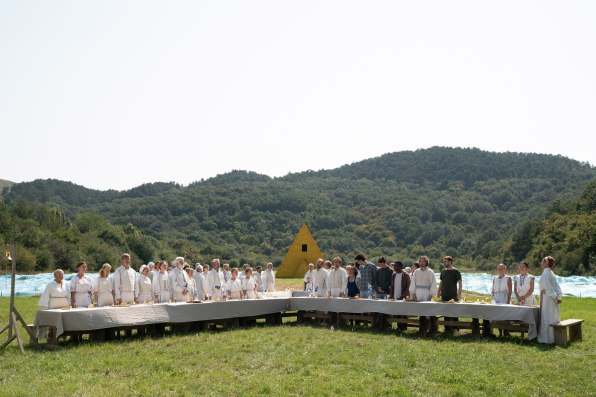 "I definitely tried to avoid the brand of psychedelia that we've seen already," he says. "I've seen it done really well before. I think Gaspar Noé is really good at it. But I wanted to avoid like that '60s tie-dye, Midnight Cowboy, Easy Rider kind of thing. Some Kenneth Anger, too. I basically had a look book of things I wanted to stay away from."
If the mushroom scene establishes Aster's visual vocabulary for how these characters feel while under the influence, the bravura, 20-minute sustained drug scene near the end reveals its full range of possibilities. This immersive sequence mimics the gradual, blooming come-on of hallucinogens. Viewers who aren't paying close attention to every corner of the screen might not notice as objects begin to undulate and sway, open and shut, shimmer and shine. (Aster's go-to words to describe this phenomenon in the script were 'swelling and deflating.') It starts off almost imperceptibly but at a certain point it becomes impossible to ignore, leaving audience members to wonder how long the kinetic shift had been going on before they noticed.
We in the audience need to have had the experience with the mushroom scene so that we are prepared for this one.
"The tripping sequence probably goes on for altogether about 20 minutes but hopefully you're feeling that it's shorter," Aster says. "It was important to us to maintain that feeling and have it last a long time and have it be an experience, but at the same time have it not be distracting from the story and characters. We were kind of obsessed with making sure that we could live in this without it being agitating or obnoxious."
Whether the filmmaker succeeded is a matter of perception. Some viewers will be riveted while others will be horrified. Kind of like how the same mushrooms can deliver one person heavenly euphoria—and slip someone else into psychosis.