A new tool from the legal design labs at BYU and University of Arizona aims to reduce the number of evictions by helping landlords and tenants communicate with each other before a landlord decides to evict. Called Hello Landlord, the web-based tool provides a simple format for tenants to fill out, describing their situation. And then—using software created by the technology arm of the law firm Wilson Sonsini Goodrich & Rosati—it automatically generates a letter that they can send to their landlords.
According to the designers behind the project, 90% of all landlords who saw test versions of the letters said that if they received such a letter from a tenant, they would be willing to work with the person to find a way to help them pay rent instead of immediately evicting them.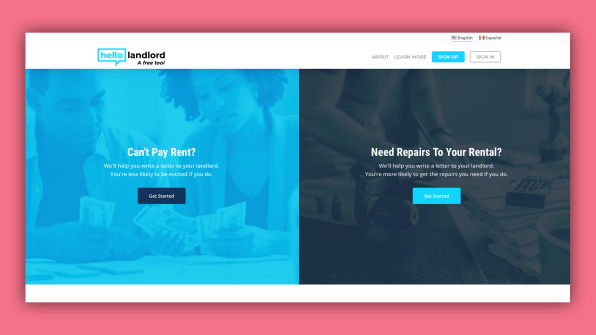 "Landlords don't like filing evictions. It's expensive to file evictions. It takes an emotional toll," says Kimball D. Parker, the director of BYU Law's legal design lab LawX and director and president of Wilson Sonsini Goodrich & Rosati's tech subsidiary SixFifty. But Parker and his students found that when landlords didn't hear from tenants that they were going to miss rent—often due to an unforeseen medical expense—the landlords felt they had no other recourse but to evict.
Once a landlord files eviction proceedings in Utah or Arizona, where the students' research was focused, the process is fast and severe. In Utah, for instance, tenants have only three days to respond to an eviction lawsuit, and Parker points out that if they do appear in court, there isn't a lot of legal ground for judges to provide leniency if the tenant has missed a rent payment.
To understand this process more deeply, Stacy Butler, the director of the University of Arizona law school's Innovation for Justice program, served her students an eviction notice and asked them to go through the entire proceedings process themselves. Then, the class observed more than 200 other proceedings and conducted interviews with tenants who'd experienced eviction, and landlords, judges, attorneys, and others.
"We went in thinking evictions happen in court, so we're probably going to build a court solution," Butler says. "That's where a lot of legal tech innovation is happening: Let's use tech so people can act like lawyers in court when they're not. This was not going to work in eviction because it's too rapid and rigid." That's why the team decided to skip a court-focused tool and instead try to intervene and stop the eviction from happening in the first place, especially because it's a devastating process for tenants, who are forced to navigate a maze of paperwork and usually don't have legal help.
"They feel powerless and voiceless and they're dealing with a lot of other social pressures at the same time," Butler says.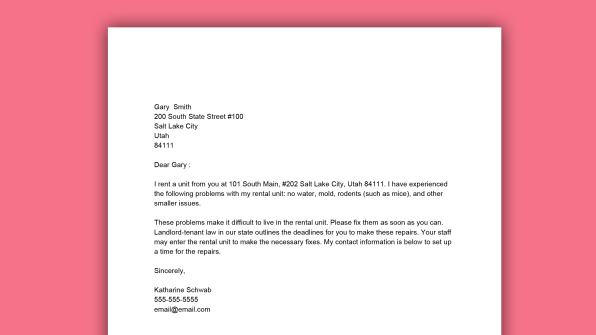 While many tenants receive eviction notices if they miss a rent payment, others stop paying to protest that their landlord hasn't made repairs in their home. While this is something landlords are legally required to do, it can be risky for tenants to stop paying rent if they don't, and it's a far better option to send the landlord letters to provide a trail of evidence that shows they've refused to do repairs (more drastic options include calling a housing inspector). The Hello Landlord tool includes a myriad of personalized letters, in English or Spanish, for both of these situations.
To use Hello Landlord, users create an account on the website so it can store their letters for them. This was an important step because it's vital that tenants save a copy of their letters. During their research, Butler and her students found that tenants often wouldn't have written evidence of their communication with their landlord when they were in eviction court. But with Hello Landlord, they would be able to easily pull up any letters they sent through the platform to present as proof.
The bulk of the user interface is a relatively simple form that asks tenants for information like why they can't pay rent, how much they owe, and how they're planning to make up the payment in plain language. It even helps them structure an installment plan, promising to pay a certain amount regularly to make up the previous payment. Similarly, for the letter that asks the landlord to make repairs, the form asks for details about what's gone wrong in the tenant's unit and grants the landlord permission to allow a staff member to enter the unit to fix the issues.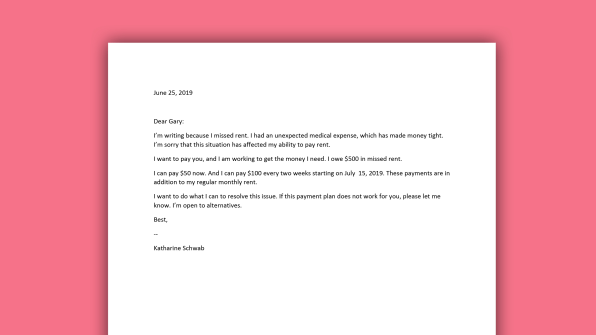 The law students tested both the questions and the form's flow to ensure that it was easy to understand for any tenant, and then workshopped the language of the letters based on feedback from landlords. Ultimately, the final versions of the letters are informal, so they actually sound like they are coming from a tenant and not a lawyer. Importantly, they're conciliatory, which the students found landlords were more receptive to. Once the students researched and designed Hello Landlord, they handed it over to SixFifty to build.
This is Innovation for Justice's first project and LawX's second—after starting the program in 2017, Parker and his students built a TurboTax-like tool for responding to a debt collection lawsuit.  Both legal design labs dive deep into legal issues and then aim to create accessible tools to address them.
Hello Landlord is truly scalable: Tenants can use it across the English- and Spanish-speaking world, because it doesn't create letters based on the tenant's location or the legal jurisdiction they're in. Of course, not all landlords are willing to talk or participate in a discussion. Some exploitative landlords lie about making repairs as a way to force people out of apartments over time as they become frustrated, which then allows the landlord to raise the rent. It's not always as simple as getting the two parties to talk to each other, especially when landlords make a practice of taking advantage of their tenants.
Stephanie Maynes, a second-year student at BYU law who helped mediate rent disputes between other students and their landlords, says that's how she originally viewed landlords. However, participating in the design process for Hello Landlord helped her understand that landlords aren't always trying to exploit tenants and are looking for more open lines of communication. Based on her mediation experience, she's found that Hello Landlord is an ideal way to get the two parties talking.
"Mediation is a forum where they can talk things out and hear each other and understand what was going on…[but] it can be really hard to get people where they're in the same room," she says. "We saw a great opportunity with Hello Landlord that people could do it on their own time and it would still encourage and facilitate communication."