This August, Converse will release a new line of sustainable shoes made from discarded jeans. Dubbed Renew Denim, every pair will be unique because it's been sourced from worn denim. But Renew Denim is only the first step in an roadmap for Converse to produce millions of Chuck Taylors and Chuck 70s out of upcycled textiles of all sorts.
Yes, like Adidas, Everlane, and Native Shoes, Converse is going green—but it's doing it in a very Converse way.
Talk to any shoe company, and you'll hear about the importance of technological innovation. Nike Air. Adidas Boost. Performance footwear is an ongoing arms race to create the next great lighter, faster thing. The same is true when it comes to more sustainable shoes; Adidas learned how to weave an entire running shoe out of only one material so it could be ground up and made into a new one. Native Shoes developed footwear built entirely out of biodegradable plant matter. But a little more than four years ago, a team of Converse execs gathered around a table to talk about another form of innovation—one they call emotional innovation.
"How do you emotionally feel in the shoe?" explains Brandon Avery, VP of innovation at Converse. "Can I express myself, be myself?" Indeed, if you consider the halo effect you get from wearing sustainable fashion, that's emotional as much as it is technical.
Within months, the development team began experimenting, inviting Converse employees to bring in old garments that were important to them but ready to be Marie Kondo'd from their closets—from mustard yellow cardigans to flowery sun dresses—and then cutting and sewing these garments into new shoes. Beautiful shoes. Bespoke shoes. Quirky, high-design Chuck Taylors. And in each case, the shoe worked functionally and aesthetically, because the Chuck's simple, century-old construction—a rubber sole and a canvas upper—proved to be an adaptable platform for pretty much any textile.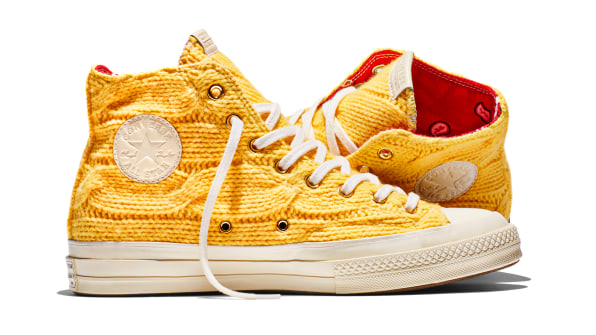 "These two things that people had a connection to created another new thing," says Avery. "No matter how different each item was, the iconic nature of the Chuck Taylor embraced those elements and brought them to life."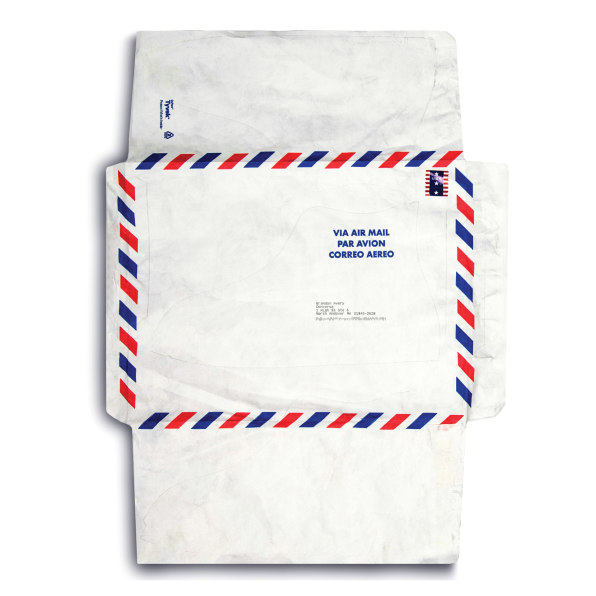 The development team pushed the boundaries of the idea, so much so that eventually, Avery literally grabbed a paper postal mailer right off his desk and added it to the program. The result was a crinkled, papery pair of Chucks that proved the theory: Converse can make its most iconic shoe out of anything, and the shoe only gets more interesting for it.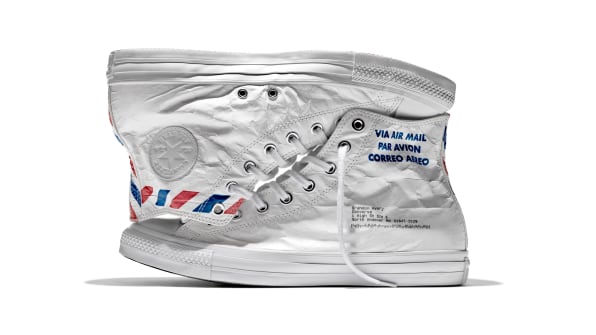 The team knew they were on to something. So about two years ago, they began considering how their upcycled textile experiments could scale. The development team was aware that it couldn't hand-make millions of shoes a year from all of our favorite sweatshirts, after all. It would be a logistical nightmare. They needed a lot of one kind of material that could arrive dependably on an assembly line. They needed a source of one kind of old garment that would still be imbued with a sense of history, even if it wasn't your personal history.
After talking to the U.K.-based used clothing retailer Beyond Retro, they realized that garment could be old jeans. We all love jeans, and there's something innately comforting about an old pair over a new pair. In the U.S. alone, we buy 450 million pairs of jeans a year—a habit with a particularly toxic ecological footprint. Beyond Retro was already sorting countless jeans a year; it could provide Converse with not just used denim, but used denim in certain colors, weaves, and weights. The jeans would be steam cleaned and butterfly cut (split at the seams with zippers removed) then delivered to the factory.
But there was a problem the development team still needed to solve. "Textiles are usually punched from rolled fabric. Instead of bolts of fabric there are denim jeans showing up," says Jessica L'Abbe, senior director of materials. Canvas is wide and uniform, unspooling like an endless bedsheet. Jeans are skinny, tapered, and often have blemishes that need to be cut around.
Standing on their own factory floor, the team was debating how to take a pair of jeans and turn it into a shoe at the scale of millions. That's when someone looked up at what was happening literally right next to where they were standing. Small leather hides—also rife with unpredictable imperfections—were being scrutinized by factory workers who used steel rule dies and a hydraulic clicker press to efficiently cut the hides into shoes. Converse already had the process in place, if they treated old denim like new leather.
"Sometimes what's right in front of your face you can't see," laughs Avery. "Jess and I have been here over 10 years, we've seen [leather worked] a million times, but we were thinking about it through the lens of canvas when we thought about process innovation."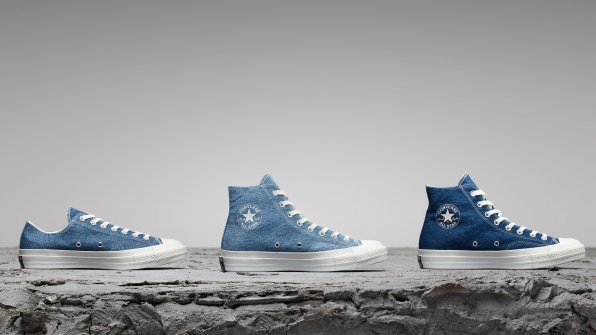 Renew Denim will be available in three shades (light, medium, and dark) this August. The high tops will retail for $90. Converse is committing for Renew shoes to cost only $5 to $10 more than their canvas counterparts, which means Converse is surely eating profits on the backend to introduce the new initiative to the public. Hundreds of thousands of Renew shoes will make it to store shelves in the next year, with the goal of scaling the project even larger into the future.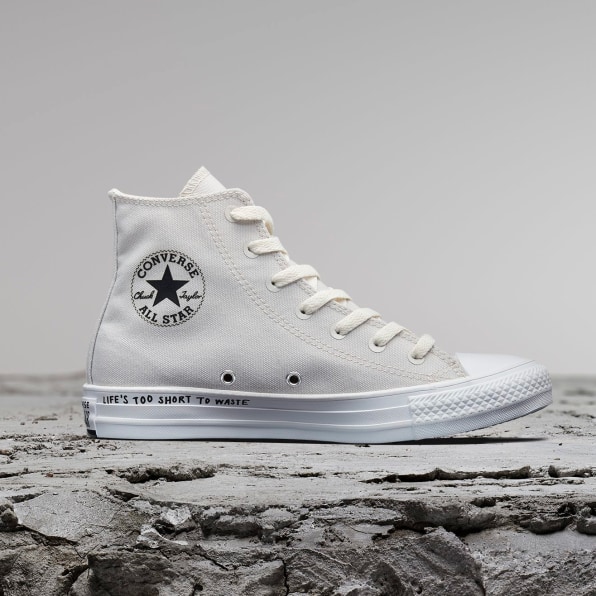 It's worth noting that Renew Denim isn't the only sustainability play Converse is after at the moment. Over the past few years, the company also developed a shoe woven from recycled PET plastic (out this July), and a shoe developed from recycled cotton scraps from the factory floor (out in spring 2020 due to how little material Converse has to work with).
As for Renew Denim, it's only the first of many unannounced upcycled Chuck Taylors to come from various textiles—each of which will be a mass-produced good with its own unique history. "Every denim Chuck is different because each pair of jeans will be worn differently. Each will feel highly personal even at scale," says L'Abbe. "We feel that's a special moment for this program."