For 66 years, the advertising industry has gathered in the South of France to make deals, get inspired by work from around the globe, and of course pat themselves on the back with shiny trophies. Officially, it's called the Cannes Lions International Festival of Creativity, and it features more than 600 speakers from brands, agencies, tech companies, and more across more than 300 sessions. And that doesn't even count the off-Palais events and panels set up in villas, cabanas, and branded beach encampments up and down this city's famous Croisette. There's Twitter Beach, Facebook Beach, Spotify Beach, the Live Nation x Citi Villa, Havas Cafe . . . . It's advertising's version of the Silicon Valley opening credits.
Here's what you're missing from the rosé-pumping heart of the global media-technology-advertising complex (or not missing if you're here):
Monday mood: This place is like Coke's Happiness Factory ad—a Cannes Lions winner in 2007—except instead of a Coke machine, it's the magical world inside that banner ad you accidentally clicked on Taboola.
Discovery of the day: Taboola has a cabana here.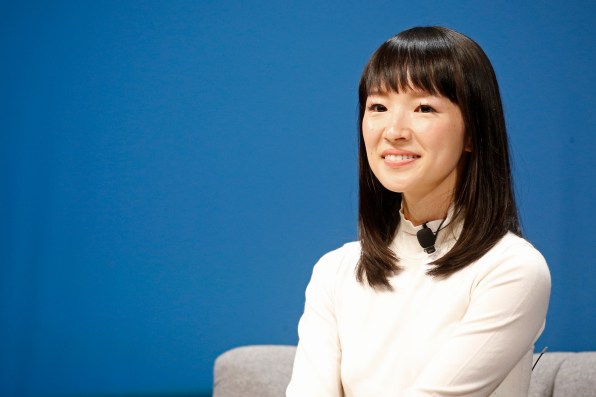 Global celebrity of the day: Marie Kondo meets the marketers
One of the biggest and most anticipated sessions of the day was Marie Kondo's entitled "Less Stuff, More Joy: Life-Changing Japanese Creativity." The crowd started to jam into the Palais' giant Lumiere theatre during the previous session to get seats early, and the enthusiasm for Kondo was palpable.
Kondo took the stage with her partner and KonMari CEO Takumi Kawahara, and the two essentially gave a greatest hits breakdown of her career and the KonMari philosophy that would be familiar to anyone who's read Kondo's best-selling book (The Life-Changing Magic of Tidying Up) or watched her Netflix series.
In true Kondo form, she greeted the space on the stage, kneeling, closing her eyes and saying, "Hi, nice to meet you, I'm Marie Kondo. I'm so glad to talk at this Palais. I hope as many people as possible will understand the KonMari method and their lives will change," she said. Then she turned to the crowd. "Now let's do it together. Close your eyes. Think about gratitude for this place, for this Palais. Think about your hopes at Cannes Lions. [A solid 60 seconds passes in the perfectly still room.] Thank you. How do you feel? Can you feel a change in the air?"
Yep, the air went from Marie Kondo stan to full, all-caps, starry-eyed MARIE KONDO STAN. The crowd now clearly loved her even more, if that's possible. Kawahara revealed they're planning to release a children's book later this year and a book about tidying up at work sometime in 2020. At the end, as she walked off the stage, Kondo stopped to greet the crowd that had gathered at the front, chatting, taking selfies. A global star for getting us to buy less, adored by an audience whose job it is to constantly sell us more stuff.
Tidiness threat quotient: high.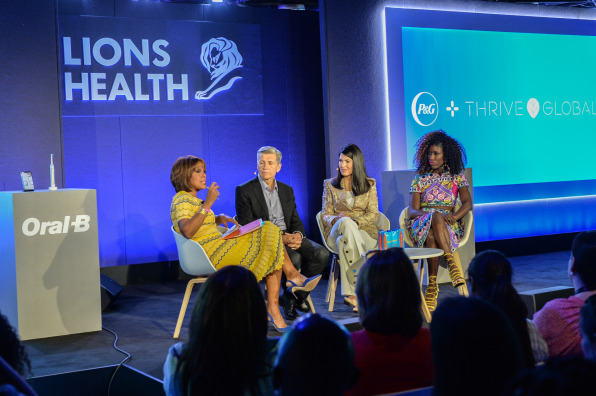 Big idea of the day: "Microstep habit stacking"
In a session dubbed "Unleashing Creativity to Fuel Health, Habits, and Humanity," with Thrive Global chief business officer Ashley Miles and Endeavor CMO Bozoma Saint John, P&G CBO Marc Pritchard announced a new partnership with Arianna Huffington's Thrive Global that aims to combine cognitive and behavioral science with the daily habits associated with P&G's products. The idea is to improve our health and well-being through what they call "microstep habit stacking." It may sound like a Marie Kondo T-shirt folding strategy, but, according to the companies, it's a neuroscience-backed way to add a new habit to an individual's life by attaching it to an existing habit moment.
No company owns more of our daily habits than P&G: brushing your teeth, shampooing your hair, shaving, changing diapers, and so forth. As part of this partnership, P&G is integrating Thrive Global research on relieving stress into its products and marketing. That includes identifying your top priority for the day while applying Secret deodorant, singing your baby a song while you change their Pampers diaper, and developing a daily gratitude practice while brushing your teeth with Crest. 
Damn, this actually is Kondo-esque.
After the session, Pritchard told Fast Company that this is about using the company's stable of brands to help people be their better selves.
"This is the real deal," says Pritchard of micro habit stacking. "Think about what advertising does generally: it interrupts you. What this does is you have content the Thrive team creates, that you can access, it's on your smartphone, as text messages and more that give you positive affirmation as you do these daily habits. That will replace advertising. It's a utility that makes you better." P&G was the biggest advertiser in the U.S. last year, spending $2.9 billion. So when Pritchard says, "That will replace advertising," people should be paying attention.
Utility is the marketing platform of the future!
Trophy time
Outdoor Grand Prix:
Nike "Dream Crazy" by Wieden + Kennedy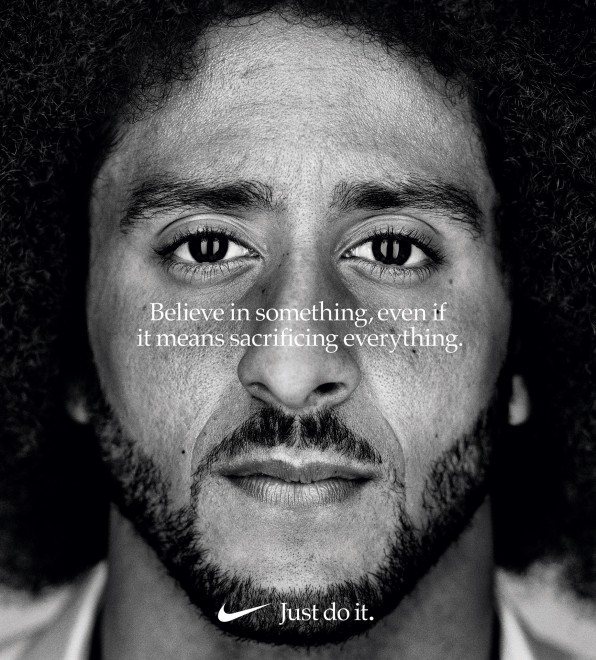 Design Grand Prix:
Google "Creatability" by Google Creative Lab