While some cities still struggle to build safe bike lanes, others are creating infrastructure like a multi-level bike parking garage and an aerial path that connects to transit stations. The Bicycle Architecture Biennale, opening in Amsterdam on Monday, highlights 15 of the most interesting projects. "By showcasing the most dynamic, visual solutions, the BAB inspires a new way of thinking about what cities of the future should look like," says Adam Stones, strategy director of Bycs, an organization aiming to move 50% of urban trips to bikes by 2030. "And by showing what is possible, it will lead to many more creative solutions being implemented."
Four of the projects are from the bike-obsessed Netherlands. But Next Architects, a Dutch architecture firm that helped curate the show, points out that the country was dominated by cars in the 20th century, and had to make conscious choices to transform–meaning that other countries can do the same thing. "It is thanks to decades of campaigning against car architecture, against plans without bicycles, that the space for slow traffic and residence has been reclaimed in the city," says Bart Reuser, founding partner at Next Architects.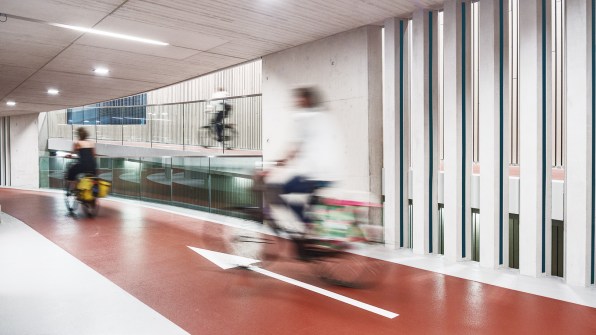 Biggest bicycle parking in the world
Ector Hoogstad Architecten (Utrecht, the Netherlands)
In Utrecht, where around 43% of trips take place on bikes, a massive bike parking garage at the central train station now fits 12,500 bikes. The space is so large that it includes indoor bike ramps so that riders can quickly ride to park; a digital system is designed to guide people to empty spaces. (Along with other bike parking near the central station, there will be more than 33,000 spaces for bikes in the area before the end of 2020.)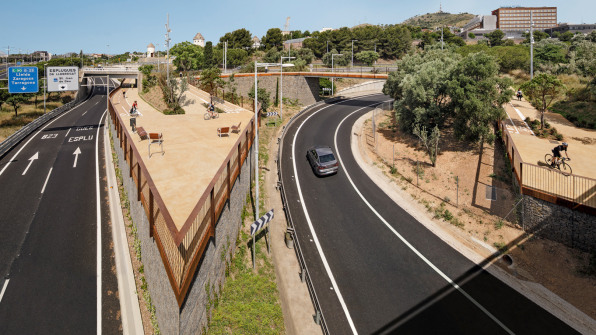 Cycling and pedestrian connection
Batlle i Roig (Barcelona, Spain)
For decades, it's been difficult for people walking or biking to cross an intersection in Barcelona where a ring road meets an expressway. A new path is more direct, or about 1,640 feet shorter than the old route, and designed to feel more like riding in the countryside than the middle of the city.
Coffee & Bikes
BureauVanEig/Biq architecten (Delft, the Netherlands)
Over the last couple of decades, the main road at the university campus of TU Delft has transformed from a street filled with cars to a green zone with walking and biking paths. In the center, a huge new bike parking garage has space for 2,100 bikes combined with a light-filled coffee bar. It also has a bike repair workshop.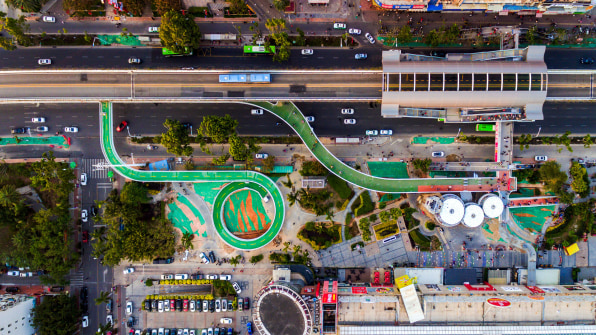 Xiamen Bicycle Skyway
Dissing+Weitling (Xiamen, China)
In Xiamen, an aerial bike path travels for nearly five miles—the longest elevated bike path in the world—with 11 exits to public transit hubs and bike rental for people who are rushing to a nearby bus or subway station. At rush hour, more than 2,000 bikes an hour can fit on the path.
Cycling through water
Visit Limburg, Lens°Ass Architecten (Limburg, Belgium)
In the middle of a Belgian nature preserve, a sunken bike trail cuts directly through a pond, so cyclists can ride at eye level with the water and glide by swans. The path, called Cycling through Water, helps inspire people to ride bikes; an average of 800 visitors a day now come through the area.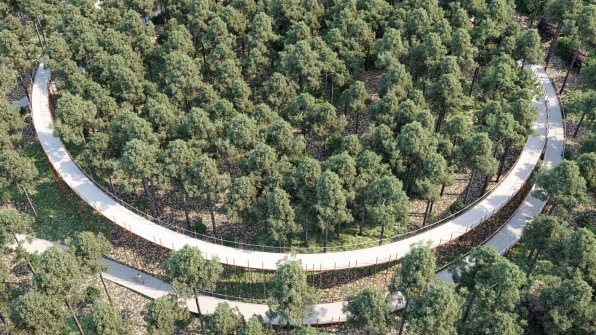 Cycling through the trees
BuroLandschap (Limburg, Belgium)
Nearby, another new Belgian bike path rises as high as 32 feet into the canopy of a forest. The circular path was designed to have as little impact on the forest as possible during construction, while giving riders a new experience in nature. Like Cycling through Water, it's intended as a draw to convince more people to ride bikes.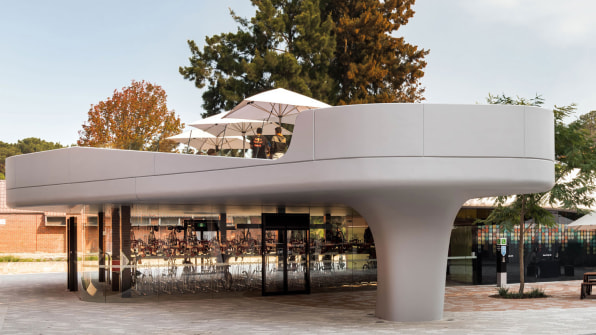 Curtin Bike Hub
Coniglio Ainsworth Architects (Perth, Australia)
At a university in Perth, a bike hub has 200 parking spaces along with showers and locker rooms to make it easier for students and faculty to commute by bike.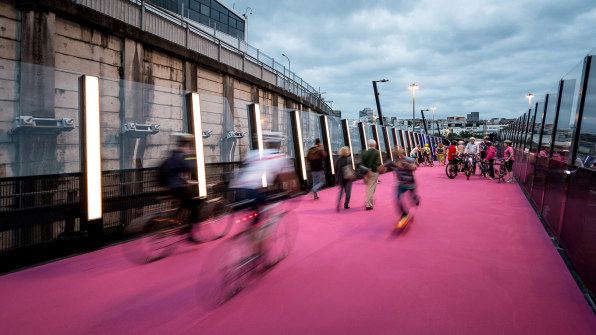 Nelson St Cycleway
Monk Mackenzie, LandLAB, GHD (Auckland, New Zealand)
A former highway off-ramp in Auckland has been transformed into a bright pink bike path that connects to a cycle loop in the city center, providing a new way to cross a busy street. The walls of the path hold an interactive light sculpture.
Ölhafen Bridge
Schneider+Schumacher (Raunheim, Germany)
A sleek, spiraling white bike and pedestrian path crosses a river past an oil terminal, closing a key gap in a longer path between the cities of Frankfurt and Mainz.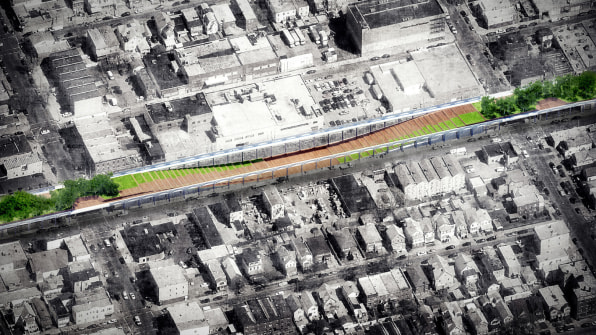 Upside Down Bridge
Nooyoon (New York, USA)
This proposal for an abandoned rail line in the New York City borough of Queens suggests building a "upside down bridge" with a community center at the base, a "floating forest" at each end of the top, space for urban farming, and bike paths along the side.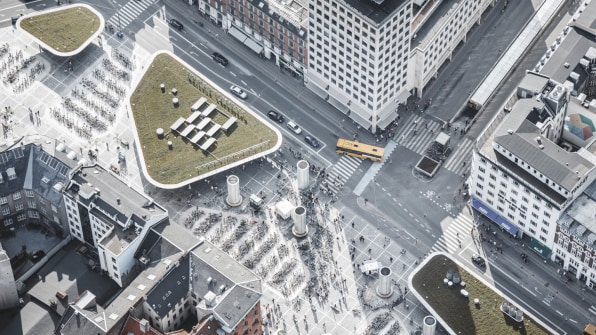 Nørreport Station
COBE and Gottlieb Paludan Architects, Sweco (Copenhagen, Denmark)
A huge plaza next to Denmark's busiest transport station used to be chaotic. The space was redesigned to be easier to navigate, with slightly sunken areas for bike parking that give a clear line of sight across them. The site has space for 2,500 bikes.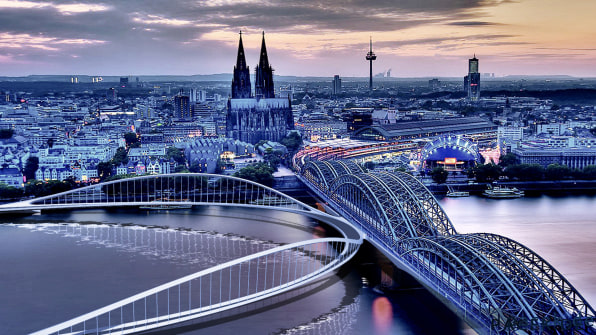 RheinRing
SPADE (Cologne, Germany)
A proposed bridge in Cologne would link to two other major bridges, creating a new connection between the city's halves without a new span across the Rhein River. The curving design will make it easier to walk or bike from the city center to other neighborhoods.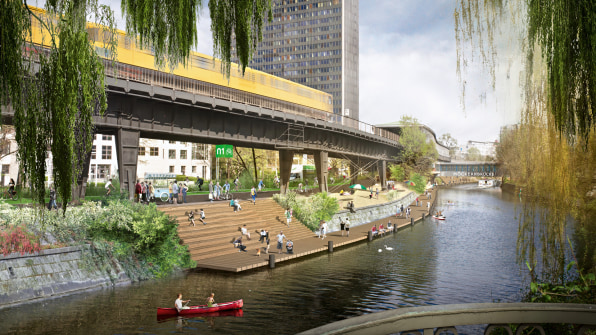 Radbahn Berlin
Paper planes e.V. (Berlin, Germany)
Under an elevated metro line in Berlin, a proposed project would transform underused space into a new protected bike path that shelters riders from rain and snow. The project includes plans for beer gardens, food truck stops, and charging stations for electric bikes along the way.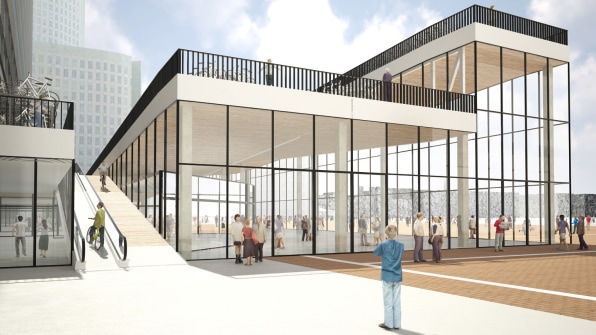 Bike Parking Canopy
NL Architects (The Hague, The Netherlands)
At a new hall at The Hague's central station, an elevated tram track will pass through the hall. In this proposed project, bike parking will also be elevated inside the hall, making it visible and easy to access.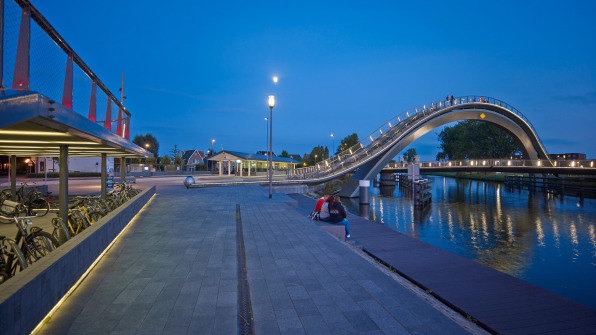 Melkwegbridge
NEXT Architects (Purmerend, The Netherlands)
This unique bridge separates bikes and pedestrians, with a high arch that offers views (and exercise, with steep stairs) for people on foot, and a low path for people on bikes and in wheelchairs. The bridge connects the city center with another district across the river.