Google is now taking pre-orders for Stadia, the game streaming service that's supposed to compete with the likes of Microsoft's Xbox and Sony's PlayStation consoles. The service will launch in a limited capacity this November, followed by a broader rollout in 2020.
Unlike traditional game consoles and gaming PCs, which come with powerful (and pricey) graphics processors, Stadia will use cloud servers to process the games, and will stream them to all kinds of computing devices, starting with laptops and desktops (via the Chrome browser), Google's Pixel 3 and 3A phones, and Google's Chromecast Ultra streaming TV dongle.
Still, Google Stadia's launch games, pricing, and strategy don't look drastically different from previous cloud gaming efforts, which have either failed or floundered because the experience isn't really better–or cheaper–than playing on an actual console or PC. For all the talk of lowering the barriers to console-quality games, prospective players don't seem to have a problem buying an actual gaming system and avoiding the vagaries of streaming.
The reality is that Google Stadia won't reach its full potential at launch. Jack Buser, Google's director of games and business development for Stadia, says the real paradigm-shifting stuff will come later, as developers start using Google's cloud computing systems for games that aren't possible on an Xbox or gaming PC.
"I have the foresight of being able to work with developers that ship one, two, or even three years from now, and I see how these experiences are going to fundamentally shift from what we're used to today," Buser says. "It's going to be a pretty dramatic shift for what a video game can be."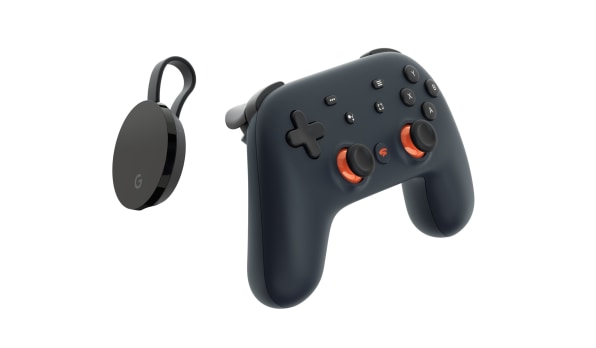 The launch
Come November, Google Stadia's launch will resemble those of traditional game consoles. Players will have to purchase a hardware bundle–in this case, the $129 "Founders Edition"–that includes a game controller (in limited-edition blue), a Chromecast Ultra, and first crack at choosing an online screen name. The first-person massive multiplayer shooter Destiny 2 is included for a limited time, and players who own the Xbox or PC versions will be able to transfer their character progress to Stadia.
The launch bundle will also come with a pair of three-month "Stadia Pro" subscriptions–one for the purchaser, and one for a friend. That service, which otherwise costs $10 per month, will support 4K HDR games with 5.1 Surround Sound, and will include a selection of free games. The free "Stadia Base" service, with 1080p video and stereo sound, will arrive in 2020. With either tier, players can purchase individual games, as they would with a console or gaming PC.
As for Stadia's launch lineup, it includes plenty of games that are already available or on the way to other platforms. Bethesda will have 2016's Doom, and the upcoming Wolfenstein: Youngblood, among others. Ubisoft's games list includes Assassin's Creed Odyssey, Just Dance, and The Division 2. 2K will have NBA 2K and Borderlands 3. Warner Bros. will have Mortal Kombat 11. Square Enix will have Final Fantasy XV. Rockstar, Capcom, and Electronic Arts are on the list as well, with specific games to be named later. The only mega-publisher that's missing–aside from rival console makers Microsoft, Sony, and Nintendo–is Activision.
The downsides of Stadia
This all looks pretty respectable for a company that's just entering the big-budget gaming business, but it doesn't explain why players should divest from the consoles and PCs they've been using for years.
Buser says the initial pitch is about playing from anywhere ("Now you can go on a raid on a tab on your laptop at work during your lunch break," he says of Destiny 2), but that advantage is countered somewhat by steep bandwidth requirements–10Mbps for 1080p video, 35Mbps for 4K–and, in some cases, home internet data caps that users could run up against if they stream too much gameplay.
Google will also be building its online player community from scratch, and is asking players to bifurcate their game collections from the Xbox, PlayStation, and PC libraries that they've spent years building up. While Buser says Google is open to cross-platform play with other consoles and PCs, it's unclear how much that'll happen in practice. (Transferring progress from Destiny 2 on other platforms, for instance, is a one-way ticket.)
Meanwhile, Google won't guarantee that a game will remain available for any particular period of time after a player has purchased it. If you buy a copy of Final Fantasy XV, and Square Enix pulls out of Stadia a year later, you might lose access to something you paid for. That's not the case with traditional consoles, whose games remain playable offline even if they're no longer available for purchase.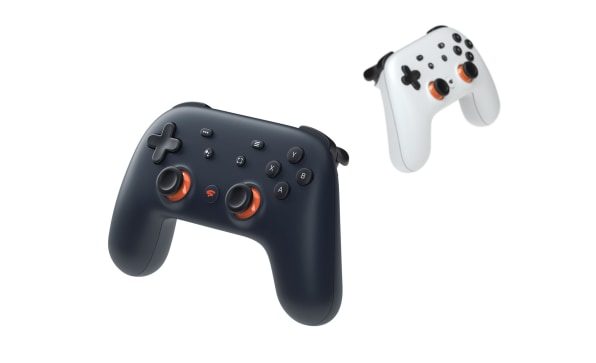 Revolutionary potential
Google could potentially head off a lot of skepticism by focusing only on new experiences, such as games with better graphics, smarter computer-controlled opponents, or larger multiplayer worlds than what traditional consoles can offer. Unlike Microsoft and Sony, Google doesn't have to worry about alienating console customers by making games that run exclusively in the cloud.
"Because we have that focus, we are able to make decisions that aren't hindered by the need for, frankly, the games to also run on a box in your living room," says Buser, who previously worked on Sony's PlayStation Now streaming service. "We're able to create games that are either entirely unique, or have unique experiences that are made possible because of our architecture."
Buser says he dreams of seeing a game on Stadia that consists of "a single, living, breathing world that goes on for a decade or more," with no limits on how many players can occupy that shared universe at the same time.
Still, it's going to be a while until Stadia can offer something like that. The initial launch seems to be more about building publisher relationships and convincing people that the technology works. Over time, Google will try to mix in exclusive features, such as being able to spectate several players at once in a multiplayer game, or jump directly into the part of a game that a YouTuber is streaming live.
As for full-blown Stadia exclusives, the only example Google has named so far is Gylt from the indie studio Tequila Works, but the company isn't saying much about the game or how it'll differ from traditional console games. Convincing other publishers–especially larger ones–will probably take longer.
"Like all big shifts in paradigms, the full potential of the technology and creative possibilities, it will take time to fully grasp," Buser says. "But game developers are a pretty amazing group of folks, and are able to create some of the best experiences I've ever seen in this launch window."