Like every other major awards show, the Tonys have a long way to go before they reach anything that resembles gender parity. Throughout the decades-long history of Broadway's biggest honor, Tony recipients in non-performance categories have been overwhelmingly male. And even though it's been more than 20 years since Julie Taymor broke the glass ceiling by becoming the first woman to win a best director Tony with Disney's The Lion King, female representation behind the curtain remains lacking.
Which is why it was exciting to see four women nominated in the scenic design categories this year—two for best scenic design of a play and two for best scenic design of a musical. I've seen all four of the shows in question, and I can say that the set pieces on display span an impressive range of design talent—from subtle and understated to powerful and impactful.
With the 2019 Tony Awards set to take place at New York's Radio City Music Hall on Sunday, here's a roundup of the women-designed shows that will be competing for the top prize in their categories, and why each of them deserves recognition for their inventive use of space.
Ink, scenic design by Bunny Christie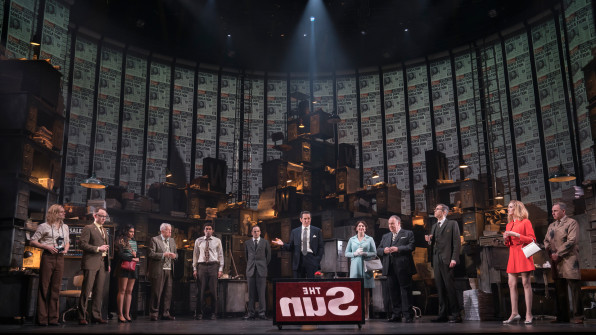 This is by far the most commanding set I've seen in a while. Ink centers on a young Rupert Murdoch and his early days at the Sun tabloid in the U.K., and Bunny Christie's amorphous pyramid-like structure of scattered office objects perfectly captures the exciting chaos of an old-school newsroom. The energy of the piece is bolstered by frenetic projections (from projection designer Jon Driscoll) that simulate newspapers rolling off a printing press—an image that will always feel like magic to this old print lover. If Ink doesn't win best set design for a play, you can print my obit now.
Oklahoma! scenic design by Laura Jellinek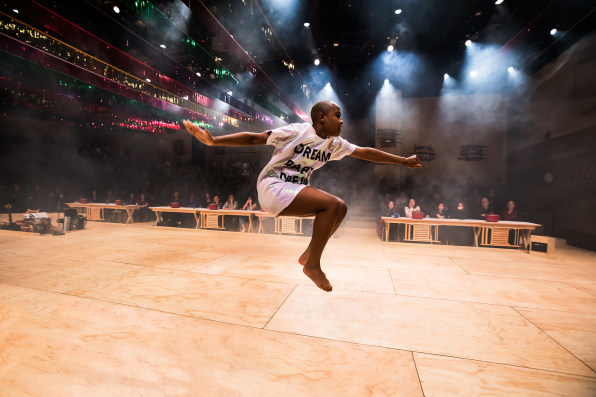 Rodgers and Hammerstein's 1943 classic Oklahoma! gets a fresh reinvention with this latest staging from Daniel Fish, who finds the perfect venue in Broadway's Circle in the Square Theatre. The three-sided space gave set designer Laura Jellinek plenty of opportunity to play with the show's themes of lawlessness and longing on the vast open plains of the early American west. I can't say I loved the show, but look closer at Jellinek's keen attention to detail—right down to the rifle racks hanging off in the distance—and you can see a cunning indictment of America in 2019.
To Kill a Mockingbird, scenic design by Miriam Buether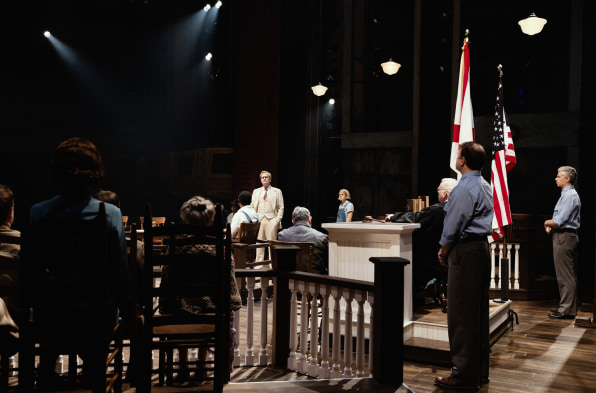 Aaron Sorkin's adaptation of Harper Lee's To Kill a Mockingbird arrived on Broadway with all the hype you would expect, and ticket sales have been through the roof. But the show also found controversy after producers started threatening legal action against smaller theaters that were producing an earlier adaptation. Theoretically, those negative headlines shouldn't affect set designer Miriam Buether's chances at Tony gold. In fact, considering Sorkin was notably snubbed in the best play category, a win for Buether could help restore the show's artistic cred. The set doesn't break new ground in the way Ink's set does, but it adeptly captures the spirit of Lee's classic novel with sparsely placed furnishings that hint at its small-town Alabama setting without detracting from the character-driven story.
Hadestown, scenic design by Rachel Hauck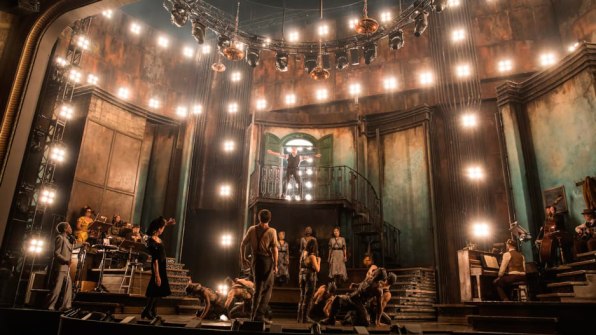 Hadestown, an adaptation of the Greek myth of Orpheus and Eurydice told through the affecting, genre-bending music of Anaïs Mitchell, bursted onto Broadway with a surplus of well-deserved buzz back in April. I spoke with set designer Rachel Hauck and director Rachel Chavkin (also nominated for a Tony) about the various incarnations the show went through before it arrived in its current form, which includes an innovative set piece that deconstructs halfway through the show to give the audience the sensation of descending into Hell. Hauck, incidentally, designed two shows on Broadway this season. The other is Heidi Schreck's What the Constitution Means to Me. It would be a thrill to see Hauck's work win the Tony for best scenic design of a musical. She's facing stiff competition from the likes of David Korins, of Hamilton fame, who designed the whimsical set for Beetlejuice. But Tony voters seem to be in the mood to reward originality this year, and Hadestown has that in droves. We'll see if it pays off when the medallions are handed out on Sunday.