The conversation around gentrification in San Francisco has grown more intense as the statistics have become more dire: San Francisco is the second most expensive city in the United States to live in (25th in the world). The New York Times recently painted a grim housing picture as the city stands to "drown in millionaires" with the IPOs from major tech companies such as Lyft, Uber, and Pinterest. The Urban Displacement Project found that approximately 30% of low-income people of color moved out of the Bay Area in 2015.
How to untangle displaced communities from presumed economic progress is just one of the many complex facets of gentrification, all of which director Joe Talbot wanted to avoid with his debut film The Last Black Man in San Francisco.
"We didn't want it to feel statistical. [Gentrification is] written about in articles on a much larger scale because it is this really complicated force, and it is changing cities. And to dissect it and understand it requires heady introspection," Talbot says. "But with our film, we wanted it to be focused on one person's story."
The Last Black Man in San Francisco stars Talbot's longtime friend and fellow San Franciscan Jimmie Fails as a man who's desperately clinging to his childhood home, so much so that he and his best friend Montgomery (Jonathan Majors) squat in the house after its most current owners are forced to move out following a death in the family. When Fails's plan doesn't pan out how he'd hoped, he's forced to contend with the reality that the city (and the house) he once called his own are no longer his.
The Last Black Man in San Francisco is loosely based on Fails's life and joins the ranks of Blindspotting as current films that explore gentrification in San Francisco through a narrative lens. Documentaries like Million Dollar Shack and San Francisco 2.0 have also explored the topic. While docs have their time and place in spotlighting cultural and social issues, Talbot feels dramatizing gentrification, specifically in San Francisco, is the most effective medium for storytelling.
"There have been people that have done pieces that don't quite go deep enough in terms of docs in San Francisco," he says. "San Francisco 2.0, I thought, was sort of shallow and was surface level in its exploration on this."
The Last Black Man in San Francisco pulls directly from Talbot's and Fails's childhoods and adult memories of San Francisco. But the idea for the film didn't take root until Fails left for college in New York City, only to return a year later.
"He came back to San Francisco feeling sort of depressed, because New York hadn't been what he thought it would be," Talbot says. "With our collective depression and frustration with the city, we started more formally talking about this [movie]."
The two shot a concept trailer and started a crowdfunding campaign that got a much wider response than they anticipated.
"We started getting emails from all over the world saying, this is happening in Paris, this is happening in New York, this is happening in New Orleans," Talbot says. "And a lot of the emails that we got were also from the Bay and people saying, 'Hey, how can we help make this happen?' And those people became our collective."
Once funding was secured, Talbot focused his vision for how to illustrate the effects of gentrification by stripping away data and research and zeroing in on "this Odyssey-like struggle and one man who wants to reclaim this home," with a particular emphasis on visual tone.
"We don't want it to feel like a documentary; we want it feel more like just a natural conversation, like what Spike [Lee] does for Bed-Stuy in Do the Right Thing," Talbot says. "He takes his community and he makes it like theater and you have all these great characters you're meeting. It feels like a lived-in place, and it's that what we want to do for San Francisco in our own way."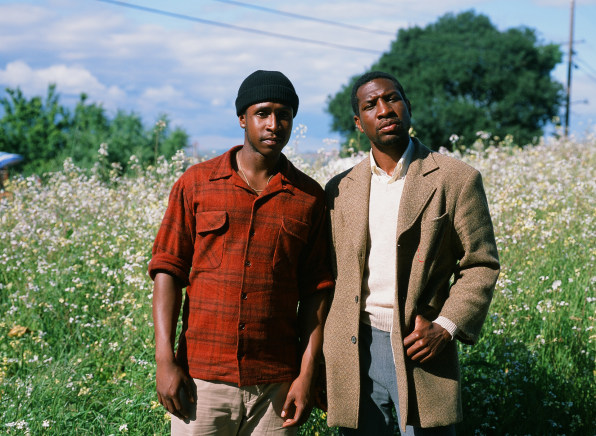 The San Francisco that Talbot creates is one that hovers just slightly above reality: A group of young men getting into a heated argument on the street is lit almost like a theater stage as Joni Mitchell's "Blue" plays in the background; Jimmie and Montgomery descending from a bus and into a plume of fog foreshadows tragic news in the community; kids getting into a rock-throwing fight is viewed from the point of view of the rock. Everything is heightened to a degree just large enough to notice but small enough not to pull you out of the story completely.
"My favorite movies have a real masterful sense of tone," Talbot says. "Part of the spirit of San Francisco lends itself, in my mind, more to this dreamlike world because it's a beautiful city, and as much as we are troubled by it, we keep finding new reasons to fall in love with it, too."
In a scene toward the end of  the film, Jimmie overhears two San Francisco newcomers bemoaning the city. He politely interjects and tells them they don't have the right to do so: "You don't get to hate it unless you love it." It's that tension Talbot found the most challenging to coax out of the story to illustrate the emotional turmoil of getting priced out of your hometown.
"One thing that was important was striking a balance in our complicated love/hate relationship with San Francisco. If it's too much love, then people have a harder time relating to it, because it just seems like we have rose-colored glasses on and we're not sort of acknowledging the complexities of what's happening. If it's just hate and critical and 'Fuck San Francisco,' then you don't understand why Jimmie is fighting so hard to exist there," Talbot says. "You have to see what's so great about the city through his eyes to appreciate what's worth fighting for."