UPDATE: Following our report, Uber revealed its plans in a New York Times article for the service, called Uber Copter, that will ferry top-tier Uber Rewards customers between Manhattan and JFK airport for $200-$225 each way. The service, which includes car transportation to and from the helicopter, will run Monday through Friday, beginning July 9.
In a statement, Eric Allison, head of Uber Elevate, said, "Uber Copter offers the first real demonstration of the Elevate experience. We've built Uber Copter to provide us with insight and real-world experience as we continue to lay the foundation for Uber Air."
Uber is looking for an operations manager for its aerial service platform Elevate in New York City, according to a job posting. The posting comes ahead of the company's annual flight-focused Elevate Summit next week in Washington, D.C.
Elevate serves as an umbrella for Uber's air-bound services, including Uber Air, an air taxi service that could cost as little as an Uber Black, and drone-delivered food. The Elevate job post is for a New York City-based air operations center manager.
"You are the point person in charge of overseeing daily flight operations and passenger scheduling for Uber's first aviation and multi-modal product offering," the description reads, "You will be in charge of standing up and running Uber Elevate's Air Operations Center, supporting definition and implementation of standard operating procedures for future operations."
An FAA commercial pilot certificate for either rotorcraft (typically a helicopter) or airplane is listed as a bonus. Uber has not previously named New York as either a market for its aerial operations or as a destination for its aerial operations management.
Uber says it doesn't comment on hiring.
Much of the focus of Uber Elevate has been on electric vertical takeoff and landing (eVTOL) airplanes. But those types of vehicles are still in development and may be for several years. However, the helicopter, another kind of vertical takeoff and landing machine, is available now. Not only that but one helicopter-booking service, the startup Blade, has proven the business works in New York.
Uber has some experience with offering traditional helicopter services. The company has worked with Blade to source helicopters for UberChopper, which mostly exists as an events-based air transit service. It has appeared at Coachella, for instance. The operations manager posting in New York could suggest an attempt at a more permanent helicopter service within its line up of services. Alternatively, it merely points to the further expansion of Uber Elevate as its prepares to start services.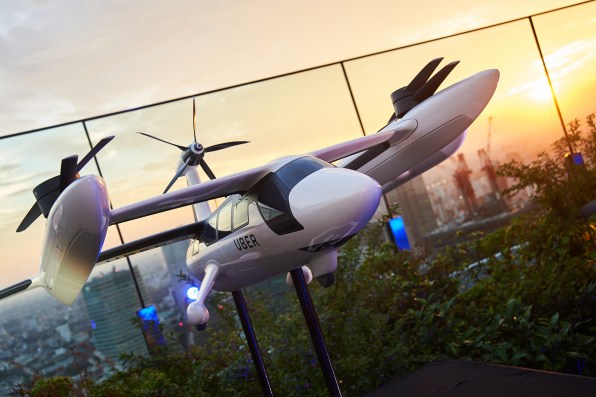 According to career listings on its website, the company is staffing up in other areas of Elevate as well. For example, Uber is hiring a launch operations managers in San Francisco to "lay the groundwork for urban aviation in two U.S. launch markets," according to the listing. There is also a listing for a U.S. and Canada program lead, tasked with developing customer support strategies that will operate out of New York.
The company has previously stated it will begin conducting test flights next year for Uber Air. The official service is slated to take off in 2023 in Los Angeles, Dallas, and a yet unnamed international market. Australia, Brazil, France, India, and Japan are under consideration. Already, Uber has hired people from NASA and Tesla in its bid to explore commercial flight. It has also conscripted several aircraft makers and service providers as a way to confirm buy-in for its future marketplace.
Uber began holding its annual Elevate Summit in 2017, as a forum for brainstorming its aerial domination. Last year, Uber unveiled its own vertical takeoff and landing plane design. Aircraft businesses and those who hope to be in the business of flights also put forth their ideas for the future of Uber-directed flight. For example, Embraer, a Brazilian aircraft maker, debuted an air taxi concept vehicle that could eventually appear on Elevate's platform. Uber is expected to make more announcements next week during its summit.
If you have any information about this story, please reach out.