The Apple Watch is a very popular product, yet it hasn't exactly flourished as a platform for app development. Part of the reason is that the device has no on-device App Store of its own–a situation that may change Monday if reports are correct.
Giving the more than 55 million active Apple Watch users (according to research firm Above Avalon), a new native App Store might capture the imagination and attention of millions of developers. They could begin to treat the Apple Watch as a bona fide software distribution platform worthy of investment.
Apple CEO Tim Cook said at last year's WWDC that there are now more than 20 million registered developers on iOS. The company hasn't disclosed the number of WatchOS developers, but it's far, far lower. Many of the apps that debuted around the first Apple Watch in 2015 disappeared last year when Apple stopped supporting ones that were developed using the WatchOS 1 software development kit.
The announcement of a native app store now makes sense for a number of reasons. Apple will likely unveil the Series 5 Apple Watch this fall, which will be the third generation of Apple Watch that ships with a standalone LTE cellular radio. Apple Watch's product evolution to date points toward a truly independent device that could one day replace the phone for many tasks we perform on the go.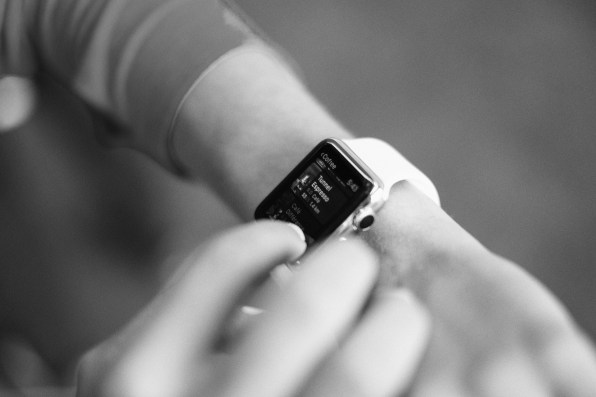 Analysts believe that the Watch is now growing at about 40% per year. As with other Apple products, the continued adoption of the product will likely depend on a thriving and inventive app developer community constantly inventing new and cooler ways to use the device. Immediately after Apple's 2008 debut of the App Store on iPhone, there was a frenzy of developer activity that yielded some 150,000 new apps in 18 months. This strong and early embrace of iPhone by an energized developer ecosystem played a major role in the iPhone success story.
Above Avalon says about one in seven iPhone owners in the U.S. now have an Apple Watch. Apple needs to convince a larger chunk of the 20 million iOS developers to start building Apple Watch apps for those people and Watch owners yet to come.
App developers are far more willing to invest time and resources in developing apps for the iPhone because the payoff is higher. Apple's App Store paid out more than $100 billion to developers in its first 10 years. The App Store has 500 million active users each week and had nearly 30 billion installs in 2018. And it's said to generate 10 times more revenue per device than Google's Play Store.
Yet despite the App Store's large scale and ability to generate outsized revenues for developers, iPhone sales growth has been slowing down. This fact is not lost on opportunistic app developers, who are always on the look out for new growth channels. That's another reason why now is a good time to announce a Watch App Store.
To date, the Apple Watch apps popular with consumers have predominantly been Apple's own native apps, as opposed to third-party apps.
The third-party Apple Watch apps we've seen so far have addressed mostly niche use cases for relatively small numbers of users. Early versions of the Apple Watch had limited processing power and were dependent on the iPhone for connectivity and running apps. This hardware-constrained environment attracted minimal developer engagement, and led many in Silicon Valley and other tech hubs to be dismissive of the Watch.
Things have changed. Assuming this year's new Apple Watch will feature a processor upgrade comparable to last year, Apple Watches will soon be equipped with 10 times the processing power of the original. It should also sport an updated LTE modem.
The main reason cited by developers for avoiding Watch apps is the limited screen space they have to work with to get their design and features across. Apple Watch screen sizes have grown by nearly 40% since the product debuted in 2015, and the device's display now packs more pixels than the original iPhone. But still, the largest Apple Watch available today has a screen that measures 44mms diagonally.
Apple could, and should, address this issue too. All of Apple's other mobile product lines (iPhone, iPad, and MacBook) now come in at least three different screen sizes. The Apple Watch has always come in only two sizes. It seems inevitable that Apple Watch screen sizes will continue to grow, and it's even possible that Apple might offer a third, larger, size option. Based on other smartwatch offerings in the market, a Watch with a 50mm screen size is not out of the question. This would likely mean a larger selling price, which would help Apple Watch generate more revenue. It would provide a lot more presentation space for a native Watch app store, and it would create a larger palette for developers to present their app designs and features. The larger and richer app experiences would extend the utility of appeal of third-party apps to consumers.
It all depends on whether Apple's WatchOS honcho Kevin Lynch takes the stage and announces a new App Store at WWDC on Monday. But with the fifth Apple Watch likely on the way in September, it feels like the right time for the maturing Apple Watch platform to take this important step.
Ari Roisman founded the instant video messaging app company Glide in 2012, then launched a new effort with an original member of the Apple Watch engineering team to create a camera watchband for Apple Watch. Roisman was included in MIT Technology Review's 35 Innovators Under 35.