Stop me if you've seen this movie before. An awkward kid from the block, misunderstood by his working-class family, discovers music at a young age, signs a record deal, sells a million albums, lets success go to his head, descends into a haze of sex and drugs, and collapses under the immense pressures of fame and fortune.
Wasn't that Gary Busey as Buddy Holly? Or maybe Val Kilmer as Jim Morrison?
No, this time it's Taron Egerton as Reginald Dwight, aka Elton John, the British music prodigy whose mix of songwriting prowess and unique showmanship propelled him to become the best-selling music artist of the 1970s. Rocketman, which opens in wide release today, is Hollywood's latest attempt to inject life into that most predictable of genres, the rock 'n' roll biopic. It's only half successful. Director Dexter Fletcher (who took over helming Bohemian Rhapsody when Bryan Singer was fired) gives us a dazzling mix of fantasy sequences and compelling performances, but the movie stumbles with awkward transitions between its realism and hyperrealism.    
That's because Rocketman is really two movies. The first is an enjoyable jukebox musical, with elaborate dance numbers and fanciful interpretations of Elton John's repertoire. And, yes, to watch this movie is to be reminded of the tremendous output from John and lyricist Bernie Taupin during this time period. (Oh that's right, they wrote that one, too!) In one sequence, an elegantly choreographed pub brawl transitions into a rousing dance party at a street fair, all set to "Saturday Night's Alright for Fighting." In another scene, Taupin (an amazing Jamie Bell) leaps up in the middle of a restaurant and bursts into a somber rendition of "Goodbye Yellow Brick Road," a declaration that he needs a break from the unhealthy trappings of rock 'n' roll life.
I would've liked to have seen more of that movie. The dance numbers are fresh, and the heightened colors of the fantasy sequences remind you of what a rock biopic can do when it casts off the shackles of convention and dares to try something different.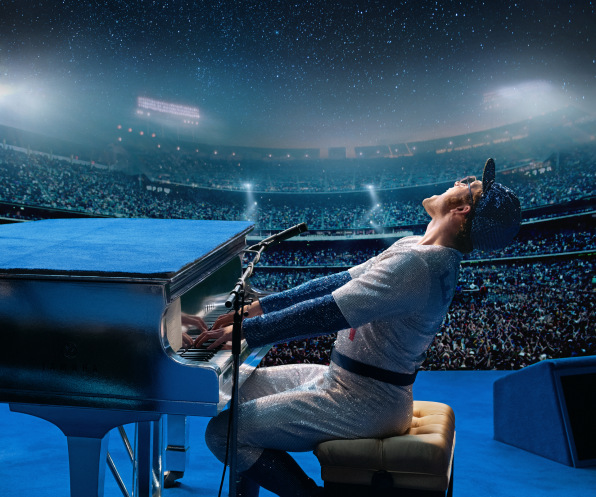 The problem is the other Rocketman, the one that strives for realism, which doubles down on all the rock-biopic clichés we've seen so many times before. Mountains of cocaine? Check. Montage of press clippings culminating with a closeup of the Billboard charts? Check. Skeevy record-producer types who take advantage of our delicate tortured artist? Yup, they're here. Rocketman even has a drawn-out closeup shot of a gold record, in case you'd forgotten it was a movie about the destructive forces of the music business.
And, sure, it's Elton John this time–not Freddie Mercury or Ray Charles or Johnny Cash or Mötley Crüe–but all these stories fall into the same traps by design. Fletcher may have set out to make an unconventional version of events, but he seems to have forgotten that the story arc for every rock biopic is virtually identical. And so whenever Rocketman veers away from fantasy, it ends up feeling entirely familiar, something Elton John in the 1970s certainly was not.
(Incidentally, the genre's tiredness doesn't subtract from the greatness of well-executed indie dramas like Sid & Nancy or I'm Not There, but those smaller films only needed to appeal to niche audiences. Rocketman is a product built for mass consumption in 2019, which is an entirely different beast.)
Which raises an interesting question: What would happen if Hollywood storytellers finally abandoned old-school formulaic music biographies and embraced the joys of the jukebox musical? It's certainly worked for Broadway. As we speak, there are no fewer than three such examples, including crowd-pleasing shows about Cher and Carole King, with more on the way from Tina Turner, Alanis Morissette, Pat Benatar, you name it. There's even a punk rock musical in the works featuring songs from the likes of Bikini Kill and Blondie. And at next week's Tony Awards, Ain't Too Proud, a jukebox musical about the Temptations, will vie for the top prize. 
Jukebox musicals don't succeed because they're overly concerned with mapping out a point-by-point retelling of their subjects' lives. They do it by putting the music first. That's why people spend hundreds of dollars to see them, and it's why people will go see Rocketman–to enjoy Elton John's hit parade with a group of friends. It's a shame the movie couldn't give us more of the music because it was too busy with extended shots of Egerton spilling bottles of pills everywhere.
But what works on Broadway doesn't always translate to celluloid, where jukebox musicals have a checkered history. Broadway's enduring hit Jersey Boys flopped in 2014 when Clint Eastwood tried to capture it for cinemas. And let's not even get into Rock of Ages, the tourist favorite about 1980s hair bands. Have you forgotten that they made a movie version starring Tom Cruise? Or have you repressed the memory?
And of course, Hollywood has no financial incentive to reinvent a formula that's proven lucrative. Bohemian Rhapsody was the 10th highest-grossing movie of last year, and it earned five Oscar nominations. Rocketman is likely to do brisk business, and awards prognosticators will soon be weighing in on Egerton's spot-on performance.
So I get it. Throwing out the tropes of old-school rock biographies and reinventing the genre would be risky. But then, no one ever made a great movie by playing it safe. There's a way to give audiences what they want without giving them every single thing they expect. Just ask Reginald Dwight.