Digital marketing lets you connect with your audience any time in a personalized way. But, with all of that promotional opportunity just a few clicks away, you may feel overwhelmed. As a small business owner, the more you can organize, automate, and streamline marketing tasks, the more successful you will be.
Fortunately, there are a number of digital tools that can help you tackle key marketing areas. These apps are proven game-changers for entrepreneurs who use those tactics, and they can help you improve and simplify the following aspects of digital marketing.
Social media management
Stringjoy, a boutique guitar string company based in Nashville, Tennessee, uses Facebook, Instagram, Twitter, and YouTube to build personal, long-lasting relationships with its customers. Founder and President Scott Marquart says monitoring interactions on multiple social accounts gets "wily and unwieldy pretty quickly." He recommends Agorapulse, a social media management tool that filters social mentions and messages into one inbox. Pricing starts at $79 per month.
"Customers will communicate on whatever platform they are most comfortable with. If their order doesn't arrive, they might drop a comment on your YouTube video or Instagram post. Having an app that integrates everything is essential, so you don't miss opportunities," Marquart says.
In 2015, Marquart did Instagram hashtag research to see what posts were resonating with guitar lovers. He started applying Stringjoy strings to cool-looking guitars and sharing the photos on his feed. The company still uses this strategy today, using Later, a mobile app for planning and scheduling Instagram posts. Later has a free version for individuals and a $19-per-month plan for small businesses. Buffer is a popular multi-platform management choice. Costs range from $16-$99 per month for small businesses.
Digital graphics customization
Apps and tools can also simplify graphic design, allowing you to create social media ads, landing pages, and other marketing material. Amy Birks, a digital marketing strategist and author of The Hustle-Free Business, recommends Word Swag, an app for creating custom text designs to add to photos. Her other favorite app for small businesses is Canva, a graphic design tool that makes it simple to create professional-looking content. Both apps are free to use and offer additional features for purchase.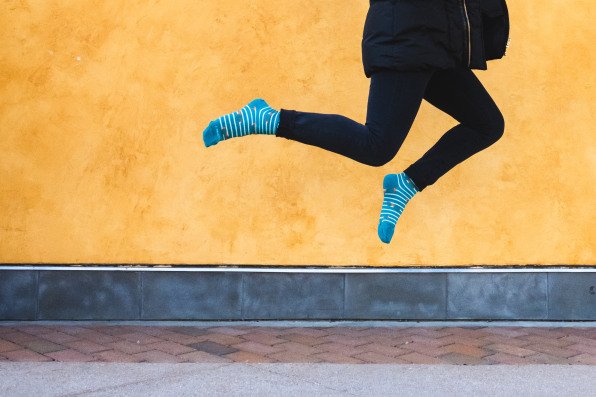 Stefan Lewinger, founder and CEO of Sock Fancy, an online monthly sock subscription service, works hard to "create a customer experience worth sharing." The company uses Mailchimp, a multifaceted small business marketing platform, to find and build relationships with its customers. The Mailchimp ad builder lets you build professional Facebook and Instagram ads and use audience segment tools for better targeting. Mailchimp's template library also lets business owners design effective landing pages, and flexible pricing scales with your business.
Sales integration
You can't sell online without a point of sale (POS) or e-commerce platform. Popular choices like Square and WooCommerce have apps so you can manage your business on the go and complete in-person transactions, too.
When building your marketing technology stack, look for tools that "play well with others." Mailchimp's customer relationship management (CRM) function integrates with leading e-commerce platforms, as well as Salesforce. This allows you to use all the data at your disposal to make smart marketing decisions.
To drive more sales with email, Mailchimp can automatically recommend products people will want to buy based on data. It can also send abandoned cart emails when a prospective customer fails to complete a purchase.
Email marketing
Forty-five percent of Stringjoy customers become repeat shoppers. Marquart says email marketing helps him build long-term relationships by regularly sharing relevant content, such as videos and blog posts. Mailchimp segmenting and automation features make doing so easier. For example, he can automatically send customers emails every two to three weeks so his brand stays top-of-mind.
Mailchimp has more marketing functions than you can imagine, including tools for creating Google ads and postcards, automating digital advertising campaigns, and optimizing performance with segmentation and A/B testing.
Help with analytics
The beauty of digital marketing is that you can monitor performance in real time and make smart changes that drive return on investment (ROI). Here, apps are particularly handy, so you can oversee your marketing no matter where you are.
Both Marquart and Lewinger use the Mailchimp app for insights and analytics. You can monitor, schedule, and launch campaigns, and analyze performance across campaigns for a more complete understanding of your customers.
Marquart also recommends Google Optimize, a free tool for comparing the performance of copy or design on your website. It is built on Google Analytics, a must-have for understanding what is driving your website traffic.
With these tools, a lean team can do the work of much larger ones, delivering personalized marketing experiences that can set a small business apart.
This article originally appeared on inc.com