Online CBD retailer Standard Dose has opened a one-of-kind self-care hub in the heart of New York City.
The three-story cannabis compound doubles as a wellness center designed to offer the super-stressed a time-out. Its 2,400-square-foot space boasts a multi-brand selection of ingestible and topical CBD products to aid in everything from sleep and pain to mood and skin. A group gathering room hosts meditation classes alongside a bar that serves CBD-infused Japanese tea. A private treatment spa offers facials, massages, or private tea ritual ceremonies.
Then there's the chic rooftop where yoga classes take place in the morning, followed by partnership events and educational programming in the evening.
"The retail experience is a full, holistic approach to wellness," says founder Anthony Saniger. "It's a sanctuary where you can reset."
Standard Dose envisions patrons using the space to relax and recharge throughout the day, be it for a quick break or a longer hour class. The store is located at 26th and Broadway, an area with the highest concentration of We Work offices. The company hopes those employees will pop in during their lunch break for a meditation session to "reset their brain for the rest of the day," says Saniger.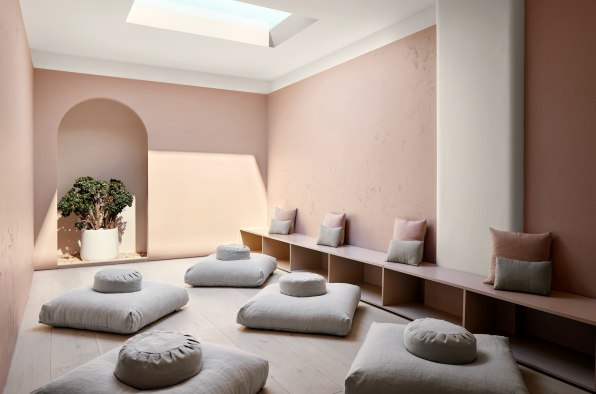 Standard Dose intends to be the culmination of what wellness consumers both buy and do. The targeted demographic generally visits several places to engage in their lifestyle: a GNC for supplements; a boutique fitness studio for yoga; an Inscape relaxation clinic for meditation; Whole Foods for turmeric or other healthy ingestibles; and then Sephora for creams and lotions.
"We can help solve the customer's needs across the board. They can have just one destination to go to for all of their physical and emotional needs," says Saniger. (It should be noted that the store does not sell the psychoactive cannabinoid THC or more traditional marijuana products.)
There will be only one product on each shelf, so as not to overwhelm customers. (In total, the retailer carries 100 SKUs from 30 different brands). They can taste and test the product, even request a sample to take home. The goal is to initiate consumers into the CBD trend with a focus on ingredients and solutions, versus what one might find at more traditional retailers, which potentially focus more on brand.
Education, stresses Saniger, is the core of the retailer's mission. The branding and marketing exec previously counted several CBD clients at his former creative agency. He witnessed the increasingly crowded and confusing CBD space that left consumers aching for direction. As he recalls, "no matter how much research I was reading, there was a lot of things that would contradict each other."
He, like many, couldn't differentiate between "cannabis forward," hemp oil, CBD, or a number of other labels that referenced everything from marijuana to various terpenes. "There was a lot of misinformation, products were all over the map."
At Standard Dose, trained educators guide customers, answer their questions, assuage their concerns, and suggest applicable products. All of the available CBD products have undergone third-party testing to ensure product quality, correct dosing labels, and that they're free of pesticides and heavy metals. The company also employed focus groups to confirm products fulfill their label claims.
In that sense, Standard Dose attempts to become the authority on CBD–a goal shared by numerous competitors looking to capitalize on the $22 billion industry. More recently, Goop alumni launched Fleur Marché, which aims to be the "Sephora of CBD." There's also Poplar, which curates an assortment of vetted, independently tested CBD products.
While pursuing credibility within the CBD space, Standard Dose is careful not to make the ingredient its sole focus. Saniger sees the retailer trending more toward holistic plant-based medicine. "That's really where I think the future is headed," he says, adding, "I think CBD is just a catalyst."
The company is already working with nearly 80 wellness influencers and a dozen well-known brands in fitness, media, and health for live events and partnerships. In the coming year, Standard Dose intends to open a second store, most likely in the European market. Moving forward, it might even consider making Standard Dose classes and tea offerings free to the public.
"The store serves as more of a marketing alignment," explains Saniger. "It's not looked at as a place that's necessarily supposed to turn a profit." The retail experience, he stresses, is more about building the brand around a palpable relaxation experience. That, in turn, will further drive sales.
As such, don't expect Standard Dose to venture out to California, a territory Saniger believes is rife with confusion over cannabis culture. "I want to stay as far away from that as possible," says Saniger, noting that Standard Dose is about healing, not getting high. "We are a wellness company first and foremost. We will never be a dispensary."