Despite this massive, 30-year legacy, straddling playing cards, video games, cartoons, and more, there are some of us who have no idea what it's all about, save for recognizing that the little yellow cat blob is called Pikachu. I may be Pokémon clueless, but I also have a 9-year-old son named Henry who wanted to see the movie. I may not be into Pokémon, but I do appreciate a good universe–Star Wars, Marvel, Game of Thrones–you name it.
So before dropping into this particular universe cold–which seemed akin to wandering into The Last Jedi without knowing what a wookiee is–I sat down with him to get the lowdown. I trust his judgment. He's a Harry Potter fanatic, and can list obscure Lego collections long discontinued. Sure, did he once insist to me that his friend Sam's dad was the goalie for Brazil's World Cup soccer team? Yes, but that was years ago.
Here are one 9-year-old's three most significant pieces of advice for adults going to see Pokémon Detective Pikachu.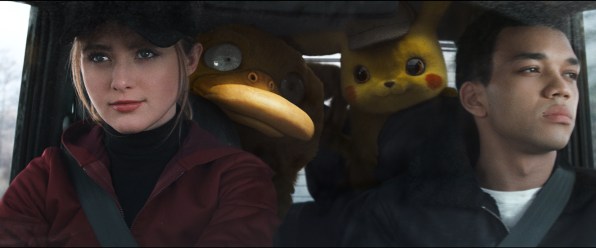 Have an open mind
Given my Star Wars fandom growing up, I always expected to be able to follow along whatever Henry would be into, whether it's comics, TV, book series, whatever. Didn't matter. I was ready. But the Pokémon universe got confusing very quickly, and I was terrified to ask how the playing cards figure into all of this. I felt like my dad must have in 1988 when I tried to explain to him who the X-Men were. It's easy to feel your eyes start to glaze over with the dull fog of parental complacency. That's when I got Henry's most important piece of advice.
"Go for it! Don't be lame about it. And be enthusiastic even if you don't get it!"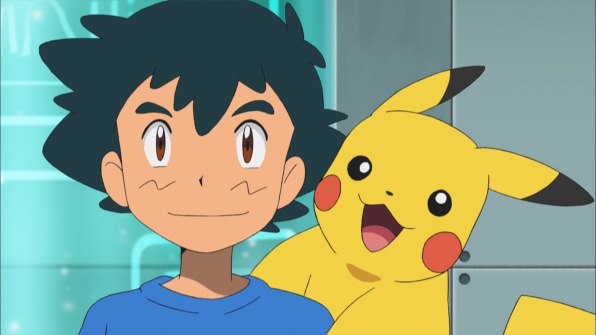 Pokémon are basically animals and pets, but with a twist.
"Humans pretty much have dominant control because they have these things called Poke balls that can catch them, and then you can bring out the Pokémon whenever you want to battle or just hang out."
"Pokemon can't talk, but it's not quite like a barking dog. It's more understanding than that. All the Pokémon have names, and that's basically all the Pokémon can say. Sort of like Groot."
"There's going to be some names of Pokémon you won't recognize, and you should know some legendary Pokémon. They're legendary because you can't really catch them. I'm expecting to see a Mewtwo, which is like a mind-control Pokémon. It's like a floating salamander but with a human posture. Standing upright."
"I'm also sure there'll be some Greninjas, which is like a water-frog Pokémon. Oh! And you should know that Pokémon can evolve. When they have a special moment, like a big battle, they can learn new moves, get bigger. Like it goes Froakie, Frogadier, then Greninja. It's not like hundreds of years like human evolution, it's much, much quicker."
"There are also different types of Pokémon–water type, dragon type, ground type… which is what they represent. Something like a Venusaur, which is like a turtle but instead of a shell it's got a flower on its back. That's a nature Pokémon, I forget the real name, but something to do with nature." [Dad fact check: It's a grass/poison type.]
"The main guy in the show is Ash Ketchup [Dad fact check: Ash Ketchum], who is Pikachu's owner. But I don't think he'll be in the movie."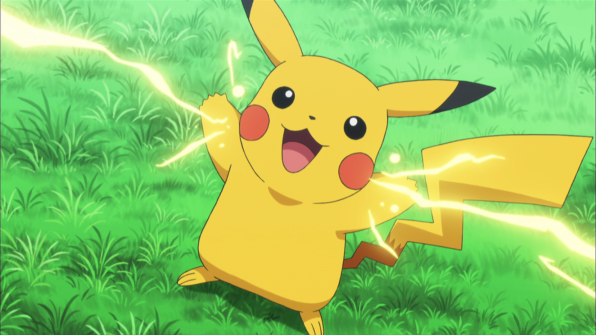 The movie won't be like the TV show
"In the cartoon, the world is split up into different regions. There are six or seven regions. I only know a few of them. Some are jungles, some are cities, one called Alola is like a collection of islands. Another one is all mountains."
"I'm not expecting this, but they should add the main bad guys from every series, like Team Rocket. They're at their strongest in the Alola season because they got some good Pokémon. They have a talking Meowth."
Me: A what?
Henry: A Meowth.
Me: Are you saying mouth?
Henry: No, Meee-oowwth. Like a cat sound.
Me: Oh.
Henry: It's like a cat that stands upright, it's short, and has a scarab on its head.
Me: A what?
Henry: A scarab, like the thing that Pharoahs have, that gold chunk on their forehead. It's not quite a crown. Anyway, it's a helpful Pokémon because it can tell Team Rocket what Pokémon are saying.
Me:
Postscript
We saw the movie. No spoilers, but if you want to spark an enthusiastic recap conversation with any kid who may or may not have accompanied you, Henry says to open with, "Y'know, there were definitely not enough battle scenes."