When I met with Rishi Chandra, Google's VP of product for Nest/Home products, at the company's I/O conference yesterday, he was wearing a jacket sporting both a multicolored Google "G" and a Nest logo. For a seemingly garden-variety piece of corporate swag, it was surprisingly meaningful.
After all, when Google acquired Nest in 2014, it kept the two brands separate. With the creation of Alphabet in 2014, Nest became an even more distinct entity unto itself. Even once Nest came back into the Google fold as part of the company's hardware group, the two brands didn't feel too smooshed together.
Henceforth, though, "Google" and "Nest" will be closely related concepts. "The portfolio will be called Google Nest, just like it's called Google Pixel," Chandra tells me. "We're aligning Pixel with mobility and Nest will be about home."
At first blush, that feels like a demotion of sorts for Nest, as if Facebook suddenly declared that we should call Instagram "Facebook Instagram." (Whether consumers will refer to "Google Nest" or just "Nest"—or possibly just "Google"—remains to be seen.) But it also reflects the strength of the Nest brand, which Google will apply to all of its new smart-home products, starting with the Nest Hub Max smart screen.
The company is even retroactively redubbing last year's excellent Google Home Hub as the Nest Hub. For now, other products such as Google Home smart speakers won't adopt a Nest identity, but they'll give way to ones that do: "As we launch new products, we'll shift the brand," says Chandra. "These things are never instantaneous."
The increased emphasis on Nest also reflects evolution in Google's thinking about what its hardware products are trying to offer consumers, and why consumers should care. The notion of smart homes has been around for eons: Here's an example of it being used in 1993, and I wouldn't be surprised if you could find instances of it from decades earlier with a little digging. But the term has never been viscerally exciting in the way that "personal computer" or "smartphone" once were. Or at least it's not a phrase that I typically hear bandied about by real people—as opposed to industry executives or tech journalists.
Sundar Pichai onstage at I/O. "We are moving from a company that helps you find answers to a company that helps you get things done…we want our products to work harder for you." pic.twitter.com/WslCIb3mQh

— Harry McCracken (@harrymccracken) May 7, 2019
Chandra says that Google is now talking about homes that are helpful, not just smart: "You're going to see that as a core philosophy of everything we're going to go and do, instead of thinking of this from a technology point of view." This idea of the helpful home is in line with the company's current thinking about its mission in life, which CEO Sundar Pichai defined in the I/O keynote as helping people get things done rather than just providing them with useful information. But it's also a minor variation on the "thoughtful home," a longtime Nest mantra. And the original Nest smart thermostat remains as good an example of a helpful-home product as anything.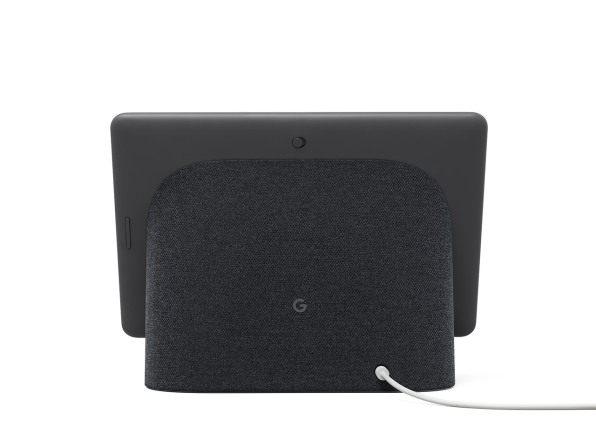 Referring to the "helpful home" might also address the fact that consumers are wrestling with privacy and security concerns that weren't issues in the age of the dumb home. In February, the company ran afoul of those issues when it turned out that the company hadn't told anyone that its Nest Guard security system contained a microphone, meant to let it add new functionality at a later date.
"The hard lesson we learned was, the team had tried to future-proof the device, but then failed to disclose that the microphone was there," says Chandra. "So obviously we're going to be disclosing all our sensors and capabilities of the devices, but we're trying to go above and beyond."
For Google Nest, going above and beyond includes publishing a plain-English privacy promise that covers all products. The Nest Hub Max has a prominent physical switch on its back for disabling its camera and microphone. Google says it will always be clear when its hardware is capturing and streaming video; the company is even going to disable the ability for owners of older Nest Cams to disable the green LED that indicates that the camera is in operation, which is good news if you ever rent an Airbnb.
"When you're putting a device inside your home, it's not just you that's going to use the product," explains Chandra. "It's going to be anyone who walks into your home–your guests or your family members. And so we want to make sure when you see a Google-based tech device sitting in someone's home, whether it's yours or someone else's, you have confidence in how it works."
Specific design decisions like that could make consumers more comfortable with Google's place in their most private of spaces, their home. According to Chandra, however, the melding of Google and Nest isn't just about specific products or features, but rather a new age of computing that's still in the process of being defined.
"We had the shift of 20 years ago to web computing, and 10 years ago to mobile computing, and now ambient computing," he says. "Anytime you have these shifts, generally it's not an iterative shift. It's a fundamental shift that needs to take place. And so the context of us doing this rebrand was that it's much bigger than a rebrand. It's our new vision for the home."