At first, it was simply a matter of geography.
Director Rachel Lears and her team were based in New York and working with a shoestring budget. If they were going to make a documentary about a handful of 2018 midterm hopefuls, it only made sense to spend extra time following around the one local candidate they'd chosen. By the time the documentary wrapped, though, that candidate, Alexandria Ocasio-Cortez, had transformed into a bona fide phenomenon. Having reams of extra footage of her now looked like a miracle of prescience, rather than one born of convenience and limitations.
"While I knew that the race was winnable and I knew that [Ocasio-Cortez] was very talented and charismatic, and I could see that there was momentum building in the final weeks of her campaign, I don't think anyone could have predicted how far it would go, in terms of her popularity and the backlash," Lears says.
Now that the film she set out to make, Knock Down the House, has also become the origin story of a political superhero, it's easier for Netflix to market it that way and for enchanted fans to tout it as such. But Knock Down the House is more than just the Alexandria Ocasio-Cortez story, even if she emerges as the central figure to a greater degree than originally planned. It's a film about the idea of everyday working-class people reclaiming the power that is their natural right, and it sketches a path for how they might obtain it again in the future.
After co-directing films about social justice, like the immigrant labor doc The Hand That Feeds, Lears had been looking for a new feature subject in 2016. The mood around the country following the general election added urgency to this search, as well as substance. She wanted to find a project that would speak to the national conversation of the moment, something about people from different parts of the country with different backgrounds collaborating together toward a common goal. In early 2017, she heard about a newly formed organization called Justice Democrats, which was recruiting for a multiracial coalition of ordinary citizens whom they'd help run for Congress and who in turn would support each other throughout the process.
"I was very interested in both the personal stories of individuals running—what it would take to believe in yourself to that degree and put yourself out there in that way—and the broader political themes we could explore of what it looks like to build a grassroots movement to challenge established power structures and create true representation in Washington," she says.
Lears and her team, including producer partner (and husband) Robin Blotnik, started developing the project in earnest in the spring of 2017, when Justice Democrats were still in the recruitment process. Early in the film, we see organizers and members working together to make decisions about potential candidates' viability. Lears would soon have to go through a similar process of surveying the candidates the organization had fielded and choosing which ones would anchor her film.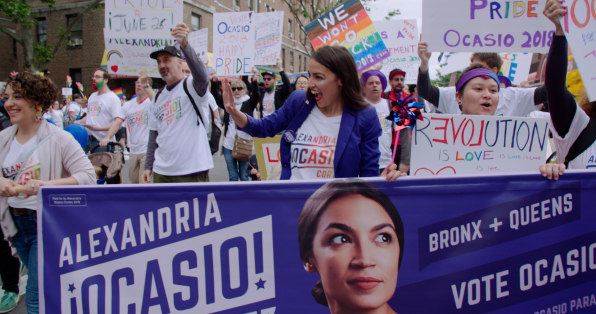 "We wanted people who would be going through something interesting, a transformative journey, over the course of the next year or two," she says.
It wasn't long before she settled on Bronx native Ocasio-Cortez and Cori Bush in St. Louis, Missouri. Although the project hadn't started with the aim of focusing solely on women candidates, as news of the wave of women running for office became a national story, it seemed like a natural fit. Lears finally selected Paula Jean Swearengin in West Virginia and Amy Vilela in Nevada as the other candidates she would closely follow. Although timely themes do emerge around the ways that women's appearances and emotions are policed in a manner that somehow alludes their male counterparts, the scope of the film transcends gender.
Another version of a documentary about women running for office in 2018 might begin with footage of pussy-hatted marchers descending on D.C. the day before Donald Trump's inauguration, determined fists raised to the sky. This one does not. In fact, Trump is rarely mentioned at all, and only in passing. Lears made a deliberate choice to steer clear from any narrative that could be reduced to a caricature. The core issues motivating all the candidates featured in Knock Down the House predate the 2016 election.
Ocasio-Cortez's father, an architect, passed away at the height of the financial crisis in 2008, and her family was nearly driven into poverty as a result. The Ferguson unrest began in August of 2014, a reaction to the racial injustice typified by black teenager Michael Brown's murder at the hands of a police officer. The health crisis in West Virginia, driven by the fossil fuel industry, had stoked Swearengin's ire long before 2016, and Amy Vilela lost her 22-year old daughter, Shalynne, in 2015, due to delays in healthcare because of conflict over her insurance coverage. Although many of the marginalized candidates who did end up running in 2018 may have been motivated by legitimate threats posed by policies of the current administration, Lears had something else in mind.
"We really wanted to get at the deeper issues that exist in this country and have existed under both Democratic and Republican presidents," Lears says. "It's about money in politics and representation in politics. If we're going to have true representation in this democracy, we need to have a system in which people of all backgrounds and walks of life can effectively run for office to hold some of those seats. When it costs millions of dollars to run a campaign, it's much easier for independently wealthy individuals and more difficult for working-class and middle-class people to make that choice."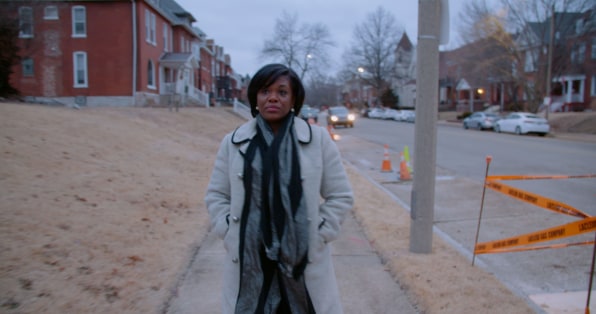 Unfortunately, the film wouldn't be able to convey the factors that make it difficult for outsider candidates to break through as strongly as it does if all four candidates breezed their way into Congress. More than one of them does not make it, and Lears had a plan in place if they had all lost. Her model was Marshall Curry's documentary Street Fight, which followed Corey Booker's (unsuccessful) first run for mayor of Newark, New Jersey in 2002. Having seen the twists and turns that film captures, Lears was confident she would still get a great story out of a similar arc on the national level even if all her candidates lost. As it turned out, the director was able to ladle some of the pathos of defeat around the uplifting triumph of Ocasio-Cortez's stunning victory.
This high-profile David v. Goliath win isn't the only positive to come from the election or the film that chronicles it. As candidates in the 2020 race gears up, Lears has begun to see the impact that candidates like the ones she followed for Knock Down the House have had on presidential hopefuls.
"I'm really interested in the legacy of the 2018 election on what we're seeing now," she says. "What I think we're seeing in the 2020 race is that the issues and the model of campaigning that the four candidates in the film put forward in 2018, and the movements they're a part of, have pushed the conversation locally and nationally. Not only are these candidates talking about a lot of policies that our candidates were talking about in 2018, but also the issue of corporate and lobbyist funding for the campaign is being discussed at a much higher level. Some of these campaigns are rejecting corporate funding and are relying entirely on small donations and the labor of volunteers who really believe in the candidates. It's a model of campaigning employed at the congressional level at a large scale for the first time in 2018, and it's a model that's really gaining ground."