Believe it or not, the first Coachella was actually about the music. Twenty years later, it's an excuse for teenagers to get drunk and wear flower crowns. Ariana Grande headlined the first weekend of the two-weekend 2019 festival, which ends April 21—and judging by this review, those of us who stayed home can be glad we saved $500 and the cost of a flight to LAX.  
Thankfully, there are some awesome small music festivals in the U.S. that truly are about the music, and Luck Reunion—an exclusive one-day music festival at Willie Nelson's ranch outside of Austin, Texas—might just be the best. The one-day concert, which happens every March in the Texas Hill Country, features up-and-coming bands like the Nude Party, as well as old-school outlaw country like Steve Earle, and of course Willie Nelson. All the booze at Luck is free, and you're likely to meet artists as they check out other sets throughout the day. In other words, it's heaven.
But there's a catch. It's almost impossible to get tickets to Luck Reunion. The ticketing process is a lottery, in which you enter your email address and pray that a message with a secret code appears in your inbox before one that says "Better Luck Next Time." According to the founders, entrants had a one-in-100 chance of winning tickets to the festival, which is capped at under 4,000 participants, this year.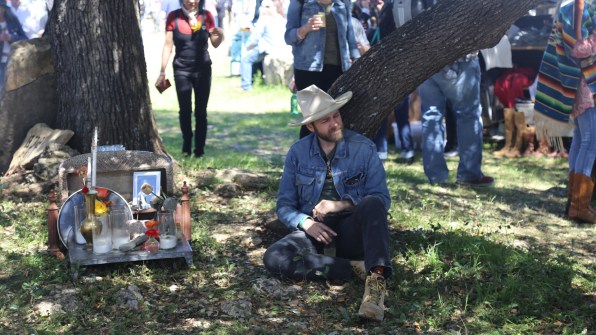 The ticketing process sets the tone for the entire festival—which takes its name not from the luck you need to win entry but from Nelson's ranch, which he calls "Luck, Texas." Everyone seems to feel genuinely lucky to be there, to participate in something money can't buy, to be on the winning team for a day. And with that luck comes respect. One industry insider told me Luck Reunion has the best crowd of any festival she's ever attended.
"People at Luck are so chill. They're respectful, 'cause they're really here for the music," she said.
Of course, it's easy to be "chill" when all the drinks are free and the line for the port-o-johns is never more than five minutes long. With six stages and under 4,000 attendees, there's room to breathe, smoke a joint (it's private property), or even belly up to the stage without getting an elbow thrown in your face.
Luck Reunion was conceived of as an "anti-festival" according to the founders, who explained that tickets don't even cover the cost of booking the 45 or so bands and artists that play the one-day festival. The cost is covered largely by sponsors—Tito's Vodka and Southwest Airlines, to name a few—allowing the festival coordinators to keep the number of attendees small, while "growing the experience" each year.
The experience is best described as ghost town-meets-South by Southwest. Nelson's ranch is set atop a pristine plateau in the Texas Hill Country, with expansive views of blue sky all around. Horse pastures line the long driveway up to the "town" of Luck, Texas, in which a handful of primitive wooden buildings sit around a dusty main square. A rickety old building with a stage and a bar was transformed into "Tito's Saloon," where bartenders slung free hard strawberry lemonade and vodka sodas all day. Southwest Airlines took over a tiny cabin across from the main stage (named the "World Headquarters Stage" in honor of the Armadillo World Headquarters in Austin, where Willie Nelson once played).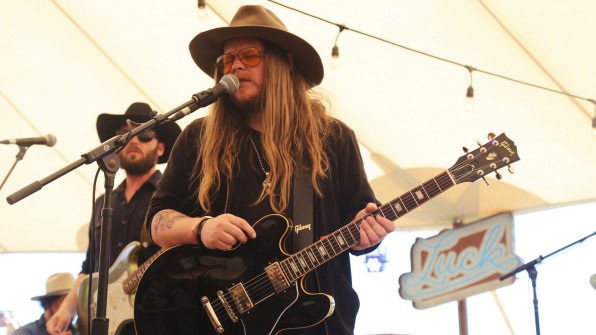 Like at most festivals, stages of various sizes hosted correspondingly popular artists from morning to midnight, with one exception—Nathaniel Rateliff, one of the festival's headliners, was scheduled to play in a tiny, one-room chapel. Rateliff, who has sold out Red Rocks Amphitheater with his band five times in the past three years, requested to play in the 50-person capacity venue, according to the founders.
"We got a call from Nathaniel Rateliff saying, 'Hey, I want to play in the chapel,' two weeks before the lineup was announced," said Matt Bizer, cofounder and CEO of Luck Reunion.
Rateliff wanted to use the chapel to deliver a solo acoustic set of deep cuts—some not even available yet on the internet. He kindly asked the audience not to talk, and then proceeded to strum and moan his way through a deeply personal 40-minute set. He brought out saxophonist Jeff Dazey to accompany him on his final song, which lasted six minutes and ended in tears for Rateliff, whose pale blue eyes had been sparkling the entire time, as well as for many in the crowd. It's hard to imagine a big-name artist bringing a group of drunk festival-goers to tears on what is likely the best day of their month, but that's what Rateliff set out to accomplish and did.
"Artists reach out to us more and more saying 'Hey, can we create this stage experience?'" Bizer said, adding that he and his team tend to be more "reactive than proactive" in booking talent for the event.
After recovering from his somber set, Rateliff raced out to join his friend Mavis Staples on stage for her headlining performance. Staples curated an all-female lineup on one of the festival's larger stages and invited all of the ladies who played sets on the stage to join her at the end of her performance for a celebratory grand finale. Up-and-coming six-piece rock band The Nude Party also had the opportunity to play a set as well as curate a small stage at the festival. Their picks included young indie groups from New York City, Florida, and England who mingled with the crowd, foregoing the relative comforts of the VIP lounge.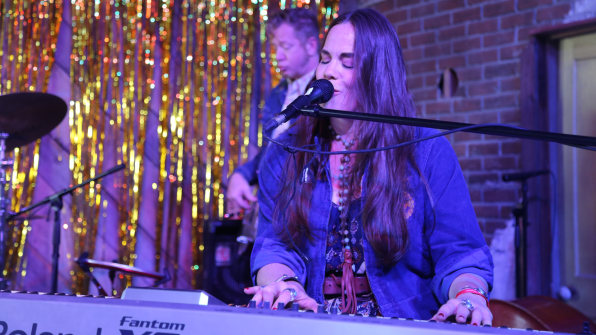 That's another cool thing about Luck: the VIP lounge, so sought after at larger festivals, is rendered unnecessary by the fact that everyone at Luck has access to free booze, ample seating, and prestige based on the fact that approximately thirty to forty thousand people who wanted to be at the festival couldn't be because they didn't win the chance to buy tickets. 
The most scripted part of the day were the final few sets, for which all of the attendees crowded into the space in front of the main stage to watch "the Family," that is, the Nelsons, play consecutive sets. The "family reunion" included sets by Willie's sister Paula Nelson, followed by Willie's son Micah and his band Particle Kid, as well as Willie's other son, Lukas, and his band The Promise of the Real. Finally, nearing midnight, Willie Nelson took the stage alongside his kin and gave the young people in the crowd the chance to say they saw Willie live, while the older attendees, many of whom were wearing "Willie Nelson for President" T-shirts, got the performance they'd been waiting for.
Unfortunately, the odds of making it to Luck Reunion grow steeper every year, as more people learn about the festival and the number of tickets stays the same. Luckily, the founders say they'll be adding some one-off events at Nelson's ranch this year, because, as Willie likes to say, "You're either in Luck, or you're shit out of luck."