For the first time since 2012, Converse is releasing a performance basketball shoe that will be worn on the courts of the NBA: The All Star Pro BB, which will debut this May for $140. It actually looks a whole lot like any Converse shoe–if the brand had been born today, rather than in 1917.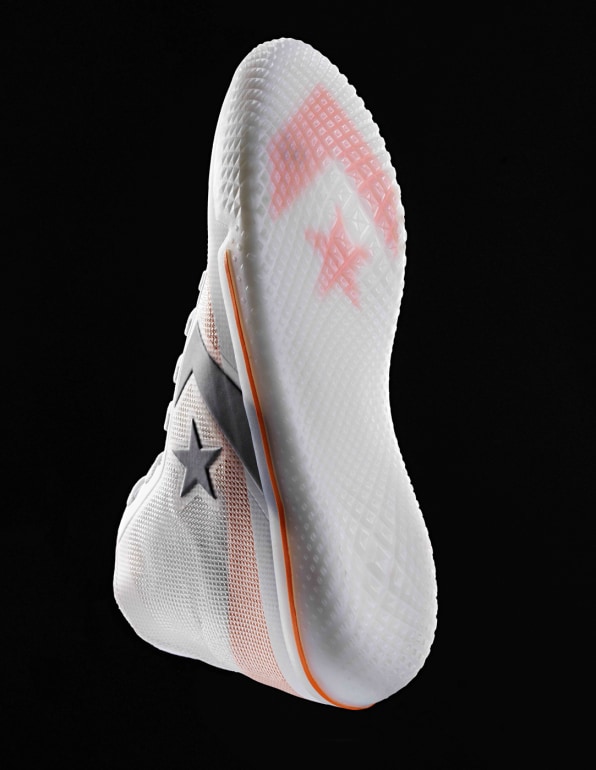 The shoe represents an unprecedented collaboration for the two companies. Nike bought Converse back in 2003, but no one on either team remembers the companies working so closely together on a major product in the 16 years since. It shows: The All Star BB has a silhouette similar to an All Star (aka, Chuck Taylor), and nods to its familiar, century-old design. But its construction is purely based on Nike's newest technologies. It has a future-forward Nike React core, making it soft and springy, and infusing the shoe with energy return in every step. It has a new cup sole that adds contour and support to the otherwise flat-footed sneaker. And it has a Nike-proprietary "Quadfit" mesh upper that helps the shoe both flex and lock down onto your foot. This combination of tradition and technology marks a new design language for Converse, which its designers have dubbed "future familiar."
"You could arguably say it is the Chuck Taylor design for this era and this generation," says Brandis Russell, vice president of Global Footwear at Converse. Yet the All Star Pro BB is about more than just refreshing the Chuck Taylor; it's about Converse becoming a world class performance basketball shoe (again).
Nike is a brand that will tell you design stems from innovation; that technology, and the quest for elite performance, drives everything in a shoe. Converse has taken a different approach over the past decade. It's teamed with artists and designers, like Virgil Abloh and Tyler the Creator, to start with aesthetics, and to riff upon Converse's classic silhouettes in new ways.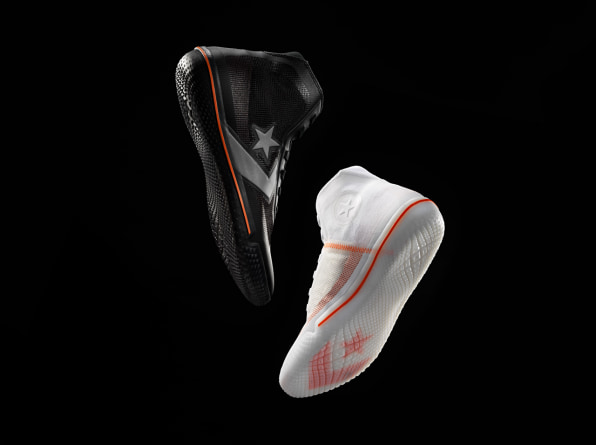 Converse became a lifestyle brand, largely because Converse's technological breakthroughs happened a century ago, when it first learned how to vulcanize rubber into strong-yet-flexible diamond-treaded shoes. Those innovations–riveted lace holes that stopped the canvas from ripping, a reinforced rubber cap that protected your toes, a high ankle support that offered stability–became iconic, simply because they existed for decades. And somewhere along the way, we all forgot that Converse was originally a brand built for performance rather than style.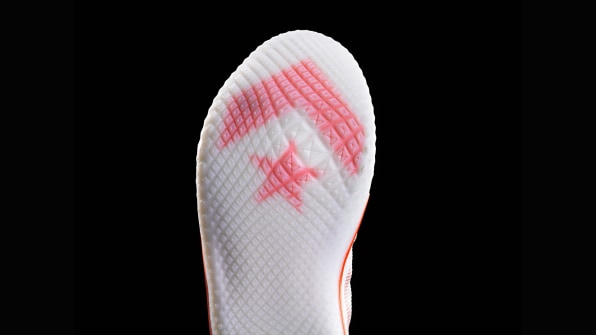 Over two years ago, Converse began conducting interviews, surveys, and focus group testing on the future of its products. And while Russell won't share exactly what was asked, or exactly what consumers said, Converse walked away with a few conclusions about the future of its business: Consumers didn't want Converse to just be a retro-nodding style factory. They were open to some radical new ideas, on the Chuck Taylor, or even totally new Converse shoes.
"Basketball felt like an honest, authentic, organic place for us to begin based upon our origins," says Russell. The brand that built the original basketball shoe should probably still make one of the best basketball shoes–and the NBA continues to be a premiere proving ground for all sorts of shoes that will be worn on the street.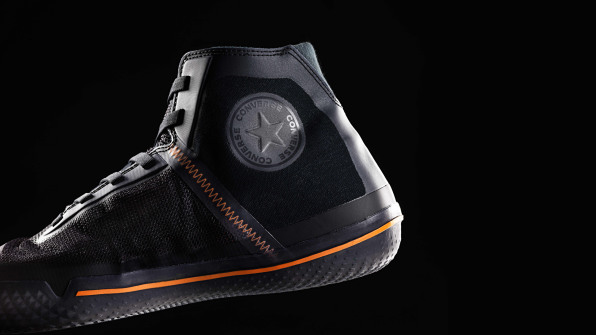 "The brief was really around reimagining, how does Converse show up in modern-day basketball?" says Damion Silver, associate creative director of Converse Footwear. "It was incredibly exciting and daunting."
To get there, a cross-discipline design team of a dozen people between Nike and Converse came together to build it–using Converse's heritage and Nike's war chest of technologies. Working largely out of Nike's Beaverton lab, designers from the two companies began developing the new basketball shoe. It would be a minimal design, meant to get out of the way of the player. And so the team homed in on improving the Chuck Taylor, without too much reverence to the design, as a starting point.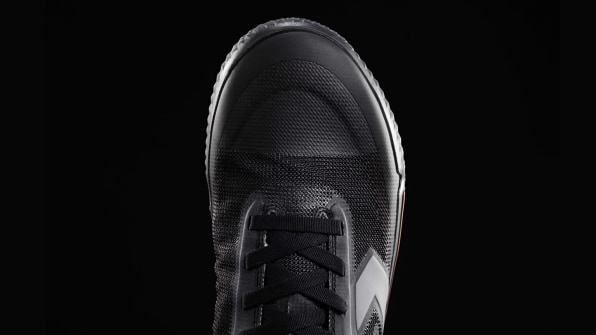 "There's such a simplicity and purposefulness to that design that it was really the driving force for us to elaborate, amplify, improve upon," says Eric Avar, creative director of innovation at Nike. "It kept us pretty pure. We didn't want to get too tricky with technology, we just wanted to pull from what we thought was the most appropriate."
All of the aforementioned technologies made their way into the shoe. The team ditched vulcanized rubber and opted for a one-piece cupsole–a rubber outsole with a high sidewall that cups the foot–which is both simple to produce and better supports a player's lateral movements. Most of the technical performance was handed to a massive React foam drop-in (or basically a Dr. Scholl's insert built for the needs of Lebron James.)
"It's a different feel," says Phil Russo, global creative director of Converse, comparing the shoe to a Chuck. "I'd say the thing that jumped out the most was the cushioning. To put this amount of cushioning into the shoe provides a different ride…[but] it's not bulky and getting in the way. And it's surprisingly supportive for such a minimal shoe."
Nailing the design language–making this shoe look like Converse and not Nike–was vital, too. Part of that happened by accident. An early prototype shoe arrived that just had a mesh upper–like a skeleton–and no canvas on it. The mesh was meant to sit inside the shoe, unseen. But designers loved the rawness, which harkened back to the raw nature of the Chuck. So the semi-translucent mesh became the primary outer material, revealing canvas and anything else lying underneath.
"It gave us the ability to showcase a transparency to see how the shoe functions," Russo. "Colored socks can X-ray through [too]…we thought it was cool doing a reveal with the mesh."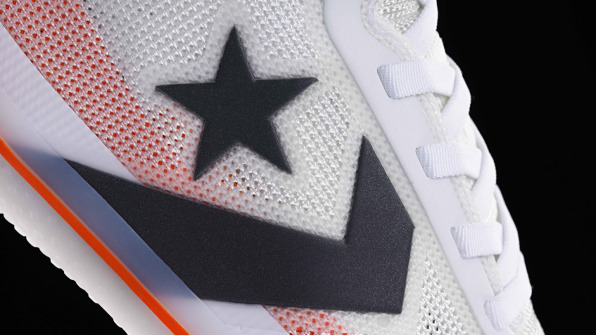 The new diamond pattern on the underside of the All Star Pro's outsole is a nod to Converse classic, but it's been optimized for modern player movement. And a large pinstripe and star on the shoe's side wall gives a nod to Converse's other basketball shoes, like the the Pro Leather and discontinued Weapon.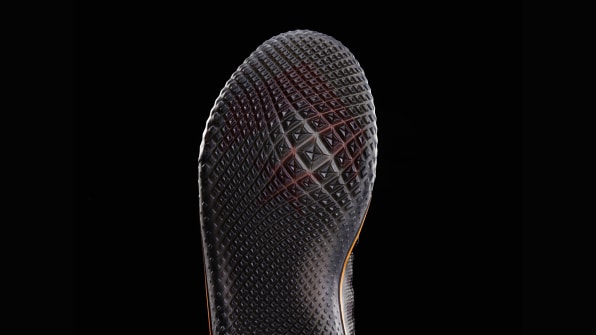 With the development work done, now the question is how big of a splash Converse can make into the world of basketball. For the past four months, NBA star–and Converse athlete–Kelly Oubre Jr. has been play testing with the All Star Pro BB in preparations to wear it on court next season. And in the meantime, Converse is readying its renewed push into basketball through a wider range of products. It will rerelease the Converse VLTG, a sneaker from the '90s, with a reengineering exclusively for women, later this year. And it will begin a redesign of another basketball sneaker in its archives, the Pro Leather.
So while the All Star Pro BB is certainly an important product for Converse, it's only the first in many new performance basketball initiatives to come. "The plan is how we think about the long game here…a rebirth back into basketball, and a new era of design for our brand," says Russell. "It signals a larger intention."