Disney is serious about its forthcoming subscription video offering, Disney+. That may be the main takeaway from the company's comments about the new service its investor meeting Thursday afternoon.
Disney+ will offer a broad range of content, including lots of new original shows, and, compellingly, the entire vault of legacy Disney content like Fantasia, Cinderella, The Lion King, and Snow White, dating back to 1920.
The service will launch in the U.S November 12 and will cost $6.99 per month, or $69.99 per year.
In its first year, Disney+ will offer over 7,500 total show episodes, the company said.
The company expects to have 60 million to 90 million subscribers to the service by 2024. It believes 20 million to 30 million of those will be U.S. consumers.
"Disney is loved by so many people around the world," said Disney chairman and CEO Bob Iger during a Q&A with investors. "This is our first foray into the space and we want to bring it to as many people as possible."
Iger said the company wants Disney+ to be a TV and movie service for now. No other media, like games, will be added in the near future. The service will have no ads.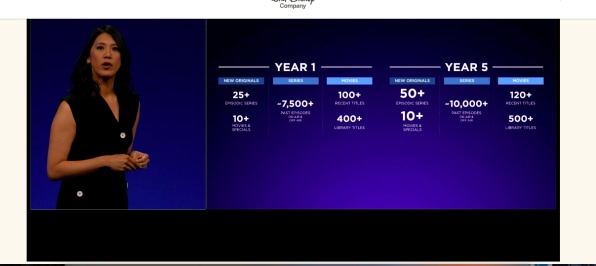 Disney's direct-to-consumer division chairman Kevin Mayer said his company will "likely" bundle the Disney+ service with other subscriptions like ESPN+ and Hulu (in which Disney now holds a controlling interest) at a reduced price. An ESPN+ subscription costs $4.99 per month. Hulu starts at $5.99 per month, with an ad-free version at $7.99. Disney has yet to announce the monthly prices of these bundles.
Disney President of Streaming Services Michael Paull lays out Disney's 6 quality of service values that will separate its services from competitors.
– Says they know many people subscribe to sports events right before games start, which is why high-transactional velocity matters pic.twitter.com/NzRSk0iq5j

— Sara Fischer (@sarafischer) April 11, 2019
As for original content, Disney is going deep. The company said it will spend $1 billion in 2020 on original content and $2 billion per year by 2024. In the first year, Disney will produce 10 movies or specials, and 25 episodic shows. One show, The Mandalorian, which is is set in the "Star Wars" universe and created by Jon Favreau, will cost an estimated $100 million for 10 episodes.
Other details:
Disney+ subscribers will be able to download all the service's content, including movies and TV shows, for offline viewing.
Disney+ will launch with several original programs, including The Mandalorian, A Lady and the Tramp remake, a Frozen II making-of documentary, and a Winter Soldier/Falcon series within the first year.
Disney's live action films for year one on Disney+ include content ranging from Tim Allen's Santa Clause trilogy to 20,000 Leagues under the Sea.
A series called "High School Musical: The Musical" will run exclusively on Disney+.
Disney is indeed entering a new chapter with its first wholly-owned subscription video service. "If we're going to do this we've got to be very serious and be all-in on it," Iger said. "We are really committed to this."