But Snell's piece was not only designed by an algorithm (more on that later). It's actually made of the ground-up dust of the computer that created it.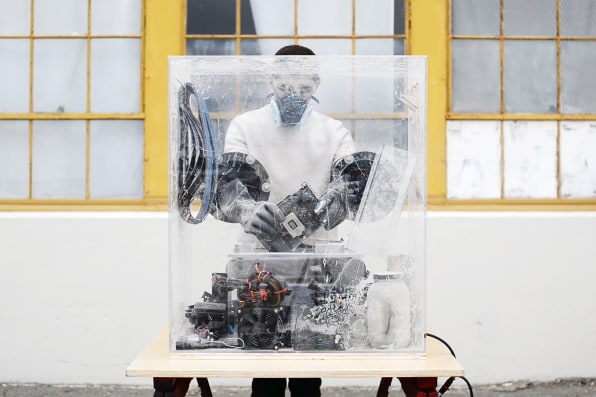 After Snell wrote the program that would design the sculpture, he disassembled every element of the computer that contributed to the sculpture–including the motherboard, graphics card, processor, and enclosure–and ground each piece to dust using a sander. "I used the raw material of computation to make this sculpture: both its computational processing power and its literal material affordance," Snell tells Fast Company via email.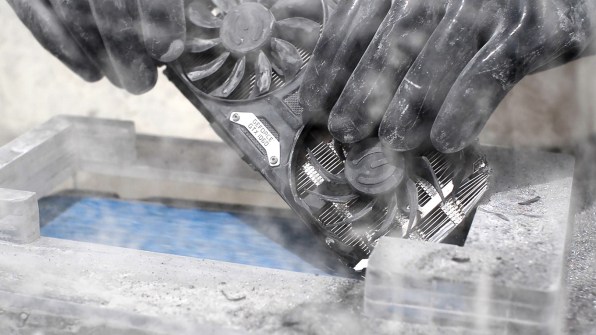 Grinding up a computer is not an easy process because they are made of toxic materials and heavy metals; to do so, Snell built a custom acrylic box that had the sander inside. He wore a respirator mask while sanding the parts to protect himself from any fumes, and he was particularly worried about grinding up the aluminum exterior, since aluminum dust can explode (luckily, this never happened).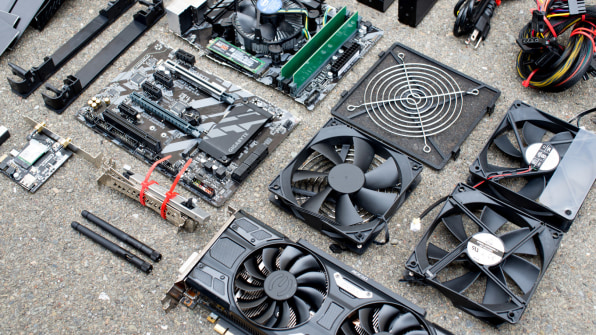 After that, Snell mixed the dust with resin and poured it into a silicon mold of the shape the computer had designed.
The finished result, which he calls Dio, has a metallic texture, like it could have been cast from bronze–appropriate, since the form was derived from thousands of 3D models of classical works, including ancient Greek sculptures like the Discus Thrower and Winged Victory and Renaissance staples like Michelangelo's David. But Snell's sculpture only looks loosely like a human form. Its abstract shape instead recalls the work of modernist sculptors like Henry Moore and Barbara Hepworth.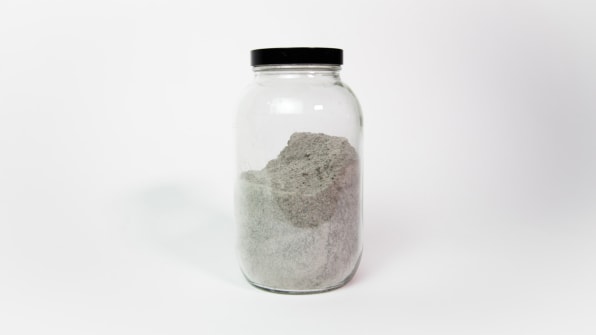 The project was inspired by a 1961 artwork called Box with the Sound of its Own Making by Robert Morris, which consists of a wooden box within which a speaker plays a recording of Morris hammering the box together. Similarly, Dio is an attempt to show both the object and the processes that went into created it through its physical form–something that Snell points out is often contrary to our experiences of digital devices.
"These devices rarely communicate the richness and complexity of their internal processes. In fact, an interface that separates this from the user is usually an integral part of their design," he says. "What if these devices' inner lives were visible and understandable? What if their physical presence connected directly to their virtual inner life? What would such an object look like if it held in balance both its physical and digital presence: if the tangible and intangible were expressly manifest in a single object of attention?"
Dio, named for the Greek god Dionysus, is his answer. "Dio discards the traditional notion of a computer as a window to look through and replaces it with a mirror to look into," Snell says.
Given the intellectual, computational, and physical labor that went into the creation of Dio, it seems clear that this is a piece of bonafide art, despite what critics might say about the use of AI. As more artists share the way they use artificial intelligence, the more comfortable the traditional art world will likely become with this type of authorship–similar to how photography, which also fundamentally relies upon machines, eventually became its own category of art.