If you need help spending even more money on Amazon Prime, the tech giant has a simple solution: look to the stars.
In a truly bizarre, capitalist twist on astrology, Amazon Prime's Insider newsletter is sending monthly shopping horoscopes to its members. The company maps out the best products and Prime benefits by zodiac sign, because obviously, all your spirituality needs align with their inventory.
Cancers, for example, are advised to "explore" their options this month but not commit. Somehow, that translates to investing in Amazon's new skin-care line Belei, which will help you "meet new people and embark on new adventures."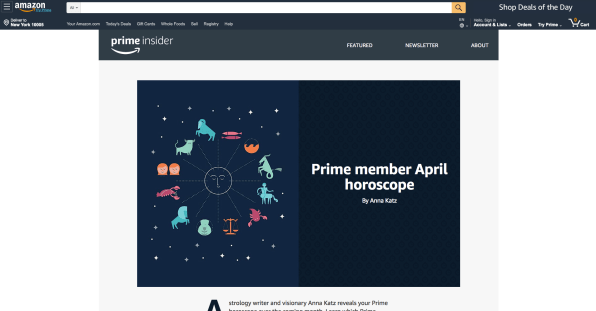 Virgos are told to let go of their "productivity" agenda and accept a calmer, clearer mind. But that doesn't mean silence or meditation; it means subscribing to Prime Music for a "soundtrack to keep you dreamy." Communication is reportedly quite hard for Geminis, so they ought to practice giving and taking feedback with … an Alexa.
"This month is all about synchronicity, with things showing up right when they're needed. You might run into that old friend or forgotten idea at the perfect moment—eat well at Whole Foods Market or through AmazonFresh to ensure you have the energetic wherewithal to connect the dots," reads the Scorpio horoscope.
Barely any of the zodiac readings make sense, and in fact, this entire idea would be hilarious if it was a joke. But Prime Horoscopes is now in its third month, and it's simply not wild enough to assume it's a farce.
checked my email only to find that amazon prime sent me my horoscope and my soul was forcibly ejected from my body

— hozier's lil wasteland baby (@yafriction) April 8, 2019
Amazon Prime tapped "astrology writer and visionary" Anna Katz for the new project, although her name is not counted among notable astrologists. Ghostwriter and editor Anna Katz, who holds a master's degree in existential phenomenological therapeutic psychology, lists Amazon as a client on her website. She does not publicly refer to herself as an astrologist. (Fast Company reached out to Amazon but has yet to hear back.)
For all of the legitimate skepticism of astrology, there are those who take it seriously. As I previously reported, Americans spent $2.2 billion on "mystical services" in 2018. The industry has grown steadily over the past five years as the economy recovers and consumers more readily adopt alternative and pseudo-religious practices. Broadly, Vice's female-focused channel, says its horoscopes section "has grown really exponentially." In 2018, a typical Broadly horoscope post garnered 150 percent more traffic than the year before.
The reignited trend also inspired a host of new startups and services catering to millennials eager for some direction and advice. That's why there are crystal subscription boxes and "intuitive business" consultants. Startups are making these practices easier and faster, centralizing it into efficient platforms.
March saw the launch of Sanctuary, a digital astrology startup, which raised $1.5 million in venture capital (with help from Lorne Michaels's Broadway Video Ventures Incubator). It was quickly followed by Begin To Heal, a holistic health network of over 200 licensed wellness practitioners for services like Reiki, energy healing, and "spiritual coaching."
Most astrology followers turn to the ancient traditions for guidance, even if they don't wholeheartedly believe in it. Others see it as a means of entertainment, an escape of sorts. But there is something unseemly about Amazon utilizing horoscopes strictly to sell stuff. Prime's tactic falls flat for several reasons, but mostly because it doesn't understand its audience—or the practice.