Research highlighting just how unsustainable and unhealthy meat is has driven more and more people to cut down on meat and switch to a more plant-based diet. One study found that 39% of Americans were incorporating more plant-based foods into their diets in 2017.
There has been huge growth in the number of plant-based alternatives to meat, which means that people don't have to drastically change, cut down, or compromise on their favorite foods. "Bleeding" plant-based burgers that cook, look, smell, and taste like the real thing, including Beyond Meat and Impossible Foods, are making it much easier for reducetarians–people trying to cut down on their meat consumption without fully giving it up–to enjoy a burger without harming the environment, animals, or their health.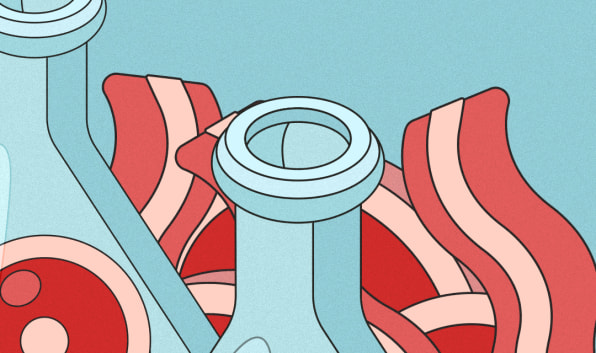 Many people find it difficult to cut out meat entirely, and others simply don't want to. But the scientists looking for other sources of protein that are scalable, sustainable, nutritious, and ethical are coming closer than ever before to solving this riddle: meat grown in a lab.
Clean meat, as it's called, offers the exact same experience of eating meat, just without harming animals or the environment. Scientists extract stem cells from a live animal without causing them any pain, and feed the cells plant-based nutrients so they grow muscle fibers like they would in the animal's body.
A number of companies are working on making clean meat, including burgers, sausages, and chicken nuggets, a viable and affordable food source, and while there are predictions cultured chicken will be popping up in Asia as soon as this year, most estimates predict it will be ready for market on a wide scale within the next five years.
At the moment, the sticking point is working out how to produce it at a sustainable cost, since the first-ever clean hamburger, made in 2013, cost roughly $325,000.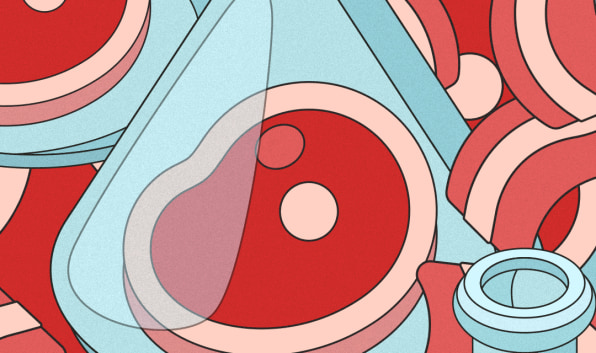 By 2050, worldwide meat consumption is predicted to increase by 73%, according to a 2011 United Nations report, so the potential market for clean meat is huge. But there's one question looming over the industry: Will we want to eat it?
There has been some hypothetical research to gauge the demand for clean meat before it comes to market–and some of it doesn't look particularly promising. Research found that some people are unwilling to eat clean meat, even when they know how it's made. One study found that 43% of people would prefer to eat animal-based foods even when clean meat is the same price. One of the main reasons people are put off is because they perceive clean meat as unnatural.
But there are plenty of unnatural substances in our diets. Bread, cheese, yogurt, and wine, for example, are derived from natural ingredients that are then processed. And some argue that factory farming is more unnatural than anything that could happen in a lab.
One scientific paper argues that research suggests we're least likely to perceive something as natural when a gene from another species is added to it–which they say is cognitively similar (although, in practice, not at all similar) to the process of growing clean meat–compared to adding synthetic chemicals or freezing food. However, lab-grown meat may actually be healthier than "natural" meat because it could reduce the risk of contracting of meat-born illness like salmonella and E.Coli.
Finding food unnatural is part of our disgust reaction, which is a universal human emotion that scientists say we develop as a defense mechanism to avoid infections and disease, or ingesting anything poisonous. It's a complex reaction that hinges on both rational and irrational, learned and in-built impulses.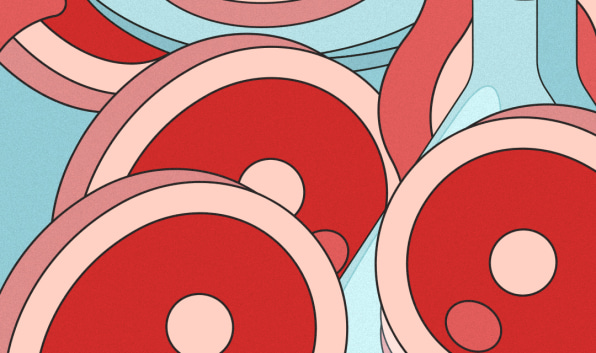 The foods we find disgusting largely come down to exposure. Most Americans don't see anything unnatural about the idea of eating animals per se, and eat pigs, cows, and chicken without hesitation. But many would be disgusted by the suggestion of putting a monkey's leg in their hotdog buns; the only difference is what we've been socially primed to see as acceptable.
This means there is hope for clean meat yet, because it suggests we can become less disgusted by foods the more we're exposed to them. There is also evidence suggesting those of us who are more open to one "exotic" food are more likely to try another. One study found that Americans who regularly eat sushi, for example, are more inclined to trying edible insects.
It took a lot of time, money, and marketing, but in recent decades, sushi has gone from an object of disgust in the west to one of our favorite cuisines. Japanese food was barely mentioned in the U.S. media until the 1970s. A New York Times article from 1981 covering the opening of a sushi bar in New York's Harvard Club, explains how Americans, ". . . once were squeamish about eating raw fish. Now observe how expertly they order their nigiri, hold the mustard on the kappamaki."
Almost 40 years on from our first tastes of sushi, Americans are far more accustomed to trying new foods, thanks to cities offering cuisines from around the world. When clean meat becomes available, there's every chance we won't find it unnatural for long.
---
Brian Kateman is cofounder and president of the Reducetarian Foundation, a nonprofit organization dedicated to reducing consumption of meat, eggs, and dairy to create a healthy, sustainable, and compassionate world. Brian is the editor of The Reducetarian Cookbook (Hachette Book Group: September 18, 2018) and The Reducetarian Solution (Penguin Random House: April 18, 2017).