"Hair wellness" is quickly becoming a booming direct-to-consumer sector. On Tuesday, Nutrafol, a non-prescription hair health brand, announced $35 million in series B funding. The latest investment round is led by L Catterton (Equinox, Peloton, ThirdLove) with participation from existing investor Unilever Ventures.
Launched in 2016, Nutrafol has made a name for itself as a personalized, natural solution for thinning hair with its line of ingestible products. The brand utilizes botanical ingredients and neutraceuticals (pharmaceutical and standardized nutrients) to compete with more traditional over-the-counter treatments like Finasteride (Propecia) and Minoxidil (Rogaine).
It's technically part of the supplement industry, a sector with little oversight. (Last month, the FDA announced it would reevaluate the industry's existing regulations.)
Nutrafol CEO Giorgos Tsetis concedes that the supplement sector has left many consumers with little trust and much confusion. "Unfortunately, it's a wild, wild West out there," he says.
As such, Nutrafol invested one-third of its total funds into R&D and clinical testing, then parlayed its scientific findings to marketing and branding. The company also participated in several clinical trials. Last year, the Ablon Institute of Research found that 80% of women taking Nutrafol reported "significant improvement" in hair growth quality.
So far, consumer reviews have been mixed. Roughly half of Nutrafol's Amazon customers rated it five-stars. Some rave that it gives them silkier, thicker manes while others bemoan "absolutely no changes in hair growth."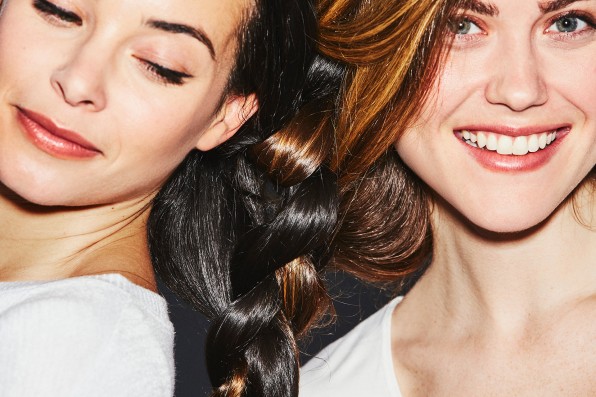 Tsetis, a former fashion model, began investigating the hair loss market when he himself started shedding strands at age 21. For the next decade, he tried prescription treatments but dropped them after suffering several undesirable side effects. (Medications like Finasteride have been shown to increase scalp irritation, impotence, and dizziness, among other conditions.)
A doctor informed Tsetis that one specific treatment would actually cause permanent sexual dysfunction damage. He believed there must be something in between prescription drugs and the less-regulated supplement sector.
"These are really only two FDA-approved drugs to date," says Tsetis. "It's incredible that there hasn't been any innovations since 1988 when it comes to addressing hair health in an integrated, holistic way."
Hair loss affects 80 million Americans, translating to a $3.5 billion dollar industry. By the age of 35, two-thirds of men will experience some degree of it, with the number hitting approximately 85% by age of 50, according to the American Hair Loss Association. Women constitute roughly 40% of American hair loss sufferers.
Such stats inspired companies like Hims, dubbed "Goop for men," to launch prescription hair loss products targeting millennial men. Soon thereafter, it released female products. This year, Hims raised $100 million, hitting unicorn status.
But this idea of "hair wellness" has mostly inspired the supplement industry. Trendy brands like HUM, Olly, and Moon Juice increasingly infiltrate mainstream retail space. You can now buy collagen powder at Nordstrom or "lustrous hair gummies" at Sephora. On Monday, Bobbi Brown launched Evolution_18, a line of ingestible skin and hair products at 1500 Walmart stores.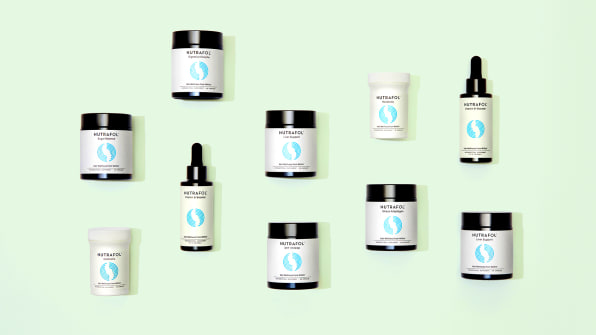 Sales of beauty supplements grew 61% in the last year, totaling $144 million, reports Euromonitor International.
Then there are slew of new brands that more or less treat scalp-care as skincare. Companies such as Briogeo sell clean hair products like scalp exfoliators, "superfood"-infused shampoo, and biotin spray.
Tsetis makes a distinction with his brand, noting that Nutrafol, for one, depends on standardized nutraceuticals, which have different extraction methods than most vitamin companies. They've also been subject to a clinical trial that points to some degree of efficacy.
Wellness, he argues, must include an integrated, internal approach. "That's not shampoos, that's not scalp treatments," says Tsetis. "It is understanding what is at the root of the problem and addressing it."
Nutrafol is now carried in 1,300 stores, clinics, and hair salons across the country. The company reports revenue growth by 3x year-over-year. Roughly 75% of their customers skew older women, while the remaining 25% are millennial males.
With the latest round of funding, Nutrafol plans to scale its personalized system, conduct further research, and broaden its marketing efforts.
"It's not hair loss and it's not haircare,"  says Tsetis. "It's something beautiful in the middle."