On the streets in front of apartment buildings in a neighborhood in Freiburg, Germany, people bike and walk in the middle of the road. Kids play in the street unattended. Cars are allowed, but only if they crawl along at the pace of a pedestrian (the speed limit is three miles an hour), give priority to people not in cars, and stop only temporarily for pickup or drop-off. The street doesn't have parking places.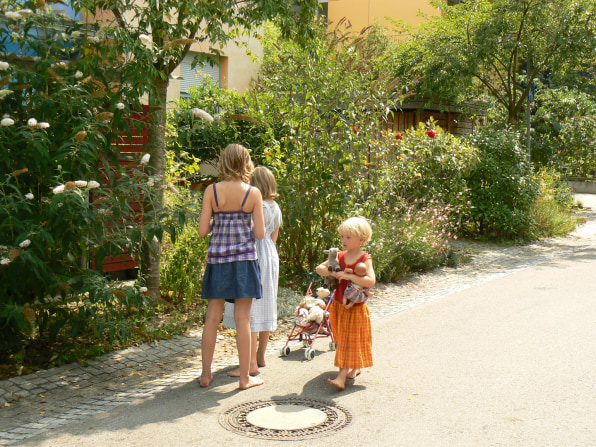 The neighborhood, called Vauban, was built two decades ago as a radical experiment in sustainability. In some ways, it's still as radical as it was then. It's also been a huge success: There's more demand for the apartments than available housing, and few families who live there own cars. Those that do are now more likely to bike or walk than they did before moving to the area.
"Really, for daily life, one doesn't need a car," says Almut Schuster, who works in the neighborhood and who lived there for 18 years. It's possible to walk to grocery stores, cafes, restaurants, offices, and schools within the mostly middle-class neighborhood of about 5,000 people, which is made up of dense housing in apartment buildings. For those who need to go to downtown Freiburg for work, it's a 15 or 20-minute ride on the bus or light rail to the central station.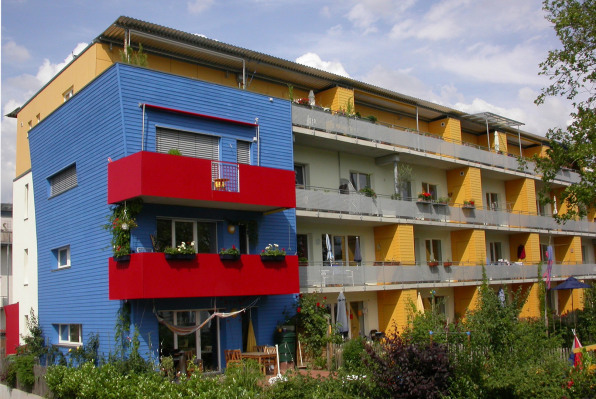 Freiburg, a city of around 220,000 people, is known for its environmental choices, and the city center started excluding cars in the 1960s. Still, Vauban is markedly different from other nearby neighborhoods, says Schuster, who recently moved. Now, living less than a mile away, she sees people drive to stores even when walking would take minutes. On a recent sunny day, she noticed the lack of people outside near the shops in her new neighborhood; when she headed to Vauban later in the day, people were sitting in front of a local grocery talking. "They sit around a little herb garden on the bench and have a little chat," she says. "There's bikes all around that store. People are outside more, and talking more. There are more people around."
The quality of life is a result of a design that very deliberately discouraged cars. When planning began in the area–a former French army base–the city initially envisioned that the neighborhood would be similar to another that had recently been developed. The other neighborhood, called Riesenfeld, also aimed for sustainability, with energy-efficient buildings, jobs in walking distance, a tram stop, and streets designed to slow traffic. But a grassroots group of citizens pushed for something more radical in Vauban: getting rid of parking spots.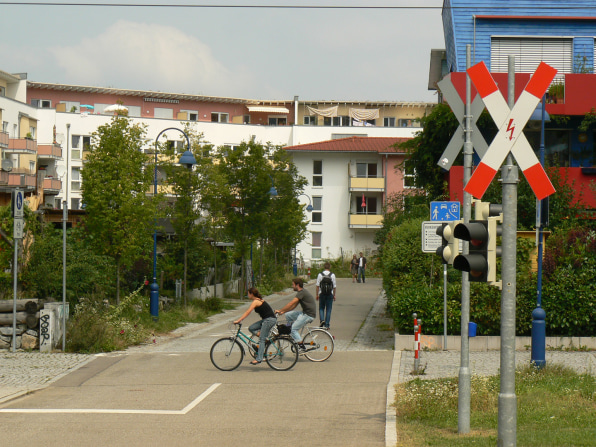 Reducing parking "is the key to reducing car use," says Luc Nadal, the urban development director at the nonprofit ITDP, or Institute for Transportation & Development Policy. That's partly because it's typically still more convenient to use a car to reach other areas–so if it's also convenient to have a car at home, people are more likely to use one even if they have access to a tram or other options. In Riesenfeld, nearly twice as many people own cars as in Vauban. (In Vauban, 183 out of every 1,000 people own a car; in the U.S., by contrast, more than 800 out of every 1,000 people do).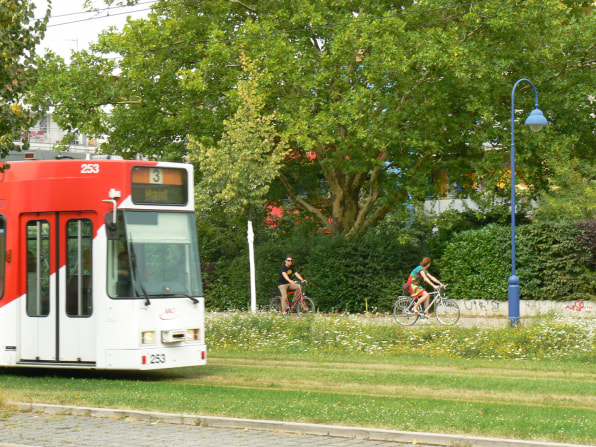 The grassroots organization lobbying for the neighborhood originally wanted to completely eliminate parking. But regional laws required a parking space for every home. Eventually, after some negotiation, the organization was able to reach a compromise–there would be one spot for every two homes, in garages that sat at the edges of the development, so people couldn't park directly in front of the apartment buildings. The government required another plot of land to be set aside in case future residents changed their minds and wanted more parking; 20 years later, it's still a park.
The next challenge was finding a developer, since developers at the time thought that there was too much risk that no one would want to live in apartments that didn't come with parking spaces. Freiburg residents who wanted to live in the neighborhood ended up creating building cooperatives to develop the project themselves.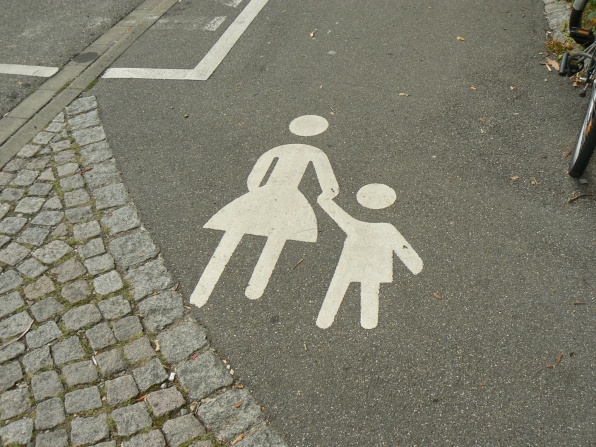 The design of the neighborhood makes it easier to walk or bike (or walk to the tram) than to go to the garage at the edge of the development and drive on streets that prioritize pedestrians. "It's not about limiting people, but it's really making it easier to decide not to own a car because of the infrastructure is there," says Iwona Alfred, a program associate in sustainable urban development at ITDP. "You have public transport, easy walking distances, and cycle routes, and you don't need a car anymore. So it's really just enabling this shift."
Two decades later, even as many cities are beginning to redesign neighborhoods to encourage walking and biking, Vauban still stands out. One challenge for cities are laws requiring parking that are a "legacy from the mid-20th century when the vision of modernity was one of personal motor vehicles," says Nadal. Existing infrastructure is also a challenge in cities that were built after cars dominated roads and have a street grid layout that makes it hard to bike or walk or add public transit. "Retrofitting existing areas is way more difficult than planning correctly new development," he says. As cities grow, particularly in developing countries, there's a huge opportunity to get new developments right as existing neighborhoods change more slowly.
There are several reasons why this type of "car-free" development makes sense, says Nadal. (He uses the term not to mean that there are no cars, but that an area makes it viable to live easily without a car.) There are the obvious reasons–pollution from cars is a major health threat in cities, and emissions from tailpipes are a major contributor to global warming. Walking and biking improve health and connect neighbors. There are also issues of equity–for those who can't afford cars, or who are too young or old to drive, better options for transportation can also change their ability to get to work or run errands.  "This comes to the fore after almost 100 years of fixation on enabling car use in reshaping cities," he says.
Vauban illustrates that a different model works. "It is possible to create places that support a car-free lifestyle without any concession in terms of the quality of life," he says.