If you hate daylight saving time, you're not alone. Millions of people curse the yearly ritual of setting our clocks ahead by an hour, which many of us did just a few weeks ago. Researchers suggest that even minor sleep pattern changes can have significant consequences, including increased heart attacks, strokes, car accidents, and a dip in worker productivity.
Some people try to cope by going to bed earlier or downing a double espresso. If you're an employer, you know that daily saving time often comes with a dip in productivity, as Lydia Dishman previously reported in Fast Company. But there's another way to promote a high-energy workday, all year long: smart office design.
The rise and fall of the cubicle farm
Back in the 1960s, the Herman Miller furniture company created the standard cubicle. These four padded walls enabled companies to cram more employees into the same office without incurring extra costs. The cubicle also came to symbolize a grim, Dilbert-style workplace, where staff toil in quiet despair.
Few organizations considered how their offices affected employee comfort, until recently. The headquarters of modern companies like Bumble, Hutch, Dplus Global, and Instagram are colorful, airy spaces with amenities like cold-brew coffee bars, meditation rooms, and onsite massage therapists.
A striking office can enhance brand identity and attract top talent. More importantly, it can also boost employee creativity, productivity, satisfaction, and even health. Study today's most appealing offices, and you'll soon see several universal principles that architects and designers use to create world-class workspaces.
Let in the light
Americans, on average, spend more than 90% of their time indoors. Natural light regulates our 24-hour body cycles or circadian rhythms. Light exposure also suppresses the release of sleep-inducing melatonin. That's why basking in the sun can boost your energy levels, but staring at a screen before you go to bed will probably mess up your sleep.
Natural daylight helps to mitigate the effects of jet lag and time changes. In a work environment, studies show it can also boost productivity. Research by Cornell University professor Alan Hedge found that workers in offices with natural daylight reported an 84% decrease in headaches, eye strain, and blurred vision.
Natural light is also a sought-after workplace attribute. In a research poll of over 1,600 North American employees, access to natural light and views of the outdoors outranked office perks like cafeterias, fitness centers, and daycare. In the same survey, 78% of employees said that views and access to natural light improve their well-being, while 70% said these features improve their job performance.
Design for day-to-day work styles
No two companies are the same. Whenever possible, it's essential that an organization's office reflects its unique culture, needs, and preferences. To match desired work modes with physical spaces, architecture and design firm HLW International created a Collaboration and Quiet index.
The index features seven workplace attributes: location, enclosure, exposure, technology, temporality, perspective, and size. Each element lives on a continuum from open to closed, for example, or public to private.
HLW applied their system to add transparency to Adobe's New York headquarters while maintaining spatial boundaries around specific activities. For Yodle, the designers created a semi-enclosed "quiet car" within the main space so that developers can work without disruptions.
At my company, JotForm, our employees work in small, cross-functional teams of five to six people. Each team has a private office with a door that closes. It's an arrangement that works well for us, but it also required some trial and error.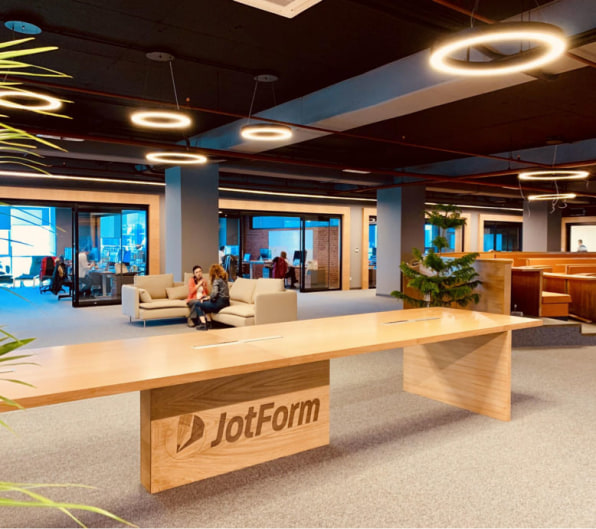 Create a variety of workspaces
Over the last decade, many companies swapped their cubicles for open office plans. These long desks and rows of headphone-clad employees practically scream "tech startup." Airy spaces look cool, but organizational psychologist Matthew Davis found that open-office layouts can slash concentration levels and increase stress, yet companies are still opting for this kind of setup.
To combat the challenges of an open layout, try to provide a mix of workspaces. For example, start by giving a "home base," which could be a table, chair, locker, or workspace. Add a more casual area with couches and quiet zones for reading, writing, or deep focus. Phone booths can host calls and small-group conversations, while larger meeting areas accommodate big gatherings.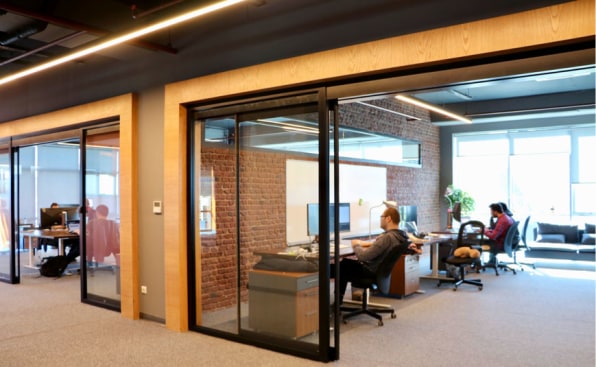 Extra credit details
Adding plants to your space can lower work-related stress and enhance performance. Just like employees, they're more likely to thrive in abundant natural light. Round edges and circular design elements are also reported to enhance creativity. We can't all work in the Guggenheim, but a few curved edges could inspire more organic conversations and collaboration.
Finally, ditching spatial hierarchies, like corner offices, can encourage people to share openly and contribute fully. Consider organizing people by function or team, instead of by status. Just like a healthy community, an office should include a mix of skills, ages, and experience levels that can foster an environment where people are happy to spend their days.
---
Aytekin Tank is the founder of JotForm, a popular online form builder. Established in 2006, JotForm allows customizable data collection for enhanced lead generation, survey distribution, payment collections, and more.