A partnership between American Airlines and helicopter charter service Blade generated a lot of buzz when it was announced last month–but not the kind they were hoping for, due to the prices they were charging. The tie-up pairs American's luxury Five Star personal-attendant airport service with Blade's five-minute flights between JFK and Manhattan; and between LAX airport and different neighborhoods in Los Angeles. Maxing out the add-on services for a New York-L.A. round-trip, for instance, would have run close to $2,000 per person (on top of the airfare), as Fast Company reported.
Both companies have announced new lower-priced offerings. Blade's markdowns are nearly 50% in some cases–from $395 to $195, each way, in New York City. These new fees are not just for flights in partnership with American Airlines, but for passengers connecting with JFK flights from any airline.
But if Blade customers add American's attendant service to helicopter flights to or from JFK, the cost of Five Star service ($350) now includes a new $150 option. For flights out of JFK, Five Star provides an attendant to escort travelers from the helipad, through expedited security, right to priority boarding. If they are flying American into JFK, Five Star escorts them from arrival gate to helicopter. And if the flights are between JFK and LAX, travelers get the personalized service through both airports.
Blade provides a simpler attendant service, which stops at the security check on each end, for an extra $100, regardless of airline.
These fees will still be out of reach for most travelers. But in the coming years, Blade aspires to get prices below $90 per flight, says CEO Rob Wiesenthal. (Blade doesn't operate helicopters and planes directly, but rather contracts with aviation providers.) "This is not destined to be a rich man's product," he says.
Blade is also introducing new and faster services in several cities, and it's simplifying a byzantine pricing system that even Blade's own team had a hard time explaining to me last month.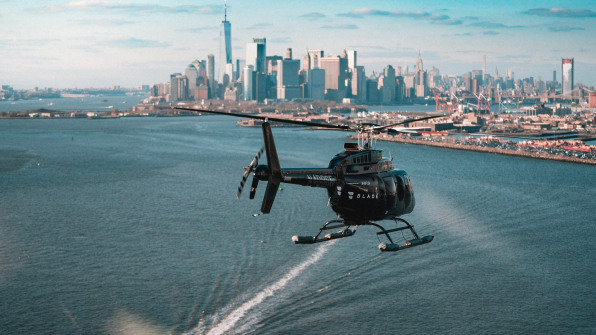 Simpler, lower prices
Blade's biggest changes come in New York City, where seats on flights between Manhattan and JFK (regardless of the airline that customers fly) had been advertised as "starting as low as $195" but could run up to $395. "Now, it's $195 there, it's $195 back. That's it," says Wiesenthal. In L.A., Blade is now offering a smattering of seats on flights as low as $295 (most are higher), and Wiesenthal says he aims to get prices lower.
Under this new pricing scheme, that maxed-out Blade-plus-Five Star bundle would drop from at least $1,927 to as low as $1,280 for a New York-L.A. round-trip: $195 for helicopters to and from JFK, at least $295 to and from LAX, and $150 each way for Five-Star service. (That's in addition to airfare itself, ranging from about $300 in basic economy to $2,700 in first class, per American's website.)
Blade is also replacing its scheduled JFK shuttle flights (typically running twice per day, in each direction) with continuous service from 7 a.m. to 7 p.m., Monday through Friday. A passenger in the airport or the city can now order a seat in the Blade mobile app and be airborne on the next available flight, within about 30 minutes, says Wiesenthal. (Blade continues to also offer private charters of entire helicopters, seven days a week, starting at $1,400 for a six-seater.)
In addition, Blade will soon begin limited per-seat service between Manhattan and Newark airport, says Wiesenthal, with La Guardia service likely coming later. Prices haven't been set yet. (Currently, customers have to book a whole helicopter to or from either airport.) Wiesenthal's goal is to someday have continuous flights from three helipads in Manhattan and all three New York City airports.
And in the Bay Area, Blade is running a pilot program of flights between wealthy tech hub Palo Alto and local airports and attractions: such as $195 per seat, each way, to or from Oakland Airport and $435, each way, to or from the Napa wine country.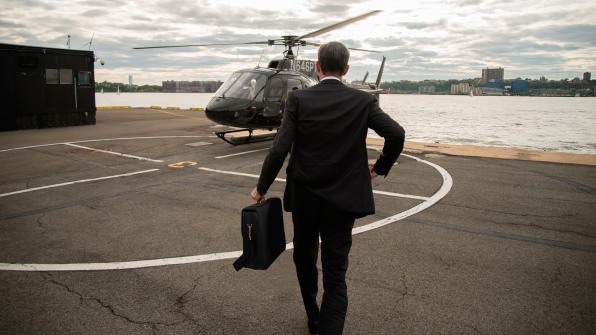 Beyond one-percenters
For perspective, I priced out more prosaic means of transit. A solo ride in a Lyft or Uber between the West Side of Manhattan (where Blade's new continuous flights operate) and JFK can cost $60 to $80 and take one to two hours, depending on traffic, per estimates in the apps. (A luxury Uber Black SUV–more in line with Blade's clientele–runs about $200.) A subway ride to or from JFK costs just $8 and can take as long. In L.A., a trek between downtown and LAX runs about $30 in a regular Lyft or Uber, and takes 30 to 60 minutes, per estimates in the apps. (Traffic in both cities is notoriously variable, however.)
In short: Those with extra cash can buy their way over the gridlock that working-class and middle-class folks still have to endure. However, Wiesenthal believes Blade can cut per-seat costs far lower within five years–by minimizing downtime and filling every seat. "The long-term goal, by working with the stakeholders–which include operators, infrastructure partners, and manufacturers–is to get that price down to the $70 to $90 level, using conventional [helicopters]," he says.
Blade's ultimate goal, however, is to replace today's choppers with the quieter, cheaper, non-polluting electric vertical take-off and landing (eVTOL) craft that companies like Bell and Blade investor Airbus are promising for the coming decade. (Uber has similar ambitions.) Electric planes could eventually bring per-seat prices for trips to and from airports even lower than Blade's long-term target for conventional choppers, says Wiesenthal.
"In the future, the only thing that's really going to change is the equipment," says Wiesenthal. "And as that equipment gets more cost effective and quieter, the number of places we are able to land will increase exponentially."
This story has been updated to better clarify some of the new offerings.