Telehealth company Ro (previously known as Roman) secured $91 million in funding to expand men's health offerings. Now, the healthcare startup is tackling women's issues–specifically, menopause.
On Wednesday, Ro announced Rory, a personalized treatment service for women going through midlife changes. It will offer care, education, and resources to better deal with menopausal symptoms. This will include a mix of prescription solutions along with more holistic practices.
"Menopause is often a lonely and confusing shift, one that approximately 43 million women in the U.S. between the ages of 45 and 64 experience," Rory states on its website, citing CDC stats. "Many women are unprepared to deal with the changes they go through during midlife, and nearly 55% of women going through menopause don't do anything at all to treat symptoms."
Symptoms include headaches, low libido, vaginal dryness, mood changes, weight gain, chills, hair loss, insomnia, and hot flashes. The latter affects an estimated 75% of women, typically lasting five to seven years, according to the American Congress of Obstetricians and Gynecologists.
As Fast Company previously reported, the high percentage of women who don't treat their menopause symptoms means that 20% of the workforce is potentially at work without enough sleep, profusely sweating, and with little energy.
"The unmet need here is huge," holds Rory.
Rory members can complete doctor "visits" online, at which point a remote Rory-affiliated physician follows up with recommended treatment options. All prescriptions are sent directly to one's home via the company's own pharmacy network. Products start at $13 per month, and members can contact their physicians at any time via phone or online messaging.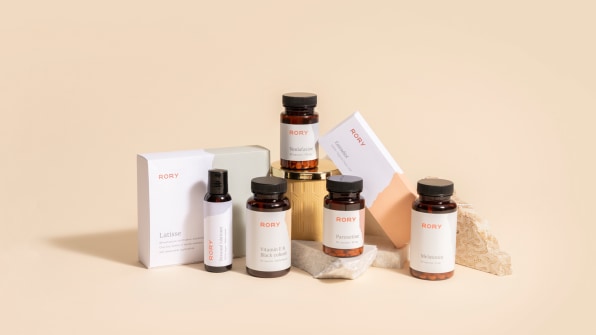 The products are available nationwide, while telehealth services will launch in 47 states.
Ro's new service mimics that of Hims, the telemedicine unicorn that focused on men's health before launching the female-focused Hers. The sister site focuses on affordable, FDA-approved medical-grade products that affect all age groups, starting from one's teens all the way through menopause.
Such shifts grow more common as the telemedicine sector witnesses a flush of investment. Silicon Valley and the medical industry attempt to address two simultaneous trends: a growing aging population that will need increasing care options, and younger generations accustomed to efficient, cost-effective solutions.
According to a report from market intelligence company Transparency Market Research, the global telehealth market is expected to reach $19.5 billion by 2025, growing at a rate of 13% from 2017 to 2025. In 2016, it was valued at $6 billion.
Ro launched as Roman in 2017 with a singular focus: treating erectile dysfunction. For $15, customers could meet with a doctor via online chat or video, and obtain a prescription for Viagra, Cialis, or a generic drug. Despite not accepting insurance, the company was able to quickly rack up over a million patient-physician interactions. It was most recently named a 2019 Most Innovative Company.
Its newest brand, Zero, helps people quit smoking through a combined effort of prescription medication, nicotine gum, a supportive app, and online consultations with licensed physicians.