The first thing that hits you is the smell. I'm walking through the 720,000-square-foot mall in New York's brand new $25 billion development Hudson Yards, and it reeks of something chemical that I imagine is marble polish. I walk all the way up to the fourth floor, where, right next to the not-yet-opened observation deck, there's a business called 3den.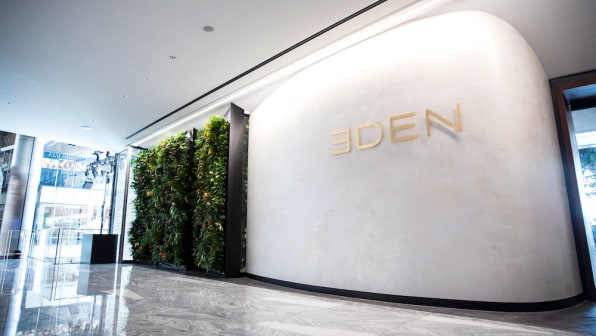 What is 3den? It's hard to tell from the outside, where it appears to be a luxe, high-tech airport lounge that's not in an airport, complete with an iPad where you scan a QR code to gain access. But once you walk in and begin exploring the plant-filled space, you'll discover it also has a meditation and yoga room, high tables specifically designed for you to work standing up, and bathrooms and showers complete with free products from brands like Cora (for tampons and pads) and Hello (for oral care). There is free coffee, soundproof phone booths, an abundance of power outlets, and even two Casper nap pods.
It's here, on the fourth floor of the Hudson Yard mall, that 3den CEO and founder Ben Silver is experimenting with a brand new kind of "third place"–a kind of in-between place that caters to your needs when you're not at home or work. And he's doing it by providing every amenity you could possibly need, for which anyone can pay $6 for 30 minutes.
Unlike most other coworking spaces or lounges, all of this happens on a walk-in basis: you book however long you'd like to spend on the 3den app (you can also reserve nap pods, phone booths, and showers in advance), flash your QR code at the door, and you're in. Silver says this Hudson Yards space can accommodate about 100 people at a time, and based on his research, believes that 3den can host about 3,000 people per day since many people will only spend between 30 minutes and an hour and a half there.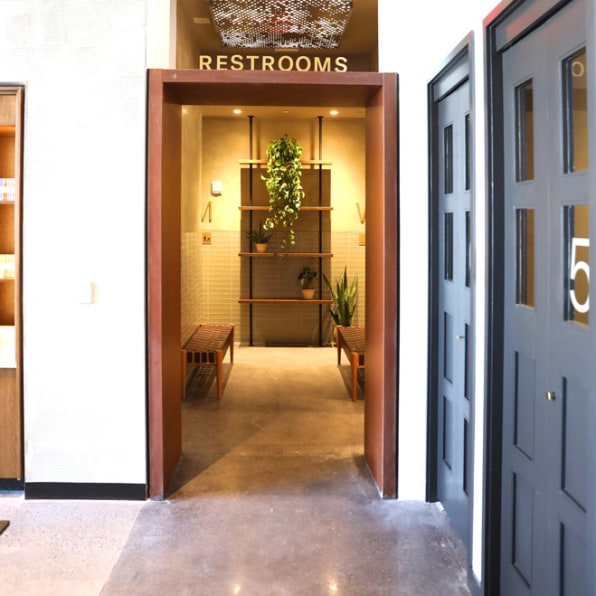 This is only a fragment of Silver's business model for 3den. Beyond the walk-ins, he's also offering corporate memberships to businesses at Hudson Yards who can pay for their employees to have a place to escape their open plan offices (this will soon be expanded to neighborhood businesses beyond the confines of the development as well).
Silver has sold a host of sponsorships as well, through which brands can pay to put their products in the space. For instance, brands like Loli and the L'Oreal-owned Seed Phytonutrients will be providing free skincare products, makeup remover, moisturizer, and hand cream in the bathrooms. The design was built to accommodate the beauty products in particular; they take up an entire wall in the bathroom, with a mirror opposite the lotions and potions to give them more "exposure area," as Silver calls it. While you're paying to use the space and the free products, you're also subtly being deluged with marketing.
3den also has a lot of shelf space scattered around the lounge with more products for sale that might come in handy when you're on the go, mostly from direct-to-consumer startups as well: Nomad charging cables, Goby toothbrushes, Ism backpacks, House of Puff candles, and Field Notes journals. All of these companies pay 3den a subscription fee of few hundred dollars a month to be on its shelves, and keep 100% of the revenue when products are sold.
This business model reveals 3den's true nature: it's actually a retail space that's posing as the coworking-spa-lounge. When Silver, who has started two companies before, was hunting for a new startup idea, he was initially interested in the concept of small, fully automated retail stores that had merchandise based on data of what people were buying in the locale. But when he began researching the concept, one thing stood out: "The most important pillar was to say, could we build a physical retail space that brought people in every single day, but not just to shop," Silver says. That's exactly what 3den does. With rising interest in social clubs like The Wing and coworking spaces, Silver hopes he has a winning concept, one that's relatively inexpensive compared to the hundreds of dollars many shell out for a membership at typical coworking locations. Investors seem to think so: 3den announced a $2 million seed funding round led by the retail concept company B8ta and Graphene Ventures in February 2019.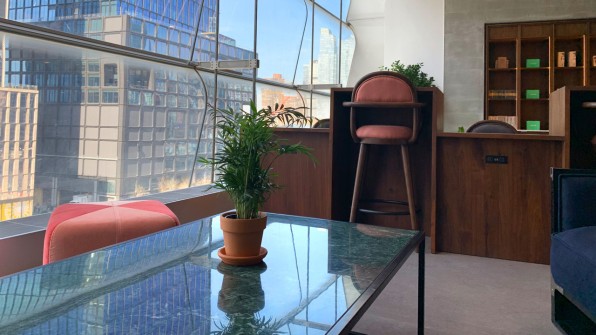 But why put it in a Hudson Yards luxury mall, a place that is inaccessible by definition?
"It's kind of a self-contained city when it opens and allows us to really test and experiment these different layers before we roll it out to the rest of the city," Silver says. "If we just spun up an 3den in the middle of the city, I don't think it would have the same kind of effect as opening it here when you have this captive audience already built in."
This audience includes an estimated 45,000 people who will work at Hudson Yards, all the domestic and international travelers who will come to do business at the companies headquartered there, and freelancers (though it's hard to imagine they'd be able to afford to live at the development). Plus, there's the tourists coming from the High Line and standing in line to go up to the Observation Deck, which is slated to open in late 2019. Silver says people will be able to buy a ticket for the Observation Deck that includes waiting at 3den before their scheduled time to go up the elevators.
At the Hudson Yards location, Silver hopes to experiment with what works and what doesn't; he thinks that 3den's architecture, designed in-house, is flexible enough to accommodate different types of amenities if something is underutilized. He also wants to play around with ways to convince first-timers to come back. Once the initial kinks are worked out, though, Silver plans to scale up 3den remarkably fast. He hopes to open three or four more locations in Manhattan by the end of 2019, and believes that there is enough demand to accommodate 40 3dens across the city. Each space will be designed based on its location; some future 3dens, which he plans to open near transit hubs, might have more showers and a place to store luggage, while others might have days when a barber comes in to offer haircuts as part of the service.
But regardless of where 3den expands to and what its amenities are, Silver hopes to offer beautiful spaces with lots of plants, comfortable furniture, and of course, lots of shelves to show off products. Whether people will wade past that new-mall smell to work, shower, or meditate is another matter.