Kawika Pegram had never organized a protest before. The 17-year-old junior at Waipahu High School on Oahu heads up photography for his school's journalism department and yearbook. He's clued into politics, and especially issues that affect young people. While scrolling on Twitter one night, Pegram saw that David Hogg–one of the March for Our Lives leaders from Parkland, Florida–had retweeted something from Youth Climate Strike U.S.
The tweet described how students from Chicago had pledged to walk out of school on March 15 in solidarity with a global movement of young people that was inspired by the young Swedish climate activist Greta Thunberg's protests last summer, and has now reached 80 countries. The strikes are not centrally organized, but many of the global strikes are listed on #FridaysForFuture, the movement Thunberg built to continue the call for climate action.
In the tweet Pegram saw, they were still looking for leaders. He decided to step up.
"I wrote the organizers on Twitter and said we have to do something to protect the Āina, which is 'land' in Hawaiian," Pegram tells Fast Company. "They wrote me back and asked, 'Hey, do you want to lead this in Hawaii?' and I said sure," he says. That was on February 17. In the last month, Pegram has sped to the center of the climate activist movement. He's forged contacts with the Hawaii chapters of organizations like 350.org and the Sierra Club, as well as progressive political groups like Our Revolution and The Progressive Movement of Hawaii. They're now spreading word about the youth strike on March 15 through their network as Pegram creates messaging and works directly with student government groups across Hawaii to get youth on board, and he's also gathered support from elected officials like Senator Mazie Hirono.
"Everything to do with the climate that we're pushing for is important," he says, "but Hawaii is an island state, and most pressing for us is sea-level rise and what we can do to stop it." Last fall, East Island, a small and unpopulated Hawaiian island, was swallowed up by the sea after a hurricane. That event shook residents of Hawaii, and motivated leaders like Pegram to act.
Worldwide, the youth activists have drawn praise for stepping up for climate action. Christiana Figueres, former UN Secretary for the Framework Conventions on Climate Change, told Fast Company that the youth are powerful new spokespeople for the Paris Agreement and the task of keeping global warming below the threshold of 1.5 degrees Celsius. "I suspect the clarion call of the school strikes for climate, in support of the science and keeping warming to below 1.5 degrees Celsius, is beginning to resonate in board rooms and across negotiating tables everywhere," she says. "The school strikes have become a key piece of the puzzle in holding governments accountable and reminding them that decarbonizing and modernizing the economy is actually in their interest."
The Youth Climate Strikes U.S. group formed in January to advocate for, among other causes: the Green New Deal proposed by Representative Alexandria Ocasio-Cortez; an end to all new development of fossil fuel infrastructure; compulsory climate-change education through eighth grade; and that climate change be declared a national emergency.
Hawaii joined the movement with less than a month of organizing to go before March 15. Across the U.S., the timeline has been no less rapid. Isra Hirsi, one of the co-founders of the national Youth Climate Strike U.S., has only been organizing this protest for a few months, though she's been active with Minnesota Can't Wait, a youth-led climate group in her home state, for over a year. Her Instagram posts about her activist work got her on the radar of Haven Coleman, a climate activist from Denver who first began the push to bring the youth climate strikes to the U.S. Coleman direct messaged Hirsi on Instagram in late January, asking if she wanted to help organize. Hirsi is now on the national organizing committee, where she facilitates calls with youth activist groups like the Sunrise Movement, which is lobbying for the Green New Deal (her mother is Representative Ilhan Omar, who's advocated for progressive policies since taking office in January).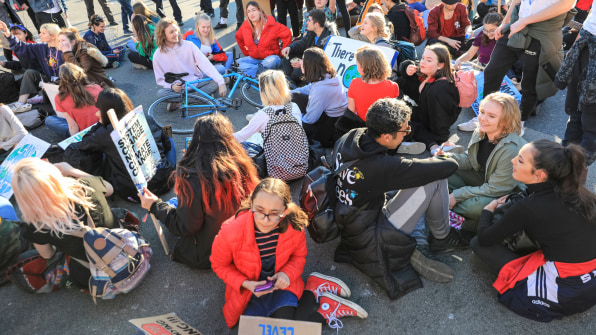 In addition to drawing inspiration from youth climate activists like Thunberg and Jonas Kampus, a 17-year-old from Zurich who co-authored a letter about the movement to The Guardian, the U.S. youth climate strikers look to the movement against gun violence that young people ignited last year. After a gunman killed 17 students in Parkland, students like Hogg organized a school walkout in a little more than a month, which drew thousands of participants across the U.S.
Like the anti-gun-violence marchers, what the estimated tens of thousands of students walking out of school on March 15 are calling for is more accountability from adults, while they're still in power. Youth worldwide will bear the brunt of climate change: The widely cited report that the Intergovernmental Panel on Climate Change released last year details the urgency of decarbonizing the economy in the next decade at the risk of widespread and disastrous planetary heating and sea-level rise. The youth organizers note that many of the policymakers denying these findings will likely no longer be alive when they take effect; instead, it will be today's young people who are left to cope as adults.
Participating in movements like this is preparing young people to make an impact once they're old enough to replace them. Pegram says the experience of organizing in Hawaii has directed him toward politics and public policy; he's interested in creating the types of legislation the climate strikes are calling for. And Hirsi wants to go into law to advocate for the rights of marginalized groups that will feel the effects of climate change most strongly.
But for now, they're focused on making the March 15 event a success–and already looking forward to more strikes planned for later this year, in May and February. This will be an ongoing fight, the organizers say, but they're ready to commit to seeing it through until they secure a sustainable future.