About 30 minutes into Be More Chill, I have to admit I was somewhat baffled by its existence. Or rather I was baffled by the fact that it still exists.
By now, the sci-fi musical's unlikely journey to Broadway has become the stuff of legend, beginning with its brief run at a regional theater in New Jersey four years ago, where it closed after lukewarm reviews and was not expected to be heard from again. It was only through the viral power of streaming music services and social media that Be More Chill found a new life online, galvanizing a passionate young fan base that built a mammoth online community around it. Producers noticed and mounted an off-Broadway production last year, which sold out immediately amid a fan frenzy akin to Beatlemania, as lead producer Jerry Goehring told me, making a Broadway transfer the next obvious step.
It's a great backstory, an inspiring one, and the fact that the musical itself doesn't match the greatness or inspiration of the mythical buzz that propelled it is a bit of a downer.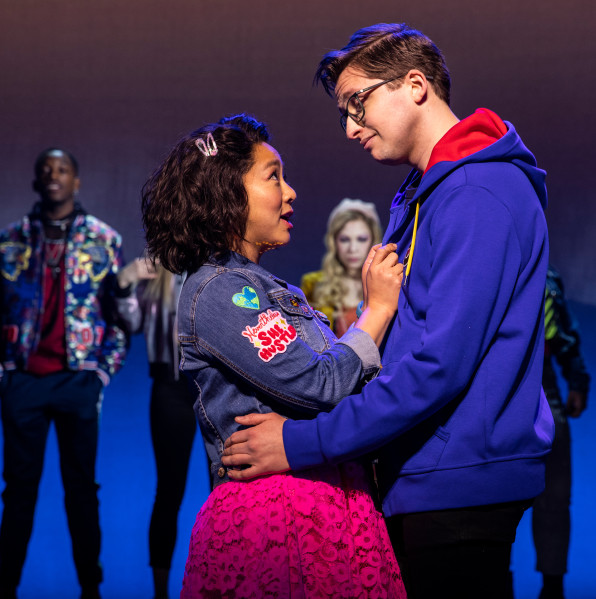 To recap the plot, Be More Chill centers on an ultra-awkward high schooler named Jeremy (Will Roland) who ingests a tiny supercomputer called a Squip, which latches onto his brain, gives it an upgrade, and proceeds to make Jeremy more confident. Because this is high school, the ultimate aim here is not to make Jeremy a better person, but to get him laid, and of course to win the attention of his secret crush, Christine.
Despite its inventive premise, the story is bogged down by well-worn conventions of the geeky-male-teen genre, and it doesn't seem very interested in subverting them. There is a point midway through the first act–when Jeremy and his best friend, Michael, are clutching joysticks, bopping up and down on a bed, and singing about video games–where I wondered if I was being punked. How could it be this bad?
Fortunately, that dread didn't last. The show redeems itself in the thoroughly enjoyable second act, when its charms become apparent and the many promises of its quirky plot come to fruition. It's not a masterpiece, but I get what its fans see in it.
Book writer Joe Tracz, working from the 2004 novel by the late Ned Vizzini, infuses the piece with comic 1980s sensibilities and an over-the-top twist that finds all of humanity in danger of borg-like assimilation. There are deliciously campy winks to cult classics like Little Shop of Horrors and metaphysical sci-fi movies like The Matrix. Jason Tam, who plays the personified supercomputer and confident voice inside Jeremy's head, hilariously channels Keanu Reeves's Neo, complete with faux-surfer inflections.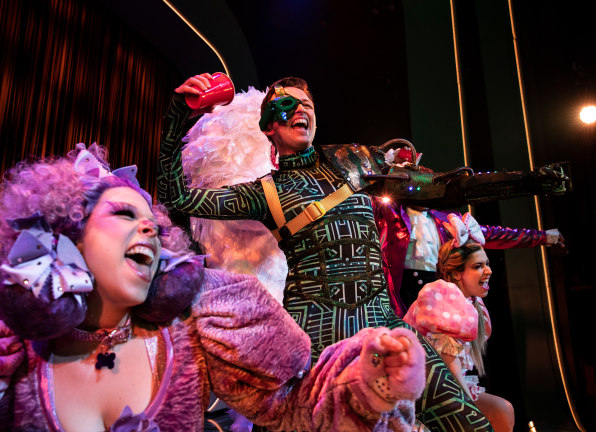 In fact, the cast is uniformly likable (standouts include Lauren Marcus as Brooke, Stephanie Hsu as Christine), and the pop-infused music by Joe Iconis, drenched in synthesizers and wandering beats, grows more hypnotic as the story unfolds. The finest moment in the show is also the most viral online: Michael, played by a fiercely talented George Salazar, laments that he is all alone at the biggest party of the fall, too gripped with social anxiety to leave the bathroom. If you're curious, search YouTube for "Michael in the Bathroom" right now. You'll find endless video interpretations of Salazar's furious ode to self-loathing, some of which have more than 4 million views and counting.
All that online hype will be apparent to anyone who goes to see Be More Chill at Broadway's Lyceum Theatre, where it opened on Sunday. At the performance I attended, the crowed was awash with tweens and teens who cheer enthusiastically when each cast member first appears on stage.
So should it matter, then, if those of us outside the target age range are not entirely smitten? Well, yes and no. One assumes the Broadway transfer will need to win over a broader pool of ticket buyers if it wants to survive, particularly when it's competing with more polished versions of what it aspires to be–high school-set musicals like Dear Evan Hansen and even Mean Girls, which do an overall better job of capturing the angst and anxiety of adolescence.
But to focus on those shortcomings might be to miss the point, which is that all of these shows are doing their part to convert the next generation of musical theater lovers. They'll keep it alive long after we curmudgeons are gone, and that's pretty chill.