At the industry-only Hot Pod Summit at On Air Fest, I did something very unlike me: I raised my hand to ask a question.
The day had been spent listening to three companies lay out their visions of the future of podcasting: boutique studio Gimlet (now part of Spotify), Luminary (the new entrant to the Netflix for podcasts Thunderdome), and podcast platform Breaker. The one thing they all had in common? Exclusive content.
Breaker announced at the summit that it was interested in buying exclusive shows. While Gimlet and Spotify are still hammering out how their new relationship will work, Gimlet execs hinted at possible "windowing," where podcasts are exclusive to one platform for a set "window" of time before being available on other platforms. And Spotify Studios—the content creating arm of the streaming service—was interested in potentially developing podcasts that would exclusively be available on its service. As for Luminary, CEO Matt Sacks couldn't or wouldn't give many specifics at the Hot Pod Summit, but didn't need to as Luminary announced its soft launch with a New York Times writeup that laid out the company's plan for podcast domination.
According to the Times, come June, Luminary will unveil a slate of premium podcast content to listeners willing to pony up $8 a month for podcasts, which is a higher price than that of the other paid platform, Stitcher Premium, which costs $4.99 a month. Those who do pay will have access to more than 40 ad-free exclusive shows. The roster includes some pre-existing podcasts moving behind a paywall, some new projects from existing publishers, and a few brand-new series. The platform will also host shows that are available for free elsewhere, ostensibly in a bid to get users in the door, so to speak.
The Times revealed that Luminary has raised a total of $100 million in venture funding. Now, some of the most well-known podcast producers are following that money: Such creators as  Wondery (Dirty John), New York Media (The Cut on Tuesdays), and the Ringer (The Bill Simmons Podcast) will bring three new shows to the platform, as will public-radio stars Adam Davidson (Planet Money) and Guy Raz (How I Built This). Luminary will also have exclusive shows from Slow Burn co-creators Leon Neyfakh and Andrew Parsons, new projects from the Jacob Weisberg and Malcolm Gladwell podcast studio, and Going Clear creator Alex Gibney's Jigsaw Productions. The lone women on the bill seem to be Lena Dunham and Manoush Zomorodi, host of Note to Self, a WNYC Studios show that is moving to Luminary. (The WNYC Show Spooked is also moving to Luminary, which is interesting, considering that WNYC is a public-radio station and listeners who can't afford a Luminary subscription may no longer be able to listen.)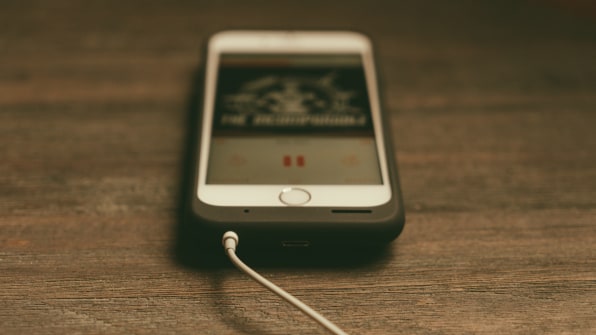 So, my question: Where does all of this leave listeners?
Personally, I have very little interest in juggling multiple podcast apps. But if every platform insists on having their own exclusive content, that leaves me with little choice. (Yes, I have to listen to all the podcasts.) While some people (like my editor) point out that podcast platforms creating exclusive content is akin to switching between Hulu, Prime Video, HBO, and Netflix, here's why it's not.
First, it's annoying. Just because I can toggle between six podcast apps doesn't mean I want to or that it will make for an enjoyable listening experience. Second, advertising works pretty well for podcasts. While I have had to fight the overwhelming urge to buy thousands of Casper mattresses, Kind Bars, MeUndies, and Bombas socks, people who buy do so because they care about the podcasters and want to support them. An ad-driven industry means podcasts of every shape and size can find advertisers that work for them–and advertisers can find podcasters that work for them, too. It just may not be at the numbers that deep-pocketed industry speculators would like.
That leads to my last point: One of the great things about podcasting thus far is the relatively low barrier to entry. Anyone with a microphone, a closet, and the ability to upload files to Apple Podcasts can have a show. These new flashy big money deals could leave a lot of smaller, indie, just-starting-up creators in the dark as podcast listeners have to pick and choose where they spend their subscription money. (Subscriptions to Netflix and a "Netflix of podcasts" would run around $20 a month, which is a lot to a lot of people.)
So far, the deals have mostly benefitted very established producers and creators, making slick shows in high-rent studios. While Luminary's big money investors and Spotify, who threw down $230 million for Gimlet, probably want those slick movies-for-the-ear, as a listener, I want options. I want weird fiction tales like Victoriocity, hard-hitting news shows like 70 Million, sentimental shows like The One Who Got Away, the exuberance of Black Girl Nerds, and important content like the cereal podcast The Empty Bowl (although, why didn't they just call it Cereal?). I want gloriously odd homecasters creating inventive shows that push the boundaries of audio storytelling. I want stories from around the world by startup podcasters still learning the ropes. I want new producers and creators. I want the barriers to entry to be low.
As more and more platforms look to wall off content for paying subscribers, listeners are getting left out in the cold and now podcasting is starting to look like everything else, where only pre-sold talent who've had success elsewhere gets opportunities. I have no problem with treating podcasting as a Serious Business, but as the industry grows, investors and entrepreneurs best not lose sight of why people love podcasting in the first place: the relationship formed between creators and their audiences. Not audiences and their favorite media investors.
Consider how Patreon expects to facilitate $1 billion in payments this year to creators, a significant portion of which are podcasters. These creators have come up with their own system, now effectively an industry standard, of making one free episode and a bonus paid one for subscribers. Maybe it's not ideal for everyone, but it works. If I can't afford to pay for your content, I can always enjoy and support the free show.
By contrast, a Netflix for podcasts is trying to entice me to accept a bundle of things I probably don't want to get one or two things I do. That makes sense for video, which is expensive anyway, but it doesn't for this kind of audio content. How much of my $8 is going to the show I like? Wouldn't it be better off building a direct relationship with fans rather than going through some startup? Because if I don't want to pay, or I don't like how there's very little diversity in creators or the kind of shows created, no one is going to get any of my money and all those nine-figure investments are going to go "poof."
Perhaps this article will look very quaint if everyone is one day forking over cash for Hulu, Netflix, Amazon, Spotify, and Luminary and Stitcher Premium and whatever other new gated podcast communities pop up.
But what can I say? I don't want celebrities who have many other ways to reach an audience to become the extent of what people think "podcasting" is. If I wanted to hear from big-name radio types and celebrities with popular TV shows, well, I think there are other outlets for that.