The last two decades have been great for social good. Charities and not-for-profits have joined with businesses to begin to transform the passive model of corporate philanthropy into an engaging blueprint for corporate activism.
Savvy leaders have known for some time that becoming a moral crusader on behalf of consumers is a business strategy that works. The profit-with-purpose model can be a key factor in acquiring the loyalty of coveted millennial spenders. The vast majority of this audience claims to want to open their wallets to merchants that match their social values, which explains why so many cause-infused businesses spring up every other week.
But there is a specific subset of industries that have not been part of the modern-day social purpose story, but it's certainly not due to their lack of size or strength. Ironically enough, they are the providers of what hundreds of millions of people around the world readily indulge in, but which are becoming more mainstream and accepted: adult entertainment and cannabis.
Instead of leveraging the massive weight of these designated "vice" industries, for the most part, society still views them as unworthy of sharing the same air-space as family-friendly brands, let alone social purpose. Despite their critics, a number of typically frowned upon businesses have nonetheless tried to create their own version of good.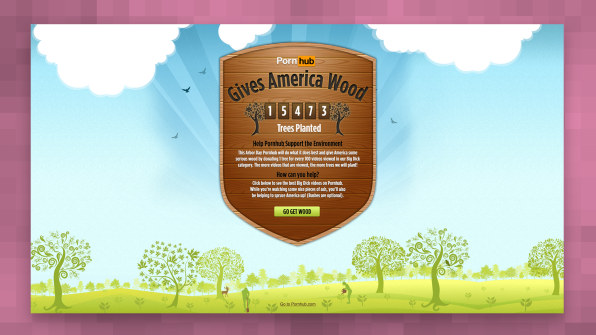 Pornhub, the world's most visited online pornography destination with 33.5 billion visits in 2018, is the quintessential example of a naughty brand that has tried to leverage its popularity to help others. Since 2012, its philanthropic arm, Pornhub Cares, has engaged audiences in numerous cause campaigns, including breast and testicular cancer awareness, domestic abuse prevention, opportunities for people with disabilities, equitable rights to education, environmentalism, animal rights, men's health issues, and sexual education.
If a family-friendly brand gave attention to that many issues, there would be applause and awards. However, due to society's moral hang-ups and arbitrary logic, Pornhub's charitable efforts get written off as insignificant, disingenuous, or self-serving. For example, Susan G. Komen, the largest breast cancer foundation in the U.S., outright rejected Pornhub's $75,000 donation attempt (whereas an Arbor Day organization accepted their donation but refused to acknowledge it publicly); The National Center on Sexual Exploitation campaigned to end Pornhub's educational scholarship.
Cannabis is another industry with some brands struggling to move forward with their own profit-with-purpose stories.
California-based grower Bloom Farms wanted to combat the issue of food insecurity (and currently does so in significant ways) but struggled for a long time to find food banks to partner with due to the stigma of being in the marijuana business. Organa Brands, touted in 2017 as the world's largest consumer cannabis company, has had their charitable attempts turned down by Wounded Warriors, American Cancer Society, and the Children's Hospital Foundation. In Canada, companies like Green Relief and Aleafia Health are trying to bypass critics and focus their efforts on sustainability and healthier communities. The jury is still out on whether or not these seemingly genuine commitments will be recognized or admonished.
Still, as more outcast brands and businesses establish innovative partnerships, braver communication tactics, and a higher standard for corporate activism, the prejudice that haunts them should eventually fade and maybe even disappear.
The good news is that young audiences are becoming increasingly more honest about wanting to have their cake and eat it, too. In other words, more businesses and brands in guilty-pleasure industries should be paying attention.
Judgment is futile. If we want to improve living conditions for all, our natural desire to give back should also merge with our natural desire to indulge. As Nietzsche suggested, we are best punished for our virtues. Then let consumers be rewarded for our vices. Because, right now, the only thing preventing more social good in the world is our own hypocrisy.
---
Steve Steck is the founder and chief strategist of 
Heroic Vice.