Many people on Twitter are going crazy because of a new allegedly anti-LGBT emoji. The problem is, it doesn't actually exist.
The hubbub began yesterday, when a Twitter user named "mitchell" posted a tweet of what looked like an LGBT rainbow flag with a crossed-out circle over it. Or at least that was what some people saw if they were using an iPhone. Here's what it looked like: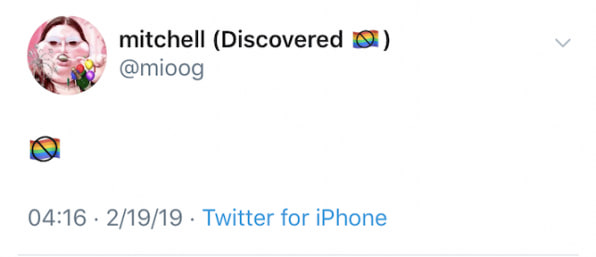 At first glance, this does appear like an anti-LGBT symbol. Indeed, people online pounced. "So is Apple gonna explain their anti-lgbt emoji or are we really just living in some awful twisted timeline?" one person tweeted. "[W]hy is this emoji even a thing?! This just makes me so mad….." asked another. It began to trend on Twitter.
The thing is: This new Apple emoji does not exist. It's simply a glitch in the system. When using unicode characters, it's possible to put a strike-through circle next to an emoji and have it look as if it's overlaying it.
Explaining the "anti-LGBT emoji" that popped up recently. pic.twitter.com/xFnX8VJpmK

— Gokuto ???? (@Sonzumaki) February 19, 2019
It doesn't even work everywhere! For instance, I'm writing this on my laptop and none of the supposed anti-LGBT emojis even exist: They simply look like LGBT flags with strike-through circle beside them.
This isn't a new phenomenon, either. This is something unicode has long been able to do. Many have considered it a silly hack–you can put a strike-through through anything! Here are three examples, from Emojipedia:

I want to emphasize that despite the fact that the above pictures exist, Apple has not made a new anti-chocolate bar, anti-baby, or anti-dancer emoji. Neither has it made an anti-rainbow flag one.
Many people online knew this, it should be said, and simply shared the struck-through flag as an inside joke. Twitter is a fun place where humor can quickly lose all context and morph into something bigger and weirder. Even "mitchell," the self-proclaimed progenitor of this fervor (whose Twitter name now proudly and/or shamelessly exclaims this fact), has admitted that it's not a new emoji from Apple. He told Out that he "discovered" the flaw a while ago. Yet Emojipedia wrote about it in . . . 2016. Either way, congratulations on going viral.
To recap: Despite the chaos, Apple has not introduced a new hate-filled emoji library. It's simply an aesthetic side effect of a system people have honestly known about for years. All the same, I'll probably have to write this article again in a few months when we hear about the new anti-poop emoji.