Sidewalk Labs is one of the most mysterious initiatives inside Alphabet (and formerly, Google). The company says it "imagines, designs, tests, and builds urban innovations to help cities meet their biggest challenges." In other words, Sidewalk Labs wants to create the smart city of the future. In 2017, the company reached an agreement to build its first "city" in Toronto: A new neighborhood called Quayside developed on the city's waterfront.
What that city will look like has been almost entirely unknown–until now. Sidewalk Labs has shared its initial renderings and project plans for Quayside, which were developed alongside the architecture studios Snøhetta and Heatherwick Studio. The plans are being made public months ahead of schedule. As a Sidewalk Labs spokesperson admits, the plans were leaked far ahead of time (they were published by the Toronto Star last week).
As a result, what you see here should still be considered a concept. It hasn't even been approved by Alphabet itself, and everything would need to be green-lit by the city of Toronto and various regulators. Still, it's a glimpse at one of the most-anticipated smart city plans in recent memory. Here are the most surprising details from the now-public plans: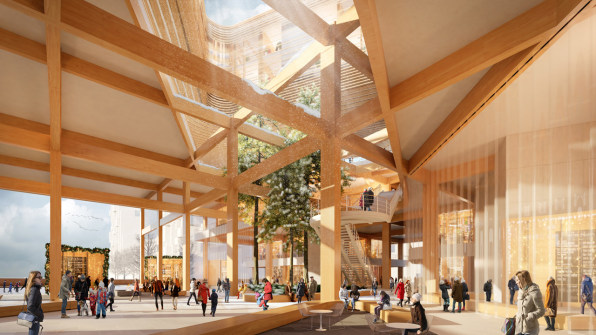 It's made of timber
Sidewalk Labs plans to build a dozen towers in Quayside, some up to 30 stories tall. That will include 3,000 units of housing (about a third of which is designated as affordable) and what the company's deck dubs "room for" 3,900 jobs. Most notably, these buildings are not built from concrete and steel, but from timber. So while Quayside would be one of the most technologically connected urban areas in the world, it's crafted out of a material that evokes the feelings of forests, not server rooms. Timber, it should be noted, is en vogue as a building material at the moment, and Canada has been an early adopter. Sidewalk Labs suggests a company inside Toronto could source the material.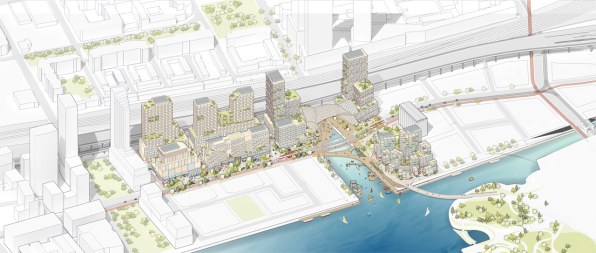 It's modular
It's hard to maintain a building, and even harder to maintain a city–especially one that must adapt to the ever-evolving demands of technology, from internet wiring to urban infrastructure. Sidewalk Labs suggests that architecturally, all of Quayside's buildings will be modular (imagine the biggest Lego kit you've ever seen). That includes the prefab timber beams in buildings, and hexagonal pavement that can be swapped in and out easily when needed.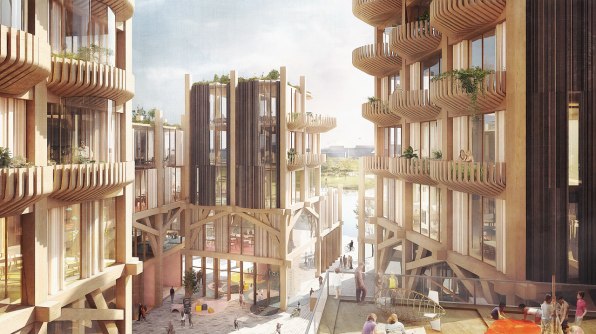 It's high tech and green
Solar power. Geothermal heat. Fiber optic plugs. Wireless 5G internet for everyone. Smart curbs that sense the presence of vehicles and promise to ease traffic as a result. Composting and recycling is enabled through a "smart waste user interface" to divert 80% of total waste from the landfill. (You can get a sneak peek at what this connected future looks like inside the Sidewalk Labs offices.)
According to the company, all the data generated by all that infrastructure will then scrubbed of identifying information and made publicly accessible–though whether or not data can actually be anonymized is up for debate, as most urban data and online data can be de-anonymized. Two privacy consultants on the Quayside project left last year.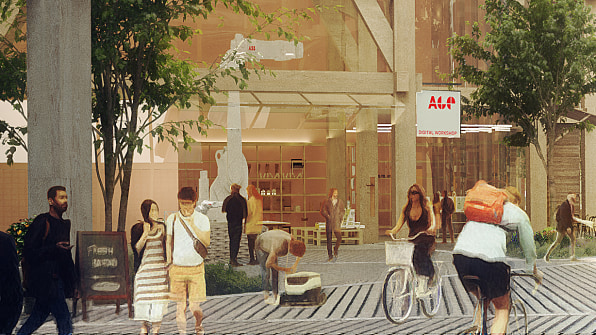 It has a subterranean level run by robots
Rather than fill the streets with garbage trucks and delivery drivers, Sidewalk Labs proposes that a network of underground tunnels handle the transport of all "last mile" services. That includes creating robots that would collect and manage waste and freight deliveries. From what we can tell, these tunnels could include the pizza delivery of the future, too.
Burying services underground is not an entirely new idea–Disneyworld and Roosevelt Island both feature underground refuse collection. Urban planner Georges-Eugène Haussmann first proposed the idea for Paris in the 1800s! But automating it with robots, and mixing in other delivery services, could reduce above-ground traffic.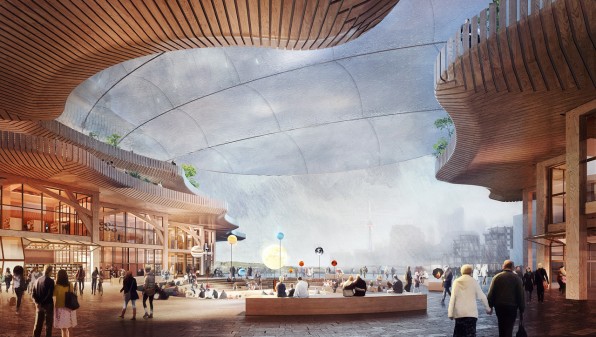 It pushes you outside–even in the cold
Toronto is not the warmest of climates; its winters feature highs in the low 30s. But Sidewalk Labs is still determined to push the public outside year-round. The architects' proposal features heated bike lanes, like those tested in the Netherlands, which melt ice so that people can bike commute even in winter. Additionally, the towers feature bubbly "building raincoats" that create clear tarp tents over public areas. That idea is still being tested, the company says, but it could feasibly open outdoor coffee shops and farmer's markets year-round.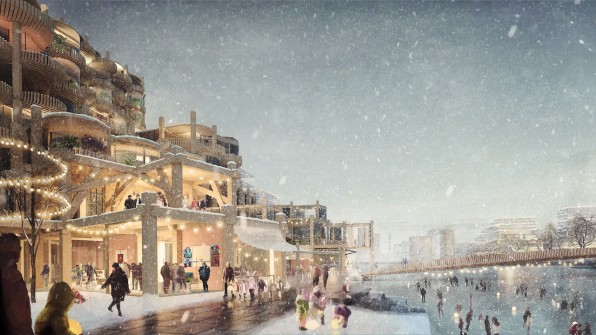 Sidewalk Labs will pay for some of the project…with a loan
Perhaps the most notable part of the project is how Sidewalk Labs is proposing to partner with the city to build its connected mecca. The company's plans you see here only pertain to a 12-acre chunk of land on the coast. But in the leaked deck, Sidewalk Labs suggests that the entire 350 acres of Toronto's unused eastern waterfront be developed as part of its extended innovation district. In theory, that entire district would have continuous amenities, like ice-melting bike lanes or timber buildings, to scale some of Sidewalk Labs's ideas.
Sidewalk Labs is only footing the bill for the first 12 acres in Quayside–and not even that, entirely. The company would pay for the construction of its buildings as any developer would. (It might then bring in another contractor, or perhaps even a nonprofit, we're told by a spokesperson, to handle leasing.) But much of the concept is dependent upon all sorts of other infrastructural upgrades to areas like sewage, which could run $6 billion on their own. Sidewalk Labs is offering to foot this cost as a loan, but Toronto would have to pay the company back. Sidewalk Labs argues that the increased property taxes generated by this new development would be new money for Toronto, and could therefore be used to pay back the loan over many years without being an additional tax burden on the city.
There are still many details to be ironed out, and it all requires approval. But if Sidewalk Labs does get the green light, it estimates that the mini city you see here could be constructed within five or six years.