For many domestic flights, the time spent getting to and from the plane could be longer than the flight itself–including driving or riding to the airport, schlepping through the terminal, and inching through security screening. Maybe money can't buy love, but it can afford less misery for fliers with the means. Today, American Airlines and private helicopter service Fly Blade announce a new partnership in which they will whisk passengers over crowded streets and past long lines at LAX and JFK airports. Running up to nearly $2,000, the service could easily cost more than the flight itself.
Blade is already established as a service that charters helicopters, seaplanes, and jets to the well-heeled. Its offerings include seaplane and helicopter trips between Manhattan and the Hamptons ($795, when I checked), jet flights between New York and Miami ($2,250), and helicopter charters across the greater Los Angeles area. Today, Blade announces a deal between its airport shuttle, Blade Bounce, and American's Five Star personal attendant service.
Customers can charter a Blade flight to JFK or LAX. After they land, a personal escort walks them all the way through priority check-in and expedited TSA screening, then on to the gate or to American's Admirals Club. (They get the same handheld treatment, in reverse, on arrival.)
In an egalitarian twist, this luxury service is available to all American Airlines passengers, regardless of cabin. You could have pampered treatment from Wall Street all the way to a middle seat, in the back of coach, between two screaming babies, next to the restroom.
But those who can afford better seats may be more likely to spring for these add-ons. A customer testimonial on Blade's site begins, "I am writing you from a first-class seat on a flight from JFK to LAX, a flight I wouldn't be on if it wasn't for your company…"
Let's take a New York-to-L.A. round trip as an example. The first step is to charter a Blade airport flight, which starts at $695 in New York for one person and takes up to five additional people at $195 each. Assuming you can find five other people flying American that same time of day and you all divide the total costs evenly, this works out to $278 each. (Blade flights between downtown L.A. and from LAX run $335 per person.) The deal between Blade and American is only for people chartering whole helicopters. In the Blade app, travelers can then buy American's Five Star escort service, which costs $350 each way, covering both the departure and arrival airports.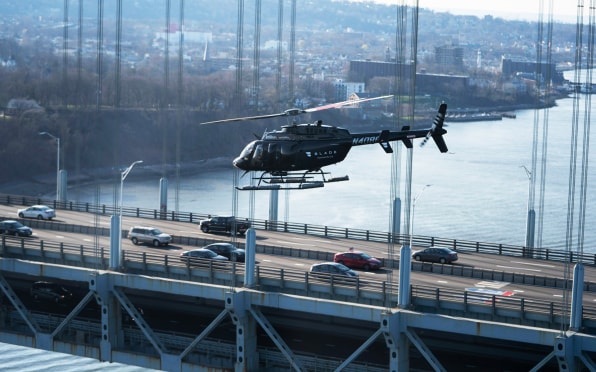 Blade also offers ride share for single passengers starting at $195 per person, although most New York City flights I saw were priced at $295. A solo ride in a taxi is about $65, before tip, and about the same in an Uber. In any of these cases, you'd have to buy Five Star service separately.
In a best-case scenario, gangs of six would take Blade helicopters to and from the airport. For a roundtrip visit to L.A. from New York, or vice versa, that's two $278 helicopter flights in New York and two $335 ones in L.A. They would also pay $350 each way for American's Five Star Service.
All told, that's at least $1,927 to get people to and from airline flights that, when I checked three weeks out, started at $297, round trip, for a Basic Economy seat. The same flight could cost up to $3,317 for first class, however, in which case about two grand extra might not seem like too much more to add.
Convenience over consideration?
But there are other costs, says former New York City Parks commissioner Adrian Benepe. "People who fly in helicopters to the airport are putting their convenience, the few minutes of time savings, over the happiness and health of millions of their neighbors," says Benepe, pointing to the noise and air pollution.
Blade operates from Manhattan locations including West 30th Street on the Hudson, East 34th on the East River, and Wall Street. Its own videos show helicopters flying over residential areas to and from JFK. (In L.A., it operates from spots including 240 Venice Boulevard downtown, and from the Santa Monica and Van Nuys airports.) The amount of noise depends on factors like altitude and the model of helicopter. (Blade contracts with multiple aircraft providers.) But helicopters are famous for being loud.
Benepe is especially aggrieved by the massive numbers of sightseeing flights over Manhattan. But he's troubled by any expansion of commercial flights–well, almost any. Uber and aircraft makers like Airbus and Boeing are promising a revolution in urban air travel in the coming decade, with quiet, electric-powered air taxis–a bold proclamation with many skeptics. Blade, which picked up $38 million in new funding last year, says it is also preparing for an electric future, for instance, through a partnership with Airbus.
"If there were a nonpolluting, quiet hovercraft or electric helicopter … I would have no problem with that," says Benepe.
This story has been updated to reflect a price correction from Blade, which initially provided a lower price point for the per-person prices to and from JFK.