You just broke up and now you need to move out. Meanwhile, you're an emotional wreck over your ex, barely able to focus at work, let alone organize a U-Haul. How can you possibly deal with so many logistics at such a time? Why not just pay someone else to do it?
That's the premise of Onward, the newly launched "post-breakup concierge service" that handles all your packing, housing, and self-care needs. Consider it relocation with a soft touch. A one-stop shop for moving out and moving on.
If one can easily hire a wedding planner or funeral director, then why not a breakup handler? Heartache deserves the same level of care, say Onward cofounders Lindsay Meck, 34, and Mika Leonard, 33. Not everyone has a nearby network of family or friends to assist on short notice. In fact, the company's early research found that many people stay in relationships longer than necessary because they're intimidated by the undertaking.
"Folks who are leaving cohabitation have all of the complex messiness of a divorce, without anyone sort of guiding them through that process," Onward cofounder and CEO Meck tells Fast Company.
Meck and Leonard, childhood friends the since fourth grade, founded Onward after both suffered breakups within a six-month span. They struggled to pack up their belongings, quickly find a new apartment, and, then of course, furnish the space.
"We hilariously bought the same furniture for our bedroom–we called it breakup [furniture]," recalls Leonard, who now serves as COO. "We realized that if we were going through this, that means other people are going through this, and there was no service that helps people deal with this nightmare amidst major emotional turmoil."
Clients can easily book the remote services via the company website, and if they prefer, request a representative to meet them onsite for emotional support. Onward's customized packages start at $99 for 10-day assistance, which includes housing placement, moving/packing, storage, as well as "strategies and discounts for self-care." The latter constitutes matching clients with therapists, counselors, or mediators. Onward discovered that the newly single view finding and scheduling a therapist–one who takes their insurance–to be equally as daunting.
"[Our partners] have a network of vetted therapists, and within 24 hours they're able find one to three that will work for you," promises Meck.
Pricier packages involve weekly scheduled check-ins and personalized neighborhood guides with recommendations on restaurants, bars, gyms, health studios, even meet-ups.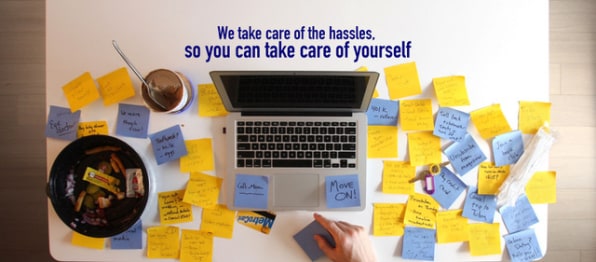 As for housing, the service brokered strategic partnerships with various residence options, including a number of coliving spaces and furnished short-term rentals–and all the utilities and paperwork are taken care of. "You simply show up, like you would an Airbnb," says Meck. "It's an option for someone who needs something fast and furious."
Onward launched in New York City on Valentine's Day (a common breakup day) with a social media campaign that stresses strength, control, and taking ownership of one's life, albeit with a touch of humor; it's more empowering and optimistic than, say, angry or pitying. There are no calls to key a person's car or throw clothes out of a balcony window.
The company's name reinforces the idea that a breakup can actually serve as an amazing opportunity to "really assert a new phase of your life," Meck says, adding that many people start companies after a breakup. "It really can be a huge moment for professional and personal development."
To get the word out, Onward partnered with female organizations, yoga and meditation studios, as well women-focused spaces such as The Wing. The company already received "a lot" of referrals by people who recommend it to friends who need extra support. (Onward helps both men and women, but so far, marketing materials seem to skew more female.)
The cofounders believe that's Onward instant accessibility makes it a viable option for dating millennials, familiar to outsourcing a number of needs. In the coming year, they plan to expand to Los Angeles, San Francisco, and D.C., in addition to other cohabitation-dense cities where housing is limited or rent prices skyrocketing.
There's certainly a growing clientele: Cohabitation doubled in the last decade. The National Center for Family and Marriage Research estimates that 66% of couples lived together before getting married, and little more than 50% of first cohabiting couples ever get married. Many Americans live with several different partners before taking the plunge.
"People are always breaking up," Meck says of the market opportunity. "We want to be Ghostbusters. We want to be the company that you don't know you need until you need it, and then we become the sort of go-to folks for that."