Taryn Toomey, founder of the cult favorite The Class, is growing her "emotional workout" empire. On Monday, the fitness entrepreneur announced she's expanding the Retreatment, the brand's multiday vacations. Fans can now access eight of the trips scheduled for 2019 on The Class website.
"We're really about the immersive, community experience," says Toomey. In Los Angeles, for example, single sessions often draw over 80 attendees jumping and yelling in unison.
The Class hosted 30 Retreatments and over 1,000 attendees in the last five years. These instructor-led getaways take place at luxurious resorts abroad and statewide, like the Weekapaug Inn in Rhode Island. They start at $1,750 (up to $6,000), and most have sold out within a few days. Celebrities such as Naomi Watts and Jennifer Aniston have been known to attend.
The getaways are a more immersive version of the $35 hour-long class available in Los Angeles, Vancouver, Miami, and New York (where it boasts a crystal floor-embedded studio). Toomey says they reflect what her ideal day would look like: wake up, meditate, gulp down a tonic, work out, enjoy a communal farm-to-table brunch, get a massage, go hiking, then partake in a mind-body restorative practice before a big dinner full of dancing, music, and "a little tequila, if you'd like."
Then do it all over again the next day.
Toomey quickly amassed a notable brand with her hybrid cardio workout. It possesses elements of HIIT, Pilates, and meditation–but also combines shouting and shaking, and frankly, doing whatever it is you feel like. But don't be fooled by its meditative, near spiritual allure. The Class is by no means slow and relaxing: The energizing regimen is complete with burpees, jumping jacks, and many, many squats.
"It's a mashup of all the different things that I learned, from yoga to fitness to therapy to work in plant medicine to trying to heal myself," Toomey explained during the Fast Company Innovation Festival. "It's not one thing."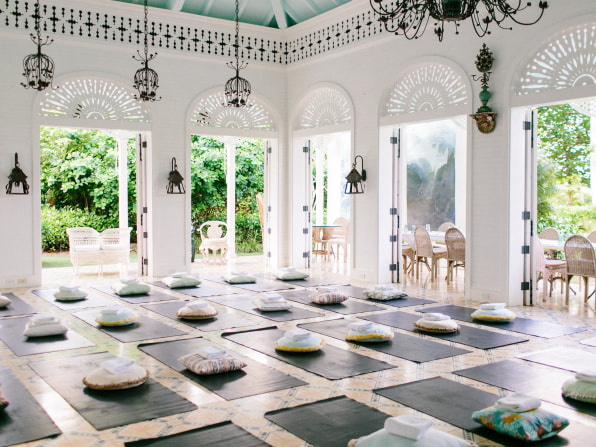 Get away to get well
The Class tends to draw a more adventurous and spiritual personality, and it skews more female than male. The same goes for the Retreatment: Women make up the majority, although there is a male instructor who sometimes draws as much as a 20% male attendance.
While female travelers increasingly use their time off to reignite health pursuits, many millennials prefer the fitness retreat model. In a 2017 survey of nearly 5,000 Well+Good readers, 40% of respondents said they'd rather go on a fitness retreat with their favorite instructor than attend a five-star resort like the esteemed Miraval in Arizona. (The findings were on par with a study conducted by SpaFinder.)
The Class joins other fitness companies dipping into the tourism market. Well+Good launched Retreats, which pairs high-end resorts with household name "fitness headliners." This past August, ClassPass announced "Getaways" for members to book mini-vacations and "experiential events" in addition to boutique workout classes and wellness services.
---
Related: Is this workout for your feelings what American women need right now?
---
More recently, Equinox revealed its own luxe getaways, starting with a "summit-chasing adventure" in Morocco this April. It joins other recent hospitality-fitness hybrids: Westin Hotels partnered with Peloton, Fairmont with Reebok and Technogym, while Hyatt acquired boutique fitness and wellness brand Exhale.
These join a collection of fitness trips organized by beloved brands like Yoga For Bad People and Barre3. And while slightly different, the wellness festival market rapidly grew into a tourism industry of its own. As Fast Company previously reported, there are now more than 1,000 yearly fitness celebrations that generate hundreds of millions of dollars. Some, like Wanderlust, are held throughout the year in exotic locations like Oahu, Hawaii. Much of this signifies the industry's move to experiential offerings, which explains hybrids such as SoulCycle live concerts.
In fact, The Global Wellness Institute estimates that wellness tourism is now a $639.4 billion global industry. In 2017, travelers took 830 million wellness trips–139 million more than in 2015. As one of the fastest-growing travel trends, wellness travel currently represents 17% of total tourism expenditures.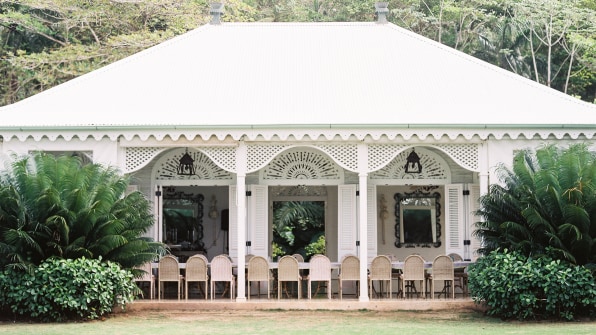 That's partially because Americans are so stressed and vacation-deprived. Over 79% of Americans report experiencing daily stress, mostly brought on by work and family obligations, according to a Gallup poll. And more than half of the workforce doesn't even use all of their amassed days off.
With the Retreatment, Toomey hopes to provide a more lasting calm to the anxiety she witnesses across her clientele. "The collective nervousness," as she calls it, demands something a little more introspective and thoughtful than just downing margaritas while laying on the beach. (Not that it need be some big spiritual quest, she stresses; travelers are discovering more options than deep-dive psychological explorations or bare-bones yoga retreats.)
"[People] don't want come home and feel like they need a detox," says Toomey. "To be able to do a combination of things that you love: music, movement, community, good food, cocktails, and a lot of laughs in a beautiful space–I don't know what better combination there is."