In the fight for the future of the real estate industry, legacy firms are trying to figure out how to contend with WeWork. The beer-loving co-working startup that landlords once welcomed has grown into something much more complicated and powerful, in part through technology. The company has developed both consumer facing tech, like an app for booking conference rooms and checking out events in its co-working spaces, as well as operational analytics that makes its offices and overall business more efficient.
But at Dock 72, an innovative new building in Brooklyn's Navy Yard where WeWork's custom co-working offices and Rise by We fitness studio will soon fill a third of the square footage, landlords are claiming a small victory. The building, co-owned by Boston Properties and Rudin Management, has its own tech. Rudin's technology subsidiary, Prescriptive Data, has developed a mobile app to serve as tenants' main portal for interacting with the building.
The Dock 72 app will allow tenants and their employees to enter the building, register guests, book fitness classes at the in-house studio, order and pay for food at the cafeteria, book shared conference rooms, and submit work orders for maintenance issues. Data from the app will also provide the property's operators and managers with real-time insights into the patterns of users, helping to improve building services and performance. With the app, Michael Rudin, senior vice president of Rudin Management Company, says he wants the building to be cashless.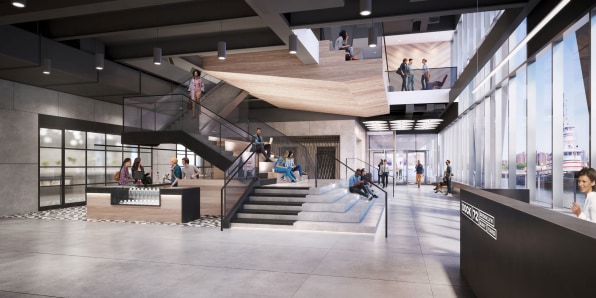 For a long time, the real estate industry collectively slept on technology adoption, but the success of WeWork and Airbnb has been a blaring wakeup call.
"The recognition was, we needed to be more formal in our process to vet and review technology and innovation in this space," said Kent Tarrach, vice president of asset management at Brookfield Property Partners, speaking at the Real Estate Capital Management Conference in January.
To remain competitive in real estate, developers and landlords realized they had to pay more attention to innovation in the field. As technology has made aspects of daily life more convenient–and as WeWork's ambitions and breakneck expansion have upended the real estate industry–landlords and building managers have scrambled to figure out where they fit into a tech-enabled landscape.
"You think about Starbucks," says Georgia Collins, head of workplace experiences for CBRE, a real estate services and investment firm, "It used to be that we all waited in line and waited for our name to be called. Now there's so many people who order ahead of time and just walk in and pick it up."
Customers have come to expect that kind of service for everything from meals to dry cleaning and fitness. Landlords know that in order to attract and keep tenants–and boost the value of their properties–they need to be creating similar experiences inside their buildings. The result has meant an investment in cultural amenities and services, with a more thoughtful approach to retail, restaurants, and other programming. Increasingly landlords and building managers are considering what kinds of events they should be hosting.
Software can help pull all of these investments together. "As we're building smarter buildings the idea of connecting the building technology to something that is user facing is much more real and appealing," says Collins. Still, she says, there are very few landlords who have come out with their own technology infrastructures. To fill the gap, CBRE recently launched its own platform called host, a mobile app that businesses can license to connect employees with each other and to on-site amenities. Host also has a concierge service reminiscent of WeWork's community member service.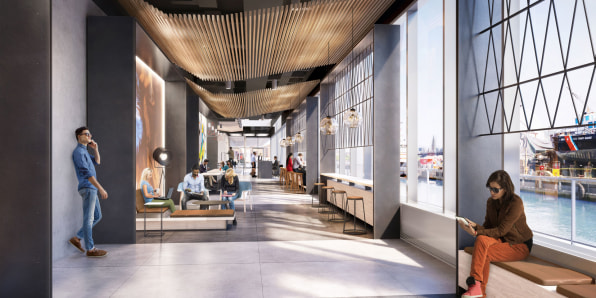 Some landlords are taking equity in new startups as a way to prepare for the future. Brookfield, for example, has invested in project management software for commercial real estate through Honest Buildings and flexible workspace through Convene. Co-working companies are seen as an opportunity to introduce fledgling companies to a building brand they might eventually grow into on their own lease.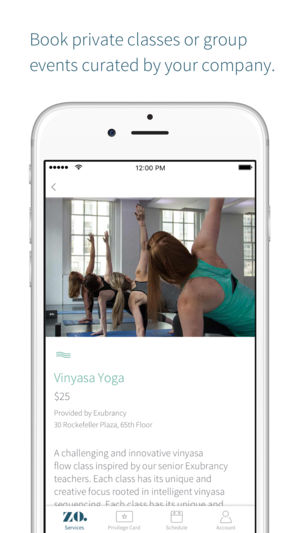 Among those that are innovating inside legacy brands is Tishman Speyer, which owns Rockefeller Center among other properties. Last year, it launched an app called Zo, to connect tenants with amenities on site. With the app tenants can, for instance, book fitness classes or order food. The app also showcases events like wine tastings, talks, and book clubs.
Rudin Management was one of a few early adopters. Around 2009, amid the rise in smartphones, the New York firm began incubating its own technology.  "The thought was, okay, something this small or that small has an operating system. Why doesn't a building of this size or any size have something comparable?" says Rudin.
In 2016, the firm released what Michael Rudin refers to as a building operating system, called Nantum. The software integrates with technology attached to a building's various subsystems as well as existing building management systems. Its main purpose is to create insight into operations and offer up suggestions for better efficiency. With it, he says, building managers can address problems quicker and tenants can have more control over their heating and cooling. Using a network of beacons and other sensors, Nantum can also analyze office foot traffic to give tenants a sense of how they use their own space and how they can save on energy costs.
In 2017, Rudin Management spun out its technology division into a company called Prescriptive Data. It now serves over 30 buildings in 12 separate real estate portfolios.
---
Related: WeWork grows up (and out and everywhere)
---
This technology is also part of the basis for Rudin's Dock 72 mobile app. Michael Rudin says he plans to integrate the app with other applications like Seamless, for ordering takeout to the office, or MindBody, for signing up with fitness classes in the building. WeWork will still have its own app for members of its workspaces at Brooklyn's Navy Yard. Whether it will sync up with Rudin's Dock 72 app is still to be determined.