Martha Munick, an Inuit seamstress, just designed a coat for Canada Goose. It's an amauti, a traditional Inuit parka specifically designed for mothers to carry their babies on their backs in the freezing winters in Northern Canada. It's been worn by Inuit women for centuries, allowing them to keep their babies warm as they go about their days; it also helps the mother and child bond. Munick has put her own spin on hers. She's used Canada Goose's technical fabrics and a fur collar on the exterior, and sewn a black and red trim throughout, along with ribbons and beadwork.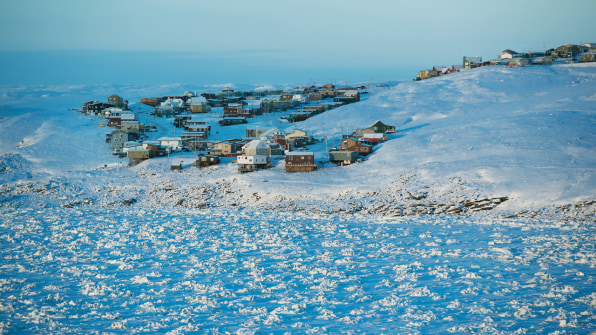 It's a one-of-a-kind creation for Project Atigi (atigi means "parka" in Inuktitut), through which Canada Goose commissioned coats from 14 Inuit seamstresses in nine different communities across four Inuit regions in Canada. Canada Goose gave each of them the same set of materials: Canada Goose's ArticTech fabrics in several colors, fur, plus various trims and fixings, so they could make the pieces their own. The company paid each seamstress for their work, while the collection was launched at an event last Friday, with amauti designs selling for $7,500 and more traditional anorak silhouettes selling for $5,000. All proceeds will go to Inuit Tapiriit Kanatami, a national organization that supports and advocates on behalf of Inuit communities. The parkas will be displayed in Canada Goose stores for the next few weeks before they are shipped to their buyers, and Canada Goose is featuring each coat and stories about their creators on it social media channels.
"We want to support their work," says Dani Reiss, Canada Goose's CEO. "We believe they can build thriving businesses, which can help support these communities in the North."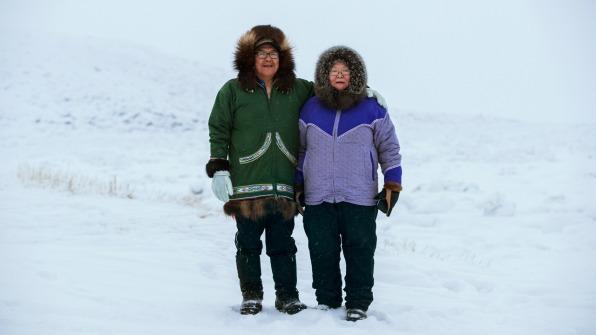 The original parka makers
The Inuit are indigenous to the Arctic regions and are spread out across Greenland, Canada, and Alaska. Many live in tiny hamlets in very remote parts of the country rather than in larger city centers. For centuries, they have survived in climates that are bitterly cold with temperatures that have been known to go down to -40 and below. The Inuit first invented the parka, crafting them out of the skins of seals and caribou, and lining the hoods with fur. "Project Atigi celebrates the original parka makers," a video on the website explains.
The collaboration blends modern material technology with traditional Inuit designs and embroidery. While the parkas popularized by brands like Canada Goose and North Face are made from very different materials, many have the same kind of silhouette and functionality as these original parkas. For instance, the fur trim on many parkas–including Canada Goose's–bears many similarities to the fur used around the face on traditional Inuit coats.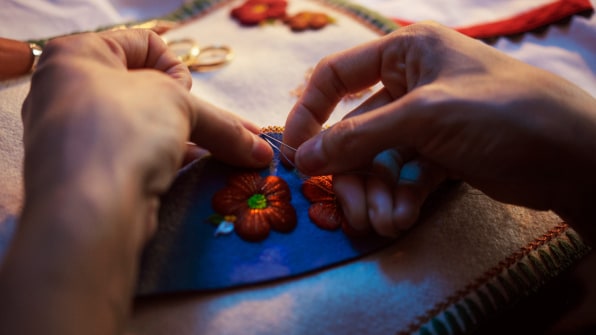 This isn't the first time that Canada Goose has partnered with Inuit communities. Back in 2007, for the celebration of Canada Goose's 50th anniversary, the company invited seamstresses (and sisters) from Pond Inlet in Nunavut, Meeka Atagootak and Rebecca Killiktee, to visit the Toronto factory in an effort to exchange knowledge and know-how about parka making. While at the factory, the sisters used the company's materials and fabrics to make their own parkas, which they could take home. "That was really the very early beginning of this project," says Reiss. "They learned about our technical expertise, and we learned from their traditional methods."
Atagootak and Killiktee also noticed discarded fabrics, and asked whether they could have them to make parkas for their friends and family. This inspired Canada Goose to create the Resource Center Program, which donates fabrics and materials to various resource centers in remote parts of Northern Canada to support local seamstresses.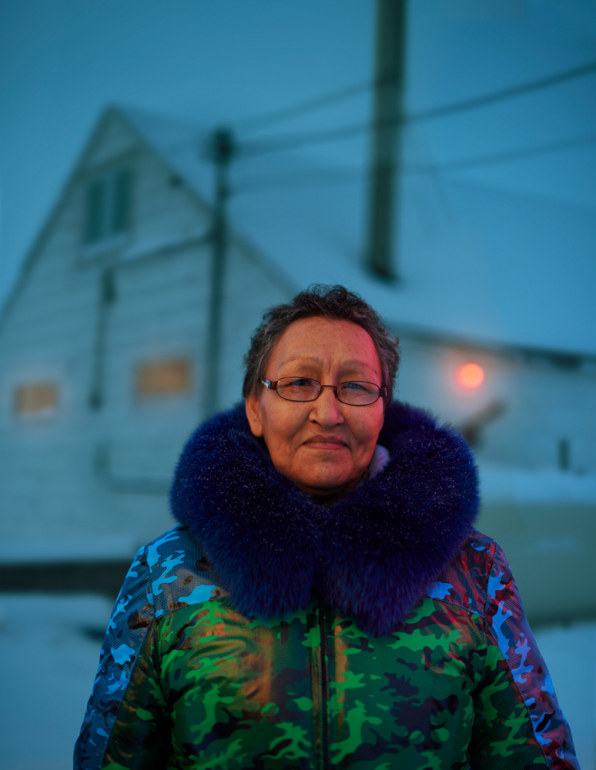 Meeka Atagootak was one of the 14 seamstresses who created a coat for the Project Atigi collection. She now has 21 grandchildren, so when asked to create a parka for the collection, she also created an amauti. But unlike Munick's design, Atagootak created one with a long tail at the back, and a short hem in the front. She included a green and blue accent trim, which she says is meant to represent the Earth and water. On Canada Goose's website, Atagootak explains that it took her a month to make her own amauti when she was 20 and pregnant with her first child.
Each piece in the collection tells a different story about the lives of these seamstresses. In the video, a woman named Marlene Watson explains that she learned how to sew at the age of 15. She made a coat for herself out of a used quilt. "I didn't have a warm parka and I wanted to make my own," she says, on tape. "The inner layer was (a) used blanket but I was proud of it." Watson's contribution to the collection is a parka embellished with an ulus, a traditional knife, which is an important cultural symbol for Inuit women. These knives are used to cut meat, and then smooth skins that will be made into clothing. She did all the embellishment and beadwork by hand, rather than by machine.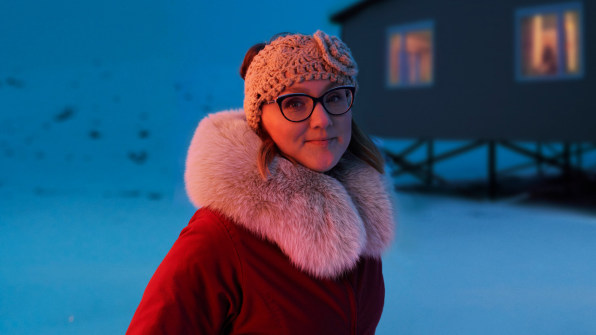 A young woman named Mishael Gordon made a bright red parka with a pointy hood, that is based on a pattern from her own childhood coat that her mother gave her. The sleeves and hem are embellished with a floral pattern and yellow trim. Unlike many of the other seamstresses, Gordon did not learn how to sew as a child. She dreamt of becoming a fashion designer, and took sewing classes on her own, in her hometown of Rankin Inlet, a tiny village in Nunavut. As a teenager, she created her first parka for her younger brother, and then went on to create parkas for other family members. She moved to Iqualuit to attend a nursing program at a local college, but she still hopes to make a living from creating parkas. She now takes orders on social media for bespoke items.
Canada Goose on the rise
Canada Goose was founded in 1957, and remains a family business; Reiss is the grandson of founder Sam Tick. Over the last few years, the company has been growing explosively around the world, with revenues growing from $114 million in 2014 to $460 million in 2018. The brand recently opened stores in China.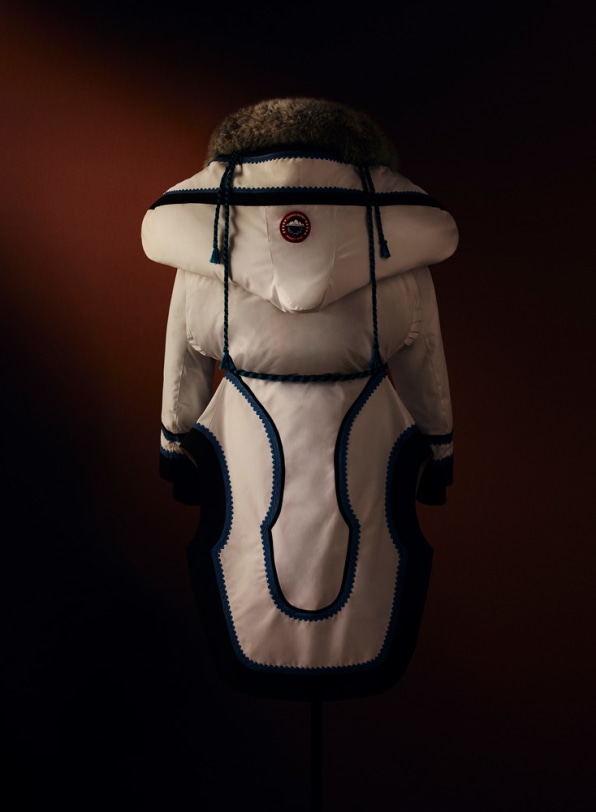 Over the last few years, Canada Goose has invested in several corporate social responsibility initiatives. Reiss says that company is committed to continuing to supporting Inuit communities through entrepreneurial opportunities like this one. "It's one thing to write a check, and it's another to really get to know a community, to see how you can support them in authentic, sustainable ways," he says. Reiss asserts that opportunities like this will allow these seamstresses to launch businesses of their own, and find a bigger audience of clients interested in buying their handcrafted garments. The company also donates $50 for every sale of a special jacket to Polar Bear International, which conducts environmental research and advocacy around polar bears. To date, it has raised more than $3 million for the organization.
But still, for a company that generates nearly half a billion dollars in revenues, these are relatively small initiatives.
For now, Project Atigi offers a glimpse into Inuit culture and heritage, one that many consumers haven't seen before. The parkas are a kind of metaphor for how these women are trying to incorporate their traditions into their 21st century lives. "It's a challenging world trying to live the modern way and the Inuit way," says Jennifer Munick in the video. She's Martha's daughter, and the elected chairperson of the Kativik Regional Government, which represents more than 14,000 Inuit people. "Being a leader in the community, I try to accept both ways of life, our traditions, our language."