The youngest woman ever elected to U.S. Congress has launched a fight against memes as one of her first orders of business on the Hill. The left has been slow to adopt the use of memes, but Alexandria Ocasio-Cortez is a millennial and is proving to not only be an expert in building community on social media platforms, but also political memes. Ocasio-Cortez appears to understand the threat that they pose and the need to defend herself and others from online misinformation and attack memes.
In one recent example, Ocasio-Cortez called out a meme on Twitter that promoted misinformation about another newly elected congresswoman, Ilhan Omar, who just happens to be the first hijab-wearing, Somali-American, Muslim refugee elected to the U.S. House of Representatives, and a new favorite target of the right. The meme asserts that Omar's agenda is to enslave all white men because they refuse to submit to Islam. However, these claims have been proven to be false by third-party fact checkers, and Ocasio-Cortez clapped back on Twitter to announce as much.
That the right is mobilizing fake quotes, conspiracies + outright hatred, particularly on Congresswomen of color, shows how vapid they are on actual issues.

The racism allowed towards Ilhan + others is completely unacceptable. @Facebook has clearly lost control of their product. https://t.co/vqRaM3iAjX

— Alexandria Ocasio-Cortez (@AOC) November 19, 2018
Research shows that female candidates face more harassment and vitriolic attacks on social media than their male counterparts. The right often targets women and various minority groups with hateful memes that are anti-Muslim, anti-LGBT, and anti-Semitic. However, it's time that we look at a memetic framework that ties the right together: patriotism.
If you examine the accounts promoting the meme that attacks Omar, you'll see patriotic imagery such as American flags and rhetoric such as, "Land of the free, home of the brave."
Who said facts mattered? ????????‍♀️ pic.twitter.com/LMomzRrLZj

— Ilhan Omar (@IlhanMN) November 19, 2018
Unlike during World War II, when patriotism unified the country, it has become toxic and polarizing as it has been co-opted by the right, along with the meme format itself. The president's supporters often exhibit hyper-patriotism, while Donald Trump himself leverages its memetic framework in his campaign marketing and presidential platform. For example, the president has shown interest in having military parades outside of wartime.
---
The American flag is frequently used to polarize and present the left as unpatriotic. The following meme shows Trump supporters proudly displaying flags, while Clinton's are tearing and burning it.
Prior to the midterms, journalists were quick to pick up on a smear campaign from an official republican social media account directed at candidate Leslie Cockburn promoting the idea that she "hates America."
#VA05 pic.twitter.com/9xOh86VNjR

— Virginia GOP (RPV) (@VA_GOP) October 12, 2018
There are disgraceful memes that attack House speaker Nancy Pelosi, such as the following that shows her photoshopped into risqué patriotic attire so that she can then be slut-shamed in order to question her patriotism.
Hey don't forget,… I'll turn Democrat tricks if we win the House, I'll take back your tax cut, stop all the investigations into the Clinton's, begin IMPEACH against President Trump, & kill the economic boom, I'm just an old liberal obstructionist hoe!! pic.twitter.com/2IYldjN2lU

— MAGAPATRIOT????????BOBFITZPATRICK Ph.D.???? (@BobFitzpatrick8) October 31, 2018
And lastly, the following YouTube video depicts top women in the Democratic party in patriotic USA-themed attire as "Crooked Hillary and the Cheerleading Hoebags." This depiction also uses the patriotism meme to question women's leadership in government.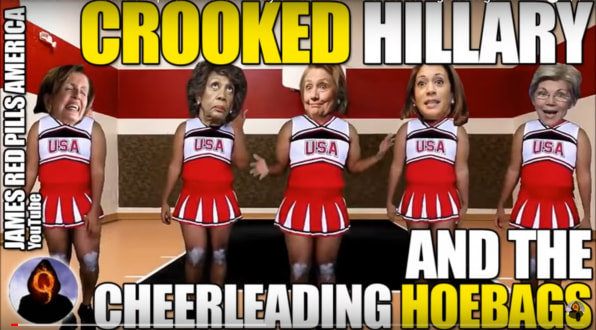 It's oppressive and misogynistic memes like these that help to explain why the response to patriotism on the left is often "fuck America." But the left retreating from patriotism will not help their politics, as patriotism is still seen as a key quality of elected officials. This is also one reason why patriotism has become a strategic tool of the right, and there's real risk in abandoning it—it's too powerful.
We must also recognize the dangers of patriotism when it is used as a framework for building nationalistic political agendas. Trump often uses grandiose displays of patriotism as a memetic tool to generate support among his base and an esprit de corps. He even named the recent southern border troop deployment "Operation Faithful Patriot," until the Pentagon gave orders to stop using the name. Unfortunately, the risk of such memes and rhetoric being used in such a way is a rise in white nationalism and increased attacks on political leaders such as Omar.
---
Related: The women running for president are breaking the rules of branding
---
Ocasio-Cortez has called out Facebook and Twitter for their role in spreading harmful memes and noted, "We need to get it together." Yes, we do. In addition to calling for social media reforms and regulations to encourage platform accountability, the left will need to find a way to wave nontoxic American flags in support of women, minorities, and a more just and healthy democracy.
---
Jennifer Grygiel (@jmgrygiel) is an assistant professor of communications and magazine at the S.I. Newhouse School of Public Communications at Syracuse University.